We ran this preview a few weeks ago. But Wonder Twins #1 by Mark Russell and Stephen Byrne is published on Wednesday. Also, today is FOC for Mark Russell's Vertigo comic Second Coming #1 which got all that media fuss a few weeks ago as well. Just in case that's of use to anyone.
Here's the preview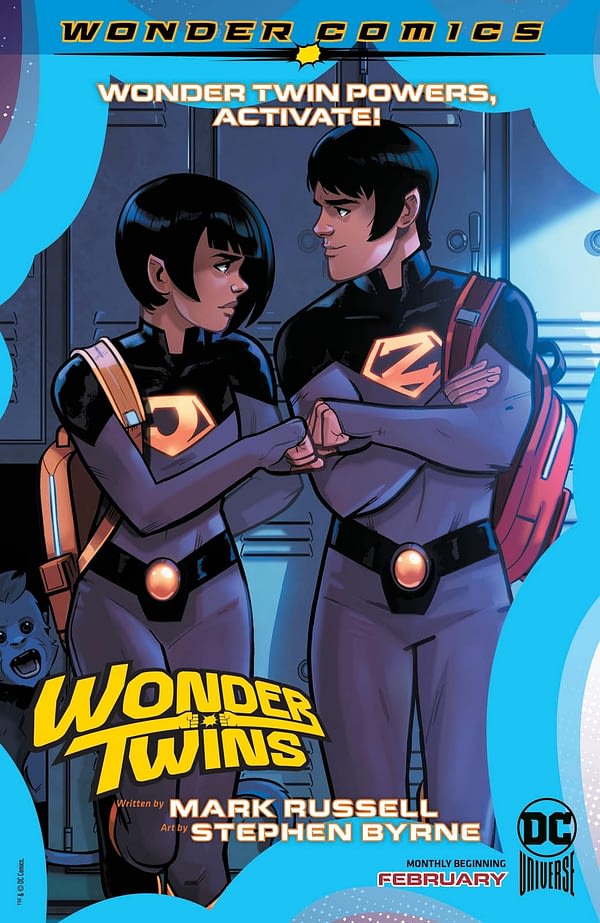 The Wonder Twins (Zan and Jayna) are an alien twin brother and sister superhero duo who first appeared in the Super Friends cartoon, as well as being introduced to the comic book DC Universe.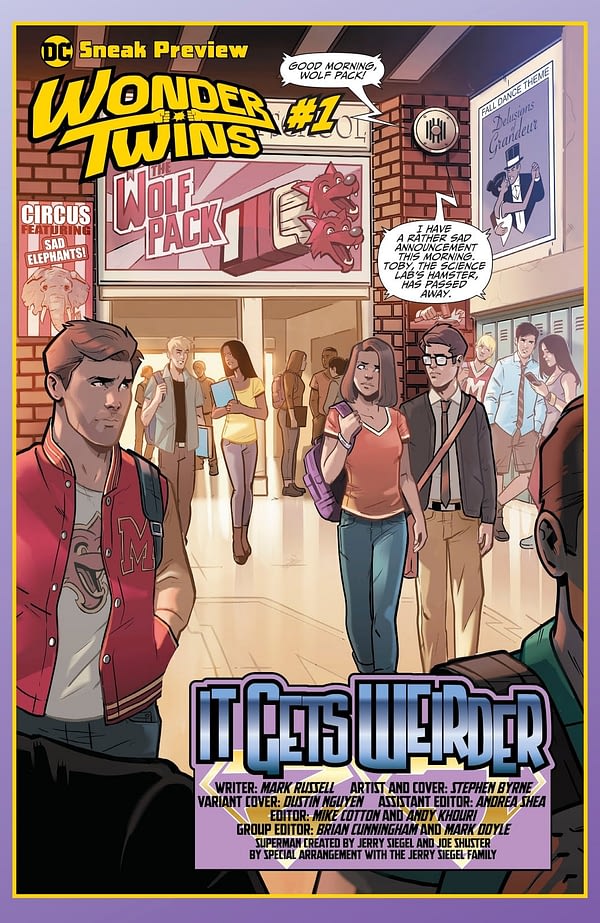 The Wonder Twins powers are activated when they touch each other and speak the phrase, "Wonder Twin powers, activate!" Zan can transform into water at any state, while Jayna can transform into any animal, including a wolf… or a hamster.
She didn't eat the hamster, did she? And what's that poster for Normalysis? A treatment for meta-normals? What is normal in the DC Universe anyway? We have a Luthor symposium and teachers dressed as The Flash?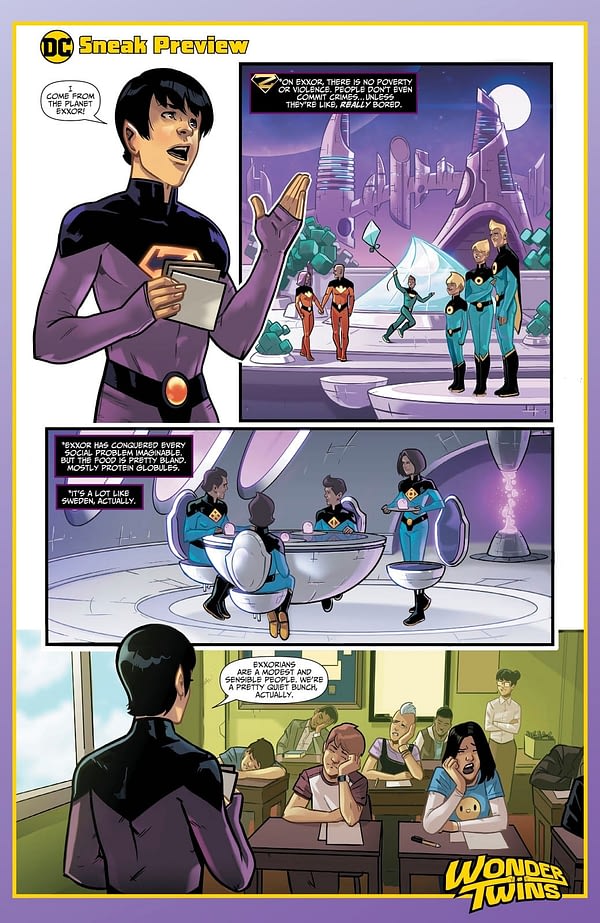 Including more than you ever wanted to know about the sex lives of Exxorians, where the Wonder Twins come from, during a thunderstorm.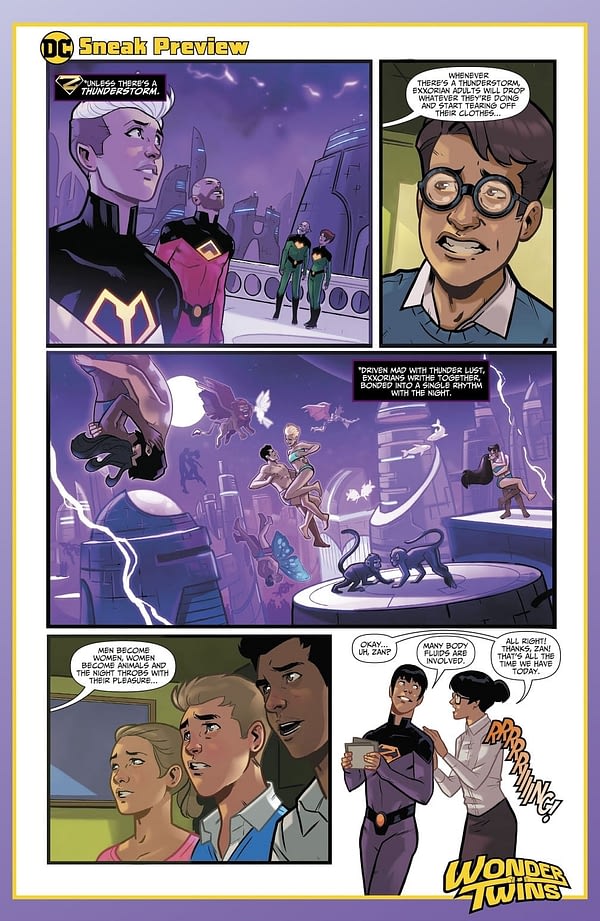 You know how the Wonder Twins' powers trigger when they touch each other? Turns out that's true of all Exxorians – and yes, the women become animals. And the men become… gender fluid as well as liquid fluid?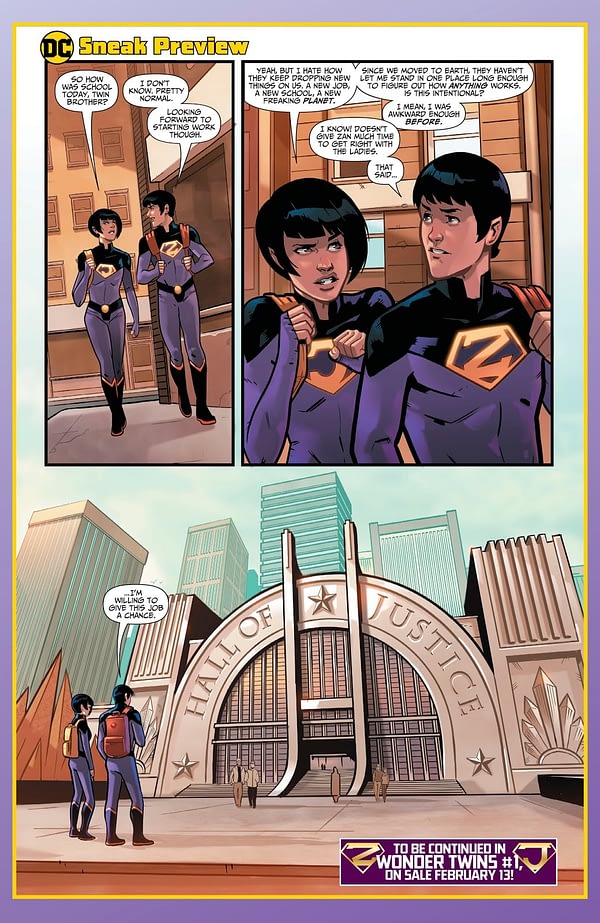 Here's what else is to come as well
WONDER TWINS #1 (OF 6)
(W) Mark Russell (A/CA) Stephen Byrne
Exiled from their home planet, alien heroes Zan and Jayna must navigate life as teens on Earth at South Metropolis High School, where they're even bigger outsiders than the typical awkward young adults. Under the watchful eye of Superman, the brother and sister pull monitor duty at the Hall of Justice as interns, while also trying to overcome the pitfalls of Zan's brash confidence and Jayna's shy but streetwise persona. If you think you know the Wonder Twins, think again-this book takes the form of the unexpected. RATED T In Shops: Feb 13, 2019 SRP: $3.99

WONDER TWINS #2 (OF 6)
(W) Mark Russell (A/CA) Stephen Byrne
After being exiled from their homeworld, alien, shape-shifting brother/sister duo Jayna and Zan take on the traditional Earth custom of a high school field trip…to a local LexCorp prison? If they're being honest, their after-school assignment from the Justice League is what they're really looking forward to: taking on vampiric menace Drunkula, a villain from the League of Annoyance! And what's this guy the Scrambler up to, anyway? Plus: Gleek debuts! RATED T In Shops: Mar 13, 2019 SRP: $3.99

WONDER TWINS #3 (OF 6)
(W) Mark Russell (A/CA) Stephen Byrne
Exiled from their homeworld and still trying to adjust to life on Earth as normal teenage high school students and interns for the Justice League, Zan and Jayna find themselves attacked in their own home by the League of Annoyance. Now separated and unable to use their amazing powers of transformation, the twins find themselves forced to rely on Zan's new pet monkey Gleek for help—but does the plucky purple primate even like his new owner enough to give a monkey's butt about these young heroes? RATED T In Shops: Apr 10, 2019 SRP: $3.99