By the time mideseason finale of AMC The Walking Dead "Evolution" rolled its credits, our survivors had learned a very tragic and devastating truth: they're now facing an enemy unlike any they've ever faced before: The Whisperers, with leader Alpha (Samantha Morton), second-in-command Beta (Ryan Hurst), and Alpha's teenage daughter Lydia  (Cassady McClincy) claiming their first victim: Jesus (Tom Payne).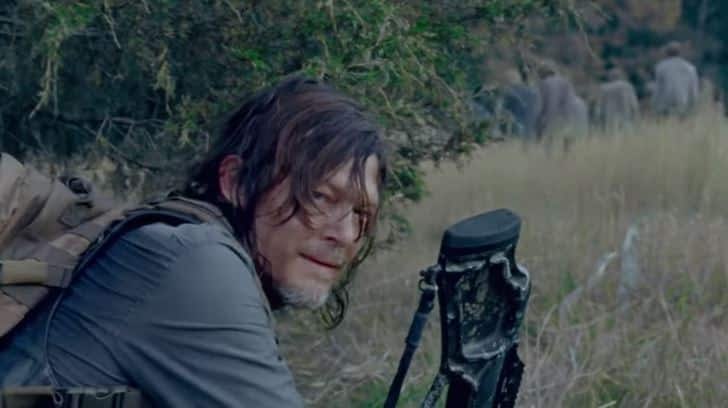 The threat from Alpha and the Whisperers is one that our communities has never faced before – and for them to survive, our heroes are going to have to put aside past differences and tragic losses and get back to more of a "Terminus" mindset. With Rick Grimes (Andrew Lincoln) having shuffled off the televison coil during the first-half of season 9 (soon to be "resurrected" in his own Walking Dead universe film trilogy), Daryl (Norman Reedus) is finding himself being pulled back into the community – pulled back into being the protector he used to be… until that day.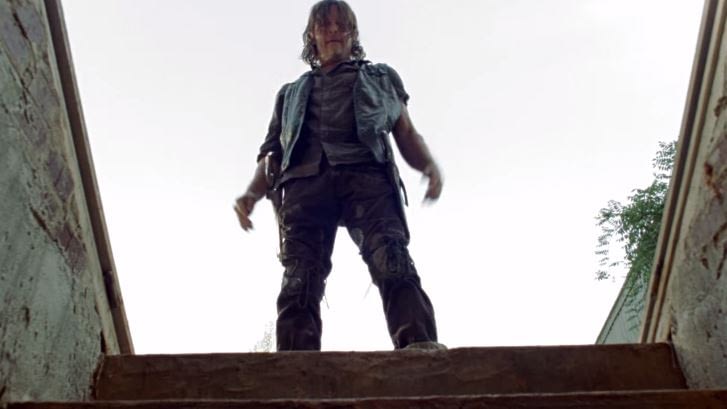 Reedus sat down with Entertainment Weekly ahead of this Sunday's midseason series return to talk about Daryl's evolving role in the series, the dynamic between Daryl and Alpha, what it was like working with Morton, and a whole lot more. Here are some of the highlights:
● While Reedus emphasized that viewers will get the opportunity to learn the psychology of the Whisperers, he explained very directly (and a little tongue-in-cheek) what's motivating Daryl when the season starts:
"As for Daryl, he doesn't want Carol mad at him. You don't want to get a spanking from Carol! He's there on a mission that she put him on, and now he's kind of in the middle of all of this chaos and trying to figure it out."
● After isolating himself from the communities in an effort to find some closure regarding what happened to Rick, Daryl finds himself back on the frontlines – and just in time:
"He sort of exiled himself after the horrible thing happened with Rick. He's been out in the woods looking for a body. He won't give up. That's just who he is. He was like that with Sophia, when she was lost. He's just the type of guy that… he needs proof. He needs some closure. He needs to figure it out. He's been put on this mission, like you said, to bring Henry to Hilltop. When he gets there, all hell's breaking loose. There's a knock at the door. We're kind of called out, and no one's really stepping up. Daryl's like, 'Screw it. I'll go do it.' He ends up in a situation where he kind of has to man up."
● The Daryl Dixon we're seeing after the season's time jump is not the one we've gotten to know over the past eight seasons: less apt to rush into action, with the understanding that he may have to play all sides for him to win and the communities to survive:
"I mean, there are certain moments in the next two episodes where Daryl didn't get in someone's face. He kind of took a step back, and he's watching. He's waiting for a little crack to happen in that dam to get in there and open it up and let those waters out. He's very clever in a way that he's going to play both sides, in a way. He's going to try to get into the psychology of that mindset, of what it takes to live a life in a dead man's face and walk among the dead. He's trying to figure out a way to keep the people safe, but also try to crack that egg and figure out what's happening, you know? It's very complicated, and there's a lot of moving parts."
● As for Daryl's reaction to and interactions with Whisperers' leader Alpha, Reedus suggest that the two will have a growing mutual respect for each other – even as Daryl looks for a way to take her down:
"There's a lot of Daryl and Alpha stuff coming up. They're coming from two different places. She's coming from a place of she's got it figured out. She's figured out how to survive. The way that she's figured out how to survive is smart, but it's also so dark. Daryl sort of is put in the middle of this. He's trying to figure it out, but when push comes to shove, Daryl's like, 'Let me go meet this girl.'

It gets to a point where there's a mutual respect between them in some weird way. I know you saw from the clips that were put out of future scenes coming up where Lydia's saying to Daryl, 'You're not like these people. You live outside of these walls. You're a wild animal. You get it more than anyone.' I think Alpha kind of sees that in Daryl, and Daryl sees that in Alpha. As the story progresses, you'll get to know that there is a mutual respect between those two characters."
● For Reedus, working with Morton was a great experience because of the sense of individuality the actress brought to the part – putting Alpha in a different category from previous "big bads":
"I gotta say, working with Samantha, she's so good. She's so fun. She's coming at it like Axl Rose. She's squirming in his face, belting out the loudest noise. It's great. She was fun. Everybody has their own way of being a bad guy. Jeffrey's is to be confident and smile. The Governor was to be really serious. Samantha, she's kind of having fun being puffed up. She's kind of enjoying the mental of being Alpha. She's getting into it, and she comes at you like a snake with a smile on her face."
● But as scary and intimidating as the Whisperers are, Daryl's seen and done too much over the years to let a little thing like "wearing walker skin" scare him off from his role as protector:
"A lot of the characters on our show would be affected by that sort of showmanship. Daryl's like, 'What the f— do you want? The whole snaky f—ing creepy-face-looking thing, I've seen it all at this point. What do you want? I'm just cutting to the f—ing chase. You're not freaking me out. What the f— do you want?' I think that is kind of breaking the ice with Alpha where she ends up like, 'Okay, this guy's the real deal. You can't intimidate him.'"
Here's a sneak preview for the series return this Sunday, February 10 – though subscribers to AMC Premiere are getting a chance to screen the episode right now:
The Walking Dead s09e09 'Adaptation': The group unmasks a disturbing and dangerous new thread. An escaped captive revisits his past. Directed by: Greg Nicotero / Written by: Corey Reed
The second half of "The Walking Dead" Season 9 finds our groups of survivors, both old and new, continuing to deal with the impact of events that took place during the six years that have passed. Since the disappearance of Rick, many of these characters have become strangers to each other, and in some ways, strangers to themselves.

AMC

What they do know is that they are in undeniable danger. They will soon realize the world just beyond does not operate as they thought. The group's rules and ways of survival no longer guarantee their safety. A whole new threat has crossed their paths, and they soon discover it's unlike any threat they have encountered or endured before. The group will start to question what they think they see. What may appear to be normal in this post-apocalyptic world could actually be more disturbing and terrifying than when the apocalypse first broke out. All that is certain is the stakes are high and numerous.

AMC

Based on the comic book series written by Robert Kirkman and published by Image Comics, "The Walking Dead" tells the story of the months and years after a zombie apocalypse and follows a group of survivors who travel in search of a safe and secure home. The series is executive produced by chief content officer Scott M. Gimple, showrunner Angela Kang, Robert Kirkman, Gale Anne Hurd, Dave Alpert, Greg Nicotero, Tom Luse and Denise Huth.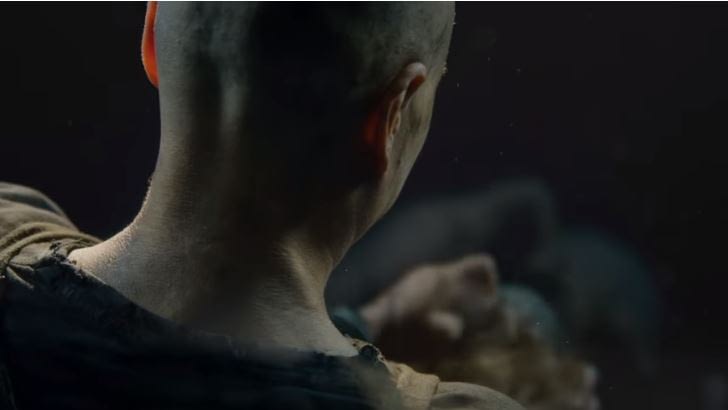 AMC's The Walking Dead makes its midseason return to the network on Sunday, February 10, 2019, at 9 p.m. ET; and is available now for subscribers to AMC Premiere.