As Bleeding Cool pointed out on Wednesday, this week's Uncanny X-Men #5 featured. Well, Nathan Grey wiping out centres of worshop of three of the world's major religions. At least.
Cleansing the Earth of false prophets, false idols and delusions of holiness…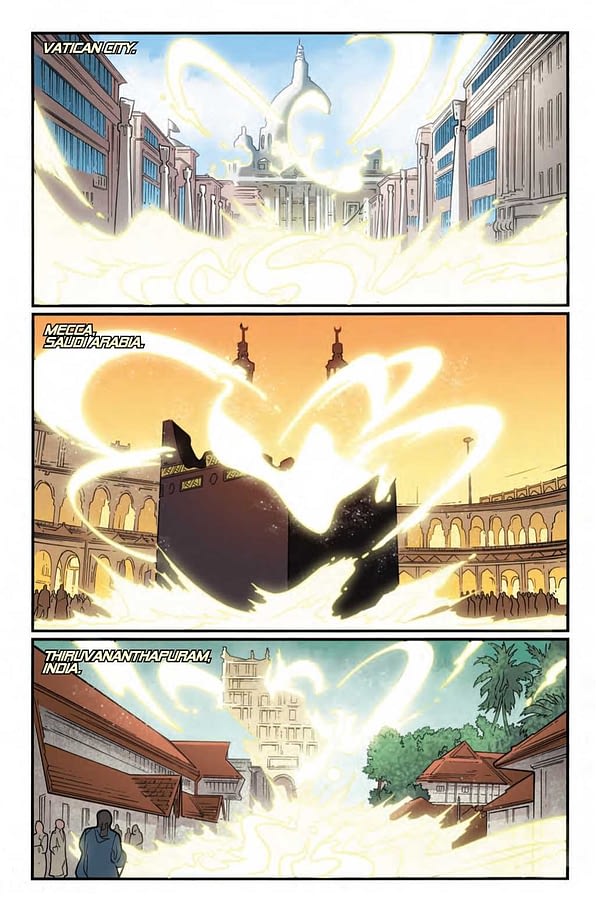 The destruction of Saint Peter's Basilica in the Vatican City, Rome, centre of Catholicism and the tombs of many Popes.
The Kaaba, at the center of Islam's most important mosque, Al-Masjid Al-Ḥarām, in the Hejazi city of Mecca, Saudi Arabia.
And the Padmanabhaswamy Temple in Thiruvananthapuram, Kerala, India, of the Hindu faith.
And which of these is going to complain? No, you're wrong. No, you're still wrong.
Hindu statesman Rajan Zed, in a statement in Nevada, said that it was very hurtful to the Hindu community when a popular platform like Marvel labelled a sacred and highly revered Hindu temple as a fake house of worship.
Zed, who is President of Universal Society of Hinduism, stated that it was highly inappropriate, and urged Marvel to immediately issue an official apology for hurting the sentiments of Hindu devotees, and publish it prominently on its website.
Rajan Zed notes that Hinduism is the oldest and third largest religion of the world with about 1.1 billion adherents, what he calls a rich philosophical thought and states that it should not be taken frivolously. And that symbols of any faith, larger or smaller, should not be mishandled.
He states that such misrepresentation created confusion among non-Hindus about Hinduism. And that insensitive handling of faith traditions sometimes resulted in pillaging serious spiritual doctrines and revered symbols.
Rajan Zed further said that Hindus were for free artistic expression and speech as much as anybody else if not more. But faith was something sacred and attempts at trivializing it hurt the followers. So basically not for free artistic expression and speech as much as anybody else then.
Zed stated that comics publishers should be more sensitive while handling faith related subjects, as these being a powerful medium left lasting impact on the unsuspecting minds of highly impressionable children, teens and other young people.  I know, teenagers and kids reading Uncanny X-Men. Marvel will be so pleased.
UNCANNY X-MEN #5
(W) Ed Brisson, Kelly Thompson, Matthew Rosenberg (A) R. B. Silva (CA) Elizabeth Torque
X-MEN DISASSEMBLED CONTINUES!
Just when things didn't look like they could get worse… The ride of the Four Horsemen of Salvation? The coming of X-Man? And…a return to the AGE OF APOCALYPSE? The weekly epic that threatens to leave the X-Men in tatters rolls on toward its explosive conclusion!
Rated T+In Shops: Dec 12, 2018 SRP: $3.99
Enjoyed this article? Share it!