BRIAN MICHAEL BENDIS presents…
I was a Marvel kid (duh) but I was a DC teenager. I was in high school when John Byrne came to SUPERMAN and Frank Miller was on BATMAN and George Perez was on WONDER WOMAN.
Those three creators alone brought me to DC at a time when the company was making some of the most innovative and celebrated comics ever. They were speaking to me like nothing else in the world was. I was a teenager discovering myself through this art form and these worlds and characters. These comics told me I might have something like a voice and a place in the world. These comics were as big a part of me becoming who l am as anything else that was going on in the "real world,"
We want to celebrate that absolutely wondrous time of life when you are just about to become the person you are destined to be, when you just start to discover your true potential, and even that magical moment when you first start to figure out the world before the world figures out you. We want to make comics that celebrate wonder. The wonder of life. love and comics.
Taking a page from Neil Gaiman's Sandman Universe line. Wonder Comics is a pop-up imprint that will he a boutique collection of exceptionally well-crafted comics that reflect our deep love and affection for these characters and this amazing medium.
We'll have many surprises for you in the coming a months. Wonder Comics is all set to give you gorgeous. honest. innovative and. yes, wonderful comic book experiences.
These are comics for readers who want to come together to share the wonder of the universe together.
Thank you for joining us on this brand-new mission.
BENDIS!
YOUNG JUSTICE
Superboy! Wonder Girl! Robin! Impulse! Amethyst!  They're all united in YOUNG JUSTICE #1. the debut issue of a brand new series that also introduces new heroes Teen Lantern and Jinny Hex!
When the nightmare dimension known as Gemworld invades Metropolis, these teen heroes reunite to deal with the situation—but they're shocked to discover the battle may be the key to the 5  return of Conner Kent, a.k.a. Superboy!
This mix of fan favorites and new legacy heroes will the the center point for some of the biggest goings-on at DC! As if that weren't enough, Bendis reunites with all-star artist Patrick Gleason (SUPERMAN, ACTION COMICS, GREEN LANTERN CORPS) to bring the new heroes of DC's Wonder Comics to life!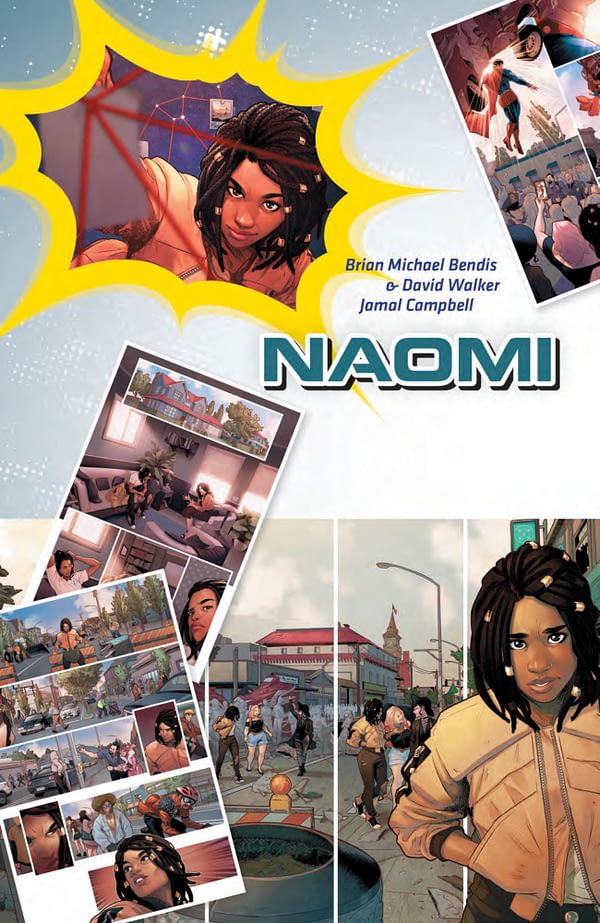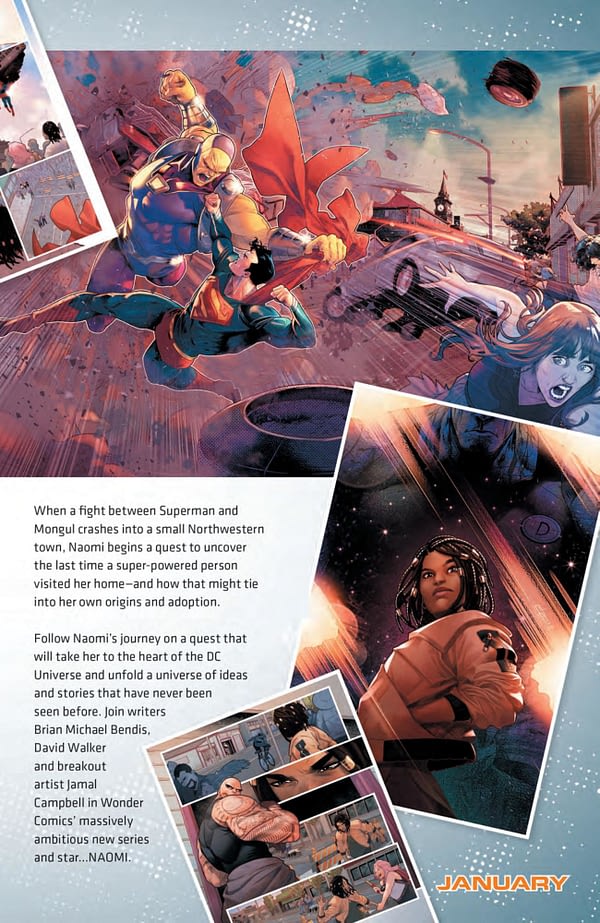 Brian Michael Bendis & David Walker, Jamal Campbell
NAOMI
When a fight between Superman and Mongul crashes into a small Northwestern town, Naomi begins a quest to uncover the last time a super—powered person visited her home—and how that might tie into her own origins and adoption.
Follow Naomi's journey on a quest that will take her to the heart of the DC Universe and unfold a universe of ideas and stories that have never been seen before. Join writers Brian Michael Bendis, David Walker and breakout artist Jamal Campbell in Wonder Comics' massively ambitious new series and star…NAOMI.
Mark Russell, Stephen Byrne –
WONDER TWINS
Exiled from their home planet. alien heroes Zan and Jayna must navigate life as teens on Earth at South Metropolis High School, where they're even bigger outsiders than the normal awkward young adult. Under the watchful eye of Superman. the brother and sister pull monitor duty at the Hall ofjustice as interns. while also trying to overcome the pitfalls of Zan's brash confidence and Jayna's shy but Streetwise persona. If you think you know the Wonder Twins, think again—this book takes the form of the unexpected.
DIAL H FOR HERO
Sam Humphries
Joe Quinones
Teenager Miguel Montez discovers the long—lost H-Dial, an ancient and unbelievably powerful rotary phone that gives its users (seemingly) random superpowers for one hour. With evil factions desperate to get their hands on its power. Miguel steals the only mode of transport he c:an—his uncle's food truck—and hightails across the country to give the H-dialer to the one man who can keep it safe: Superman.
MARCH