In Batman #55, KGB Beast, presumably under orders from Bane, tried to kill Nightwing. Or at least tried to try to kill Nightwing. Leading to a snowy smackdown in Alaska. And the Batman making a certain decision in Batman #57.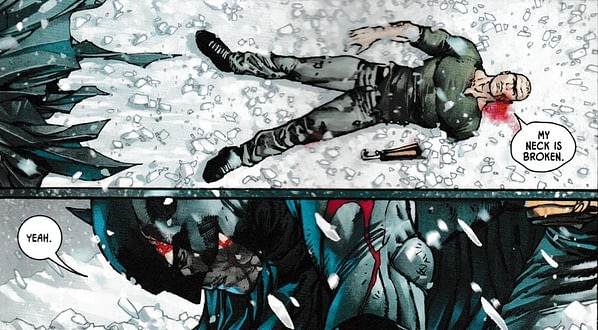 Not pulling the trigger. But as good as.
The Batman certainly crossing the line.
And sentencing the KGBeast to death. Is that where it would be left? The Batman basically killing Bane as much as Red Hood tried to kill The Penguin?
Well, no, just as in previous Batman comics from decades past, the KGBeast had a lucky escape.
As well as the overuse of the word 'turd' – he has been rescued, broken neck and all… the KGBeast lives to shoot another Nightwing another day.
Not that Nightwing seems to care much today…
BATMAN #60
(W) Tom King (A/CA) Mikel Janin (AND JORGE FORNES)
Batman takes on a new partner, and it's…the Penguin? After rejecting Bane's crime-boss co-op, Cobblepot finds himself in the crosshairs of some very teed-off villains. The feathered felon turns to his old foe to snitch on Bane's scheme, but has to prove his intentions to avoid a Bat-beatdown. Along the way, this Gotham odd couple begins to bond-could there be a new bird joining the Bat-Family? Not if Bane has anything to say about it…In Shops: Dec 05, 2018 SRP: $3.99

NIGHTWING #54
(W) Scott Lobdell (A/CA) Chris Mooneyham
The repercussions of the cataclysmic events of BATMAN #55 continue as a scarred Dick Grayson has given up his vigilante persona in favor a normal existence. A new job, new friends, new life-all are compromised when a safehouse full of old Nightwing gear falls into the wrong hands. Confronted with a past he's worked so desperately to escape, will Dick Grayson answer the challenge by becoming Nightwing…or something else? The newest chapter in the evolution of Dick Grayson reaches its next level!In Shops: Dec 05, 2018 SRP: $3.99