Originally, BBC Books told booksellers that the upcoming Doctor Who novel Scratchman was to be written by James Goss and based on the un-produced Doctor Who screenplay written decades ago by Tom Baker, who played the Fourth Doctor and the Great Curator, alongside Ian Marter who played Harry Sullivan.
James Goss had already adapted Douglas Adams' previously un-novelized story, The Pirate Planet and The City Of Death and the un-produced Doctor Who screenplay by Douglas Adams, Doctor Who And The Krikketmen – which also formed the basis for Life The Universe And Everything.
In the late 1970s, Tom Baker (the fourth Doctor) and Ian Marter (Dr. Harry Sullivan) wrote a screenplay for a Doctor Who feature film, Doctor Who Meets Scratchman. Baker and James Goss, the novelizer of several Douglas Adams Doctor Who stories, team up to present the ultimate Doctor Who novel, chronicling the Doctor's battle against the Devil himself!
Then it was revealed that it was but a subterfuge. Tom Baker was writing the novel all by his lonesome. And it was a way to stop the information leaking too early for BBC Book PR…
Goss semi-confirmed the strategy.
BBC Books may have played a very clever bit of misdirection to avoid the magnificent secret getting out…something I was only too happy to be a part of!

— James Goss (@gossjam) November 23, 2018
Here's the new solicitation:
What are you afraid of?

In his first-ever Doctor Who novel, Tom Baker's incredible imagination is given free rein. A story so epic it was originally intended for the big screen, Scratchman is a gripping, white-knuckle thriller almost forty years in the making.

The Doctor, Harry and Sarah Jane Smith arrive at a remote Scottish island, when their holiday is cut short by the appearance of strange creatures – hideous scarecrows, who are preying on the local population. The islanders are living in fear, and the Doctor vows to save them all. But it doesn't go to plan – the time travellers have fallen into a trap, and Scratchman is coming for them.

With the fate of the universe hanging in the balance, the Doctor must battle an ancient force from another dimension, one who claims to be the Devil. Scratchman wants to know what the Doctor is most afraid of. And the Doctor's worst nightmares are coming out to play…
He has also recorded an audio version…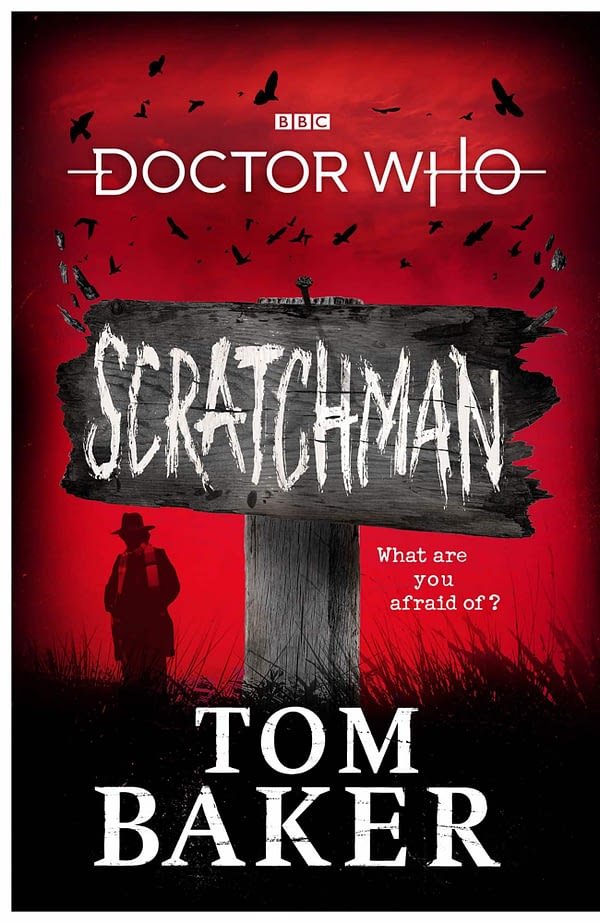 Enjoyed this article? Share it!