The Black Order #1 out this Wednesday from Marvel Comics stars Thanos' personal team of assassins who got a big boost through their appearance in the Imovie. And now have their own comic book. But how do you get the audience onto the side of the mass murdering bad guys.
You turn to Tarantino. Remember the conversation about burgers between Samuel Jackson and John Travolta? Of course you do, it endeared you to the characters as they were about to commit murder.
And Derek Landy and Philip Tan try that in the Black Order. They really do. With Corvius Glave enquiring as to the state of his sense of humour.
Something that seems to obsess him, both at the beginning of the comic, carrying out intergalactic slaughter…
… but throughout the comic book.
Something he can't let go of, the desire for a sense of humour, even as he is committing the worst acts of atrocity.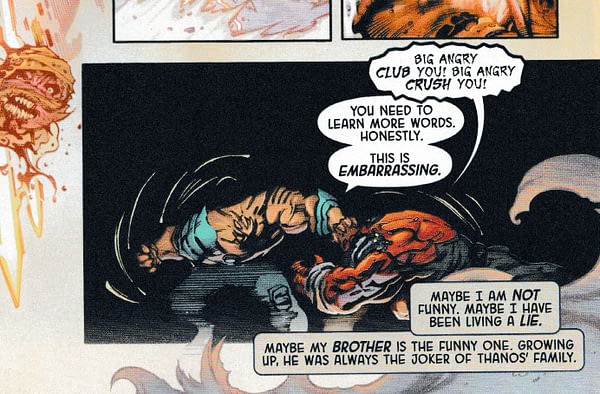 He cannot let this one go. It demonstrates a complete and utter detachment from the actions of Corvius Glaves and the rest of the Black Order, and condemn the audience for their complicity., in watching some of the assaults.
Even as the comic twists into the empire that the Black Order are fighting to bring down, with a bit of a David Lynch Dune vibe…
By will alone, I set my mind in motion. Can one group of powerful people bring down a galactic empire, no matter how corrupt, corpulent? And can the only people able to do so the kind of people who would do the worse things possible, making points as they go? Is this a necessary means to an end? But these aren't likeable rogues, these are already the worst of the worst. Is there a way back?
All sorts of questions within the gore. But it will be hard to find any audience to be sympathetic with The Black Order for this kind of thing.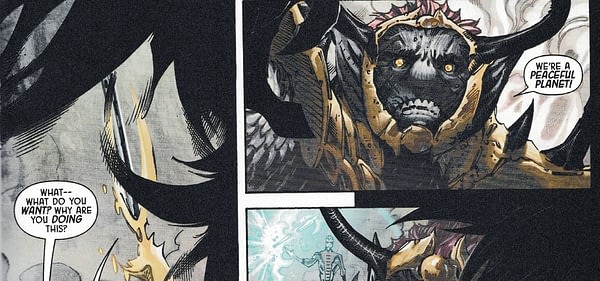 That kind of argument doesn't play here… or in Avengers #700…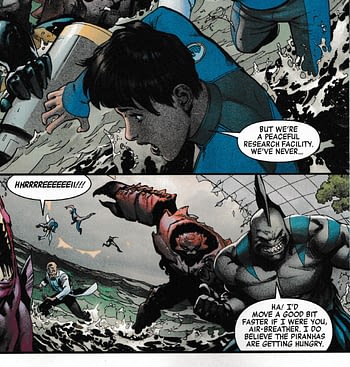 …time to find a new argument.
But I think this comic book may well divide the audience down the middle more than anything at Marvel since Secret Empire. The question to ask, which side are you on? The ideologically justifiable that leaves everyone in bondage or the pragmatic but sociopathic solution to make a change?
Let's find out on Wednesday.
BLACK ORDER #1 (OF 5)
(W) Derek Landy (A/CA) Philip Tan
FROM THE INFINITY WAR INTO THEIR OWN LIMITED SERIES!
They are the five dreadlords, the Cull Obsidian, Thanos' most feared warriors and disciples… Ruthless villains to a one, the Black Order has been dispatched by the Grandmaster to destabilize a burgeoning empire, and along the way they come to realize that as big and as bad as they are, there is always someone bigger and badder… The bombastic writing style of novelist Derek Landy (Skulduggery Pleasant) and the electrifying artwork of Philip Tan combine for an absolutely unhinged super-villain adventure! Rated T+In Shops: Nov 14, 2018 SRP: $3.99