Nexon released a brand new update today for MapleStory 2, adding in a new Chaos Rising theme and promoting a Thanksgiving event as well. The update is officially live today while Turkey Terror will run from now until December 6th. You can check out more details on the chaos raids system below.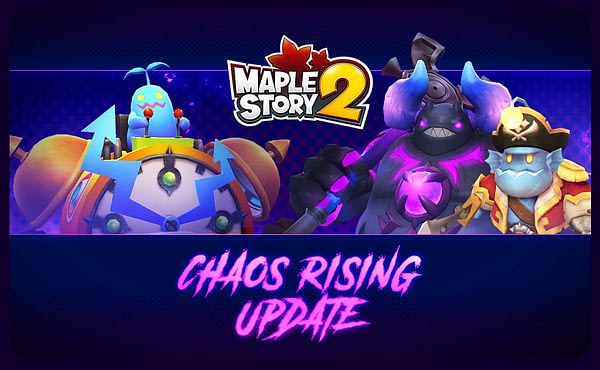 Chaos Raids are advanced challenges that will require more from you than any of the other challenges that Maple World has presented so far. Skipping over almost the entire dungeon and heading straight to the final boss, you'll only have 15 minutes to take your enemy down. Your foes have vast amounts of health and their attacks will strike harder than ever, so you'll need powerful weapons, a good team and quick thinking to succeed.

Each character can complete each Chaos Raid a total of 3 times per day and 6 times per week, and you will need the following Gear Scores in order to enter:

Shadow Altar: 4,500 Gear Score
Moonlight Fortress: 5,900 Gear Score
Ludibrium Clock Tower (coming Nov. 30): 7,800 Gear Score

Beating the boss doesn't have to be it, though. Like with Hard Adventures, each Chaos Raid has a set of objectives that you can complete to show your mastery over the monsters. You might be content with just the A Rank rewards you'll get from defeating the boss, but each week you can earn bonus prizes for showing true mastery with the Weekly Rank Rewards!

C Rank Reward: 3x Red Stars, 1x Special Red Potion
B Rank Reward: 5x Red Stars, 2x Special Red Potion
A Rank Reward: 7x Red Stars, 3x Special Red Potion
S Rank Reward: Lv. 50 Epic Cape Bonus Value Re-roller, Lv. 50 Epic Belt Bonus Value Re-roller
S+ Rank Reward: Lv. 50 Epic Earrings Bonus Value Re-roller, Lv. 50 Epic Necklace Bonus Value Re-roller, Lv. 50 Epic Ring Bonus Value Re-roller
Enjoyed this article? Share it!