Marvel Comics has given us Old Man Logan – the original story that ran in Wolverine by Mark Millar and Steve McNiven that inspired the movie Logan. It then revived the character and world for Secret Wars and continued it with a 50 issue series that just concluded, to be followed by Dead Man Logan.
During that run, Marvel also started another series set in that world, Old Man Hawkeye. As a parody, DC Comics announced Old Lady Harley.
And now, at Lucca Comics & Games in Tuscany, Italy, Marvel EIC CB Cebulski announced a new series. Old Man Quill.
The next chapter in the Old Man Logan saga in which the Guardians Of The Galaxy return to Earth after many years away, not knowing that the Earth had sunk into post-apocalyptic despair. With Peter Quill, Star Lord, as the lead…
Written by Ethan Sacks, drawn by Robert Gill with variant covers by Andrea Sorrentino, coming in February 2019.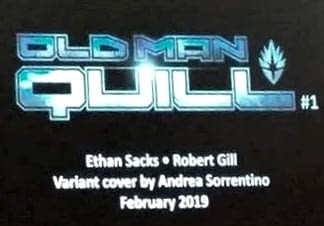 More as we have it…
Enjoyed this article? Share it!