Greetings from the coal face of the direct comics market. Where retailers try to increase their orders of certain comics ahead of sale. Where supply and demand and most accurately reflected, where you can see which books are hot, where new orders are coming in and how retailers are reacting to new, unanticipated desire! And courtesy of stats from Diamond Comic Distributors.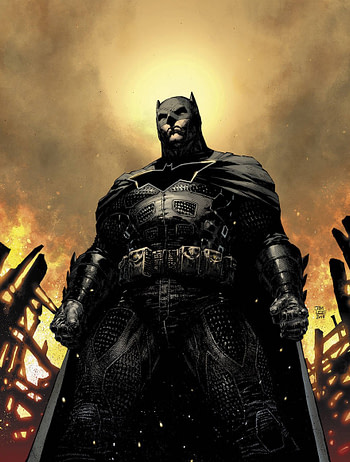 Batman: Damned #2 has been hovering in the Advance Reorders charts for the last few weeks as retailer struggle to adjust their orders in the wake of a) Batman Damned #1 selling out and then some and b) DC Comics taking the decision not to reprint it, against the wishes of the creative and editorial teams.
This is giving some retailers pause as to how to reorder it. Clearly there is demand, and they should at least order as many as they did of #1. But should they order more, given that their customer base who didn't get a copy of book one, may not want to get book two.
At MCM London Comic Con, I was talking to a major retailer who told me they are upping their orders massively. Who believes that readers have been reading the comic digitally, legally or not. And there is a strong demand to buy the second volume. And the release of a new Jim Lee variant cover was enough for that demand to hit the advance reorders and see Batman Damned #2 leapfrog over Web Of Venom: Carnage Born, Batman, West Coast Avengers and Spider-Verse...
I note that pre-sales on eBay are already above cover price.
TOP 25 ADVANCE REORDER COMICS/GRAPHIC NOVELS/TPS

| | | |
| --- | --- | --- |
| DESCRIPTION | SRP | VENDOR |
| BATMAN DAMNED #2 (OF 3) VAR ED (MR) | $6.99 | DC COMICS |
| WEB OF VENOM CARNAGE BORN #1 | $4.99 | MARVEL COMICS |
| WEB OF VENOM CARNAGE BORN #1 BEDERMAN VAR | $4.99 | MARVEL COMICS |
| BATMAN #59 VAR ED | $3.99 | DC COMICS |
| WEST COAST AVENGERS #4 NAKAYAMA VAR | $3.99 | MARVEL COMICS |
| SPIDER-MAN ENTER THE SPIDER-VERSE #1 | $4.99 | MARVEL COMICS |
| DC NUCLEAR WINTER SPECIAL #1 | $9.99 | DC COMICS |
| VENOM ANNUAL #1 2ND PTG STOKOE VAR | $4.99 | MARVEL COMICS |
| SHAZAM #1 VAR ED | $4.99 | DC COMICS |
| UNCANNY X-MEN #2 | $3.99 | MARVEL COMICS |
| JUSTICE LEAGUE DARK #5 VAR ED | $3.99 | DC COMICS |
| MIDDLEWEST #1 CVR A HUDDLESTON (MR) | $3.99 | IMAGE COMICS |
| JUSTICE LEAGUE #12 (DROWNED EARTH) | $3.99 | DC COMICS |
| X-MEN BLACK MYSTIQUE #1 2ND PTG FAILLA VAR | $4.99 | MARVEL COMICS |
| SPIDER-GEDDON #4 (OF 5) IN HYUK LEE CONNECTING VAR | $3.99 | MARVEL COMICS |
| X-MEN BLACK JUGGERNAUT #1 2ND PTG CRYSTAL VAR | $4.99 | MARVEL COMICS |
| SPIDER-GEDDON #1 (OF 5) 2ND PTG MOLINA VAR | $3.99 | MARVEL COMICS |
| ASTONISHING X-MEN #17 ROSS UNCANNY X-MEN VAR | $3.99 | MARVEL COMICS |
| SPIDER-GEDDON #4 (OF 5) | $3.99 | MARVEL COMICS |
| JUSTICE LEAGUE #12 VAR ED (DROWNED EARTH) | $3.99 | DC COMICS |
| COSMIC GHOST RIDER #4 (OF 5) 2ND PTG BURNETT VAR | $3.99 | MARVEL COMICS |
| SHURI #1 2ND PTG ROMERO VAR | $3.99 | MARVEL COMICS |
| IMMORTAL HULK #9 | $3.99 | MARVEL COMICS |
| SHAZAM #1 | $4.99 | DC COMICS |
| MARVEL KNIGHTS 20TH #1 (OF 6) 2ND PTG FOREMAN VAR | $4.99 | MARVEL COMICS |
TOP 25 REORDER COMICS/GRAPHIC NOVELS/TPS
| | | |
| --- | --- | --- |
| DESCRIPTION | SRP | VENDOR |
| BATMAN WHITE KNIGHT TP | $19.99 | DC COMICS |
| UMBRELLA ACADEMY TP VOL 01 APOCALYPSE SUITE | $17.99 | DARK HORSE COMICS |
| SAGA TP VOL 09 (MR) | $14.99 | IMAGE COMICS |
| MARVELOCITY MARVEL COMIC ART ALEX ROSS HC (C: 0-1-0) | $50.00 | RANDOM HOUSE |
| ADVENTURE ZONE GN VOL 01 HERE THERE BE GERBLINS (C: 1-1-0) | $19.99 | ST. MARTINS PRESS |
| UMBRELLA ACADEMY TP VOL 02 DALLAS | $17.99 | DARK HORSE COMICS |
| MY HEROES HAVE ALWAYS BEEN JUNKIES HC (MR) | $16.99 | IMAGE COMICS |
| INFINITY GAUNTLET TP | $24.99 | MARVEL COMICS |
| NEIL GAIMAN STUDY IN EMERALD HC (C: 1-1-2) | $17.99 | DARK HORSE COMICS |
| SPIDER-VERSE TP | $50.00 | MARVEL COMICS |
| HARLEY QUINN #52 FOIL | $3.99 | DC COMICS |
| JUSTICE LEAGUE #10 FOIL (DROWNED EARTH) | $3.99 | DC COMICS |
| NIGHTWING #51 FOIL | $3.99 | DC COMICS |
| DARK NIGHTS METAL DELUXE ED HC | $29.99 | DC COMICS |
| JUSTICE LEAGUE DARK #4 FOIL (WITCHING HOUR) | $3.99 | DC COMICS |
| MONSTRESS TP VOL 03 (MR) | $16.99 | IMAGE COMICS |
| BATMAN #57 | $3.99 | DC COMICS |
| MAESTROS TP VOL 01 (MR) | $16.99 | IMAGE COMICS |
| DARK NIGHTS METAL DARK KNIGHTS RISING HC | $29.99 | DC COMICS |
| SAGA TP VOL 08 (MR) | $14.99 | IMAGE COMICS |
| PREDATOR HUNTERS TP | $19.99 | DARK HORSE COMICS |
| BERSERK TP VOL 01 BLACK SWORDSMAN (MR) | $14.99 | DARK HORSE COMICS |
| TEEN TITANS #23 FOIL | $3.99 | DC COMICS |
| SAGA TP VOL 01 (MR) | $9.99 | IMAGE COMICS |
| SUPER MARIO ENCYCLOPEDIA LTD ED HC (C: 1-1-2) | $79.99 | DARK HORSE COMICS |