Willie Lumpkin is one of the Marvel Universe's oldest characters. He first appeared in Fantastic Four #11 in 1963, created by Stan Lee and Jack Kirby as the Fantastic Four's mailman. He occasionally got involved in their shenanigans and even dated Peter Parker's Aunt May at one point.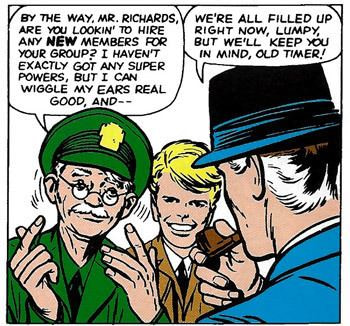 And in the Fantastic Four movies, he is played by Stan Lee…
Today sees the publication of Black Panther VS Deadpool #1 from The Late Show With Stephen Colbert head writer Daniel Kibblesmith with Ricardo Lopez Ortiz and Felipe Sobriero.
With Willie Lumpkin, back on his mail route.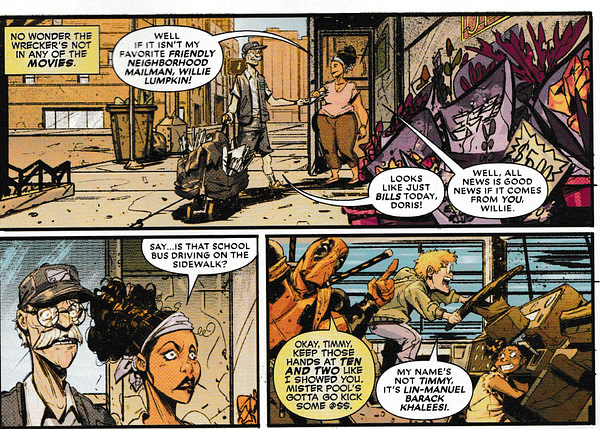 With a school bus heading his way…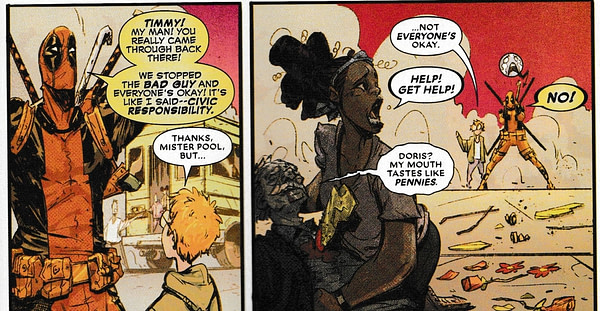 Willie? Daniel, Felipe, Ricardo, how could you…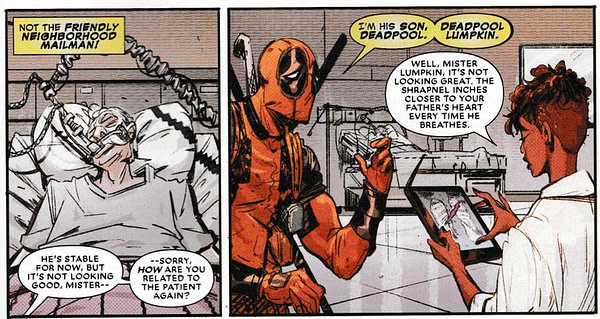 And there's only one place who can save him. All it will need is a diplomatic approach from Deadpool to the king of Wakanda…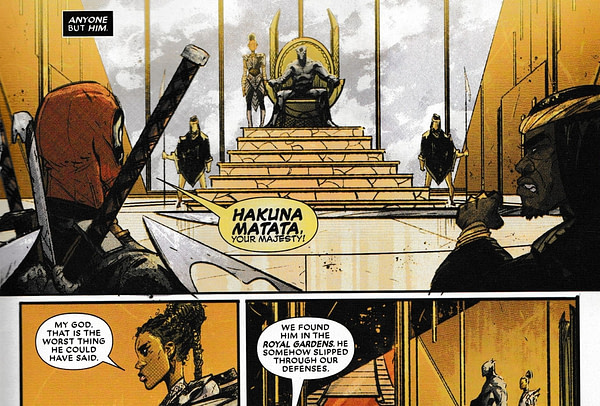 Poor Willie… you were a great man.
BLACK PANTHER VS DEADPOOL #1 (OF 5)
(W) Daniel Kibblesmith (A) Ricardo Lopez Ortiz (CA) Ryan Benjamin
VIBRANIUM BULLETS AND REGROWING LIMBS – EVERYTHING YOU WANT FROM A COMIC IS HERE!
Deadpool's teamed up with, taken down or taken a beating from just about every hero in the Marvel Universe. And no way is the Black Panther going to miss out on his turn. From Late Show writer Daniel Kibblesmith comes a hilarious romp through Wakanda as Deadpool goes on the hunt for the world's most valuable resource: Vibranium! When a beloved figure of the Marvel Universe becomes collateral damage in a fight between Deadpool and the Wrecker, the heroic Deadpool sets out to obtain a fragment of Vibranium that could save the victim's life. But his unconventional methods – ranging from poaching to dismemberment – don't sit well with the King of Wakanda, and Deadpool's about to learn that you don't bring a sword to a claw fight! Parental Advisory In Shops: Oct 24, 2018 SRP: $3.99