Hecate or Hekate is a goddess in Greek religion and mythology and later depicted in triple form. That triple identity has also emerged from Roman and greek mythology as The Fates, The Furies and as the pagan Triple Goddess, three female figures are frequently described as the Maiden, the Mother, and the Crone. And you can partially blame Robert Graves as drawing that line, and DC Comics joined in as well, with a little help from Neil Gaiman.
But today, it's gone into overload. The current Witching Hour crossover with Justice League Dark and Wonder Woman has pushed the Hecate to the top.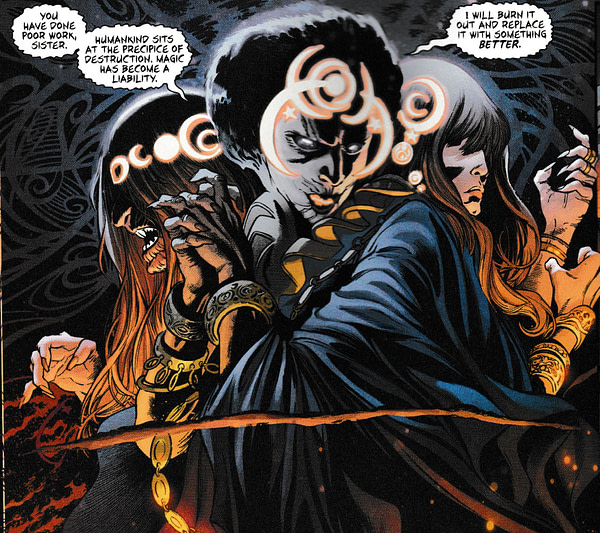 While over in Harley Quinn, the Fates who made Captain Triumph in the Quality Comics series in the fifties, now revived, are now the Three Witches…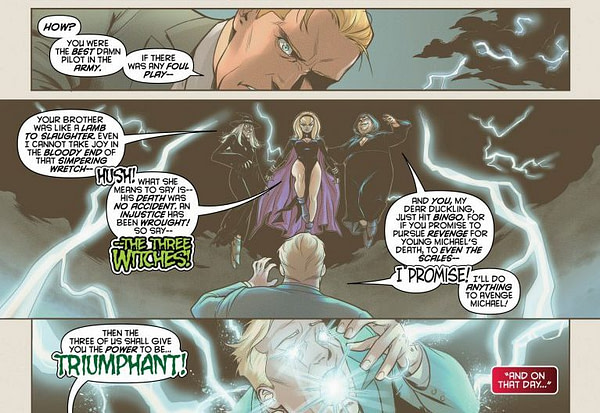 While over in Lucifer #1 they are ripping out their own eyes in tribute to the Dark Lord, now a bearded, blinded, porridge-dodging fool… though missing a sister…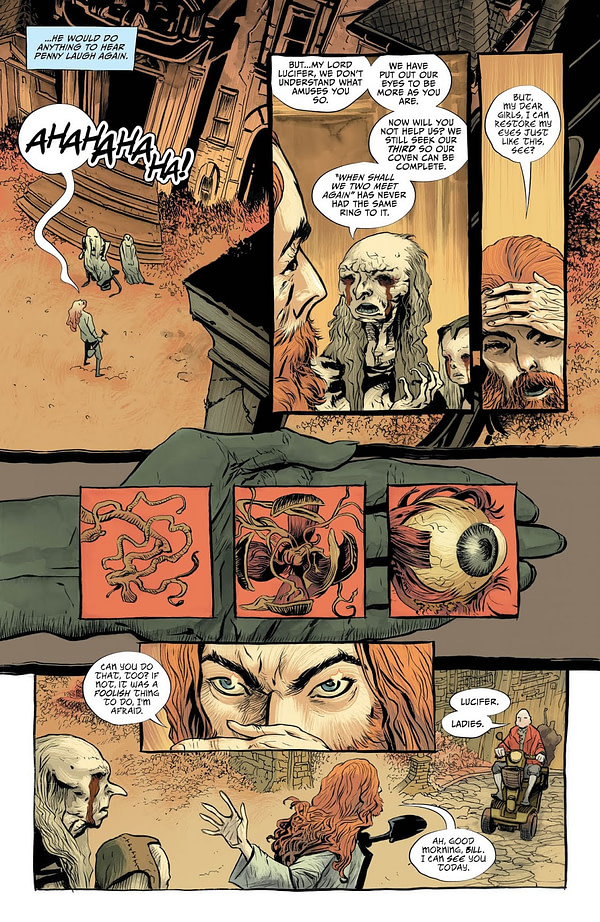 Ooh, what a bitch… who wants a little Fates overload?
HARLEY QUINN #52
(W) Sam Humphries (A) Sami Basri (CA) Julian Totino Todesco
Trapped in a future he doesn't understand, Captain Triumph can't battle his way out of our modern world, as all his efforts lead to disaster. That causes him to butt heads and trade punches with his would-be protector, Harley Quinn. Can Harley talk her way out of this clash? And more importantly, where's she getting a time machine so she can send Captain Triumph home? In Shops: Oct 17, 2018 SRP: $3.99

JUSTICE LEAGUE DARK #4
(W) James TynionIV (A) Alvaro Martinez, Raul Fernandez (CA) Riley Rossmo
"The Witching Hour" part three! Everything the Justice League Dark thought they knew about Wonder Woman and Hecate has proven to be wrong…and the Parliament of Trees is about to pay the price! Hecate knows this world isn't strong enough to resist the Otherkind, so she's going to burn it down and replace it with a world of her own…starting with that ancient grove! In Shops: Oct 17, 2018 SRP: $3.99

LUCIFER #1 (MR)
(W) Dan Waters (A) Max Fiumara, Sebastian Fiumara (CA) Goni Montes
Lucifer is missing. Having embarked on a dangerous journey to find the mother of his abandoned son, the Prince of Lies finds himself imprisoned and crippled by mysterious forces who seek to torment him for their own terrible ends. Meanwhile: a car is crashed, two witches blind themselves, a tumor speaks its first words, and a perfectly good bowl of oatmeal is left to go cold. In Shops: Oct 17, 2018 SRP: $3.99