DC Comics Animated statues are on the way from Sideshow Collectibles. The first will be Batman, from the much-loved Batman: The Animated Series. Also teased to be coming are Wonder Woman and Superman.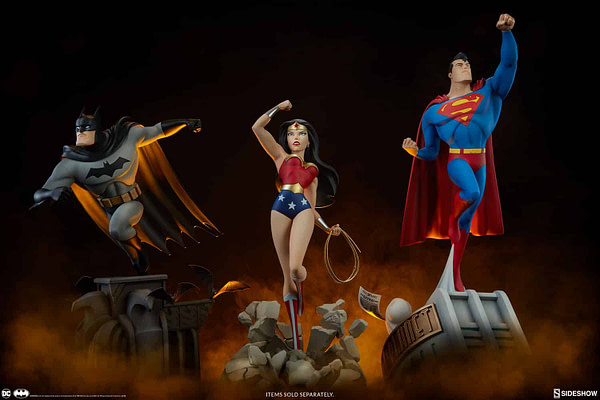 Batman will come in two editions: a regular edition for $415 and a Sideshow Exclusive with a hand holding a grappling gun for $425. The statues will be 16 inches tall, and will feature Bruce leaping to action off of a rooftop. It will be made of resin, so it will have some series weight to it as well. Both versions go up for order this Thursday, September 27th on the Sideshow website. Check out pics and details below, and when the others go up for order you can bet we will let you know.
Sideshow is excited to present the first DC collectible in the Animated Series Collection, the Batman Statue.

Inspired by Batman's iconic animated appearances, this collectible captures the dynamic motion and action-packed energy of the Caped Crusader in a beloved art style. The Batman Statue measures 16" tall, depicting the Dark Knight taking a running leap off of a Gotham rooftop base as bats take wing into the night.

The resin Batman Statue features a sculpted costume, stylized to capture the movement and striking silhouette of the World's Greatest Detective. His grey bodysuit has the animated bat-symbol on the chest along with black gloves and boots, a black sculpted cape, and a yellow utility belt. Batman's portrait features a pointed cowl with white eyes and a determined expression as the hero prepares to leap from the rooftops to protect his city from crime.

The Exclusive Edition of the Batman Statue includes an alternate right hand holding a stylized grapple gun, the perfect piece of tech for traversing the urban Gotham setting.

Animate your DC collectibles display and order the Batman Statue today!