Man, you used to be able to rely on Bleeding Cool doing this sort of thing. And if not them, then Reddit. And if not them, then 4chan. And if not them, then the New York Times.
A number of press outlets, including Bleeding Cool, were provided with advance copies of this week's Thanos Legacy #1 and Asgardians of the Galaxy #1, with an embargo for Monday to run reviews.
Newsarama it seems decided to run them on Sunday night instead, depending on your territory. Midnight New York time — and not just reviews, but the final page spoilers from the issue in question. Now, they did do the decent thing by redacting the spoilers in the headlines.
But not only did we get the Guardians of the Galaxy teaser…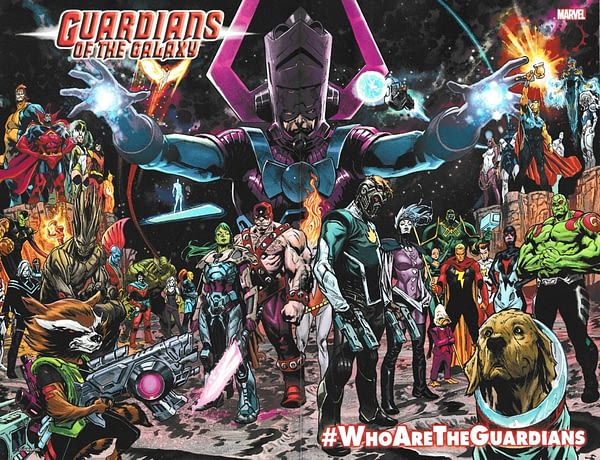 We also got the final pages of Donny Cates and Brian Level's story from Thanos Legacy #1…
…though they may not have the correct interpretation of what 'His Will' means. And could the Omega symbol refer to the Omega Thanosi from Infinity Abyss, indicating that this Thanos was a duplicate? Or could this be his personality — his actual will to exist rather than his testament? We'll have to see in other comic books I guess.
Oh, and then there was the final page of Asgardians of the Galaxy #1, revealing who is inside the Destroyer…
…returning a character to the Marvel Universe — Kid Loki, who was transformed into a less-Kid Loki in Young Avengers. Though Newsarama seem to think he died in the build-up to Secret Wars. Anyway, looks like, as with Cable in Extermination, the past (or future, depending on your point of view) has travelled in time to confront the present.
Bleeding Cool also ran reviews of Thanos Legacy #1 and Asgardians of the Galaxy #1. A lot later and a lot less spoilery. Though we did have the Asgardians reveal a little while ago…
Usually with embargoed products, Bleeding Cool run mostly-spoiler-free reviews but hold spoilers for day of release. Usually. Anyway, it looks as if the rules of the game have been changed. Should we bear this in mind going on?
Are we hypocrites? Jealous? Sour grape-ing the spoilers. Probably.
And anyway, Newsarama missed the biggest story of Thanos Legacy. Cosmic Ghost Rider pissing all over it. That should be the second printing cover, not some stupid Omega symbol which makes you think more of Darkseid…
(Last Updated
September 5, 2018 10:21 am
)
Related Posts
None found