Those who have been regularly reading the Comixology Bestseller Lists, the Bleeding Cool Bestseller Lists, and the Monthly Most-Ordered Diamond Charts will see some interesting differences. Comics ordered high by retailers (often at added discount or to get valuable variant covers) are not always the same as those that sell best in store. And there are some that sell very well digitally that don't make the same impact in physical. Here are a few of the latter — comics that regularly outsell their physical counterparts when the marketplace is a digital one.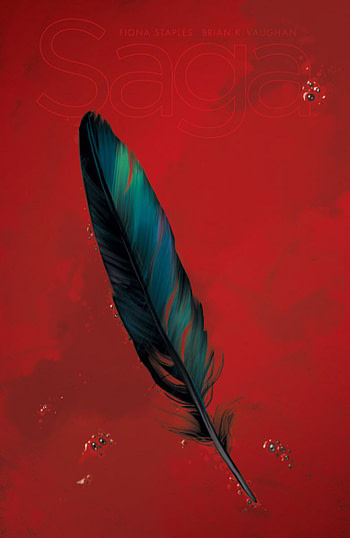 1. Saga
Brian K. Vaughan and Fiona Staples's Saga is no slouch in the physical market. It usually comes in around the 30s-40s in the monthly print charts, and, because it is only $2.99, brings in less money than the competition — around the 60-70s mark for dollars. However, it will often dominate the collection chart. But in digital? Saga always comes number 1. Always. In the week it is out, it beats physical bestseller Batman and all of the big Marvel and DC launches and events — after all, there are no variant covers in digital to help bump the numbers. Saga has found an audience in digital that just doesn't make it to comic shops. And now it's gone away for a year…
2. The Walking Dead
Robert Kirkman and Charlie Adlard's The Walking Dead is pretty much in the same boat as Saga. Again, it's largely the same story — save that this does regularly feature in the Bestseller Lists' top ten. On the Diamond charts it's in the top 20, sometimes making it into the top ten. But digitally? Number one, beating Batman.
3. The Star Wars Books
Both Star Wars and Darth Vader do much better digitally than they do in print. When launched, Star Wars and Darth Vader were in the print top ten but have now slipped down. They rarely bother the Top Ten Bestseller Lists and are around the 30s or 40s in print in general, but on digital they are always still in the top ten. Star Wars fans who don't go into comic shops — there is an untapped audience there.
4. The Wild Storm
Warren Ellis's Wildstorm revival seems a dud physically. The main series is in the 140s, while the spinoff Michael Cray is in the 240s. It is presumed the collections will outperform this, but it's digital where it really shines as a top 20-30 series. It may seem strange that Warren Ellis's biggest fans of Wildstorm, the hardcore followers, aren't buying their comics in comic stores, but them's the breaks.
5. Uber
Published by Bleeding Cool's own publisher Avatar Press, Uber is Kieron Gillen and Daniel Gete's wartime superhero comic that last placed in the physical charts around 330. But digitally it's a very different story. Bleeding Cool's Matthew Snyder noted that "Uber: Invasion has been climbing up the ladder all year, starting in the 40s and now hitting No. 27." I just hope it's not people trying to book a cab home on their mobile when drunk and getting a very different experience.
6. The Wicked + The Divine
Also written by Kieron Gillen with Jamie McKelvie, this comic places in the 170s, though has a stronger trade paperback collection following, But digitally? Again, it's top ten. It is fair to say that with Star Wars, Uber, and WicDiv, Gillen's marketing has given him a digital fanbase denied other creators that pushes his work above others.
7. Archie
Archie seems such an outlier here. Surely this old-fashioned comic would do better physically rather than digitally? Nope, the newly revived Archie Comics is a top-30 book digitally, but it drops to the 200s physically.
8. Monstress
Monstress by Marjorie Liu and Sana Takeda from Image is in the 150s when published physically, though its collections also have a better life in them. But digitally? A top-20 book. And the astoundingly beautiful colours look ever brighter with a backlight.
9. Paper Girls
It may not have as strong sales as Brian K. Vaughan's Saga, but this comic with Cliff Chiang still readily outperforms in digital rather than print issues, where it is still not out for the count and has strong collection sales. A top-90s print issue book, but just outside the top ten in digital.
10. Giant Days
By John Allison with art by Max Sarin and Lissa Treiman from Boom!, this comic about three young women at university together is barely in the top 400 for individual print issue. However, it's a top-30 book in digital.
So What Can We Learn?
Other books lower down the charts but still making a greater digital impact include Animosity, Isola, Eternity Girl, Bloodshot, Black Science, Red Hood and the Outlaws, Star Trek, Seven to Eternity, and Descender. What does this teach us aside from the fact that it's hard to compare monthly and weekly charts and there are different audiences for print and digital? Well, it might suggest that the comics finding an audience digitally could also find that self-same audience looking for a serialised experience in print as well, if publishers, stores, and even creators did a little outreach.
Worth considering?