Bungie, High Moon Studios, and Activision made a joint announcement today for Destiny 2 Forsaken – Legendary Collection coming out this September. The entire collection, which is basically everything from the game wrapped into one giant package, will sell for $60 on PC, PS4, and Xbox One, which includes Blizzard.net's version. Here's a quick snippet about the collection from their press release today, along with the amazing trailer.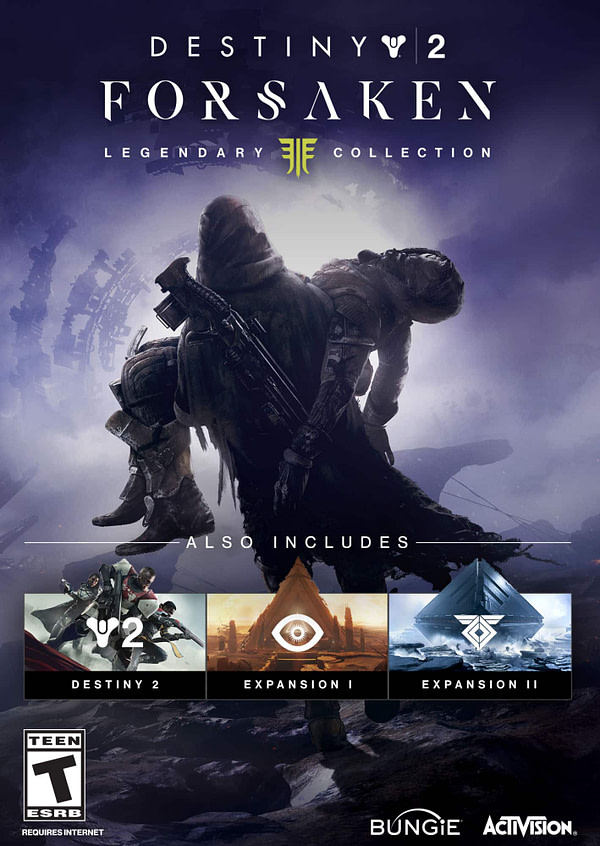 In Forsaken, players take justice into their own hands as they pursue vengeance for fallen mentor, the Hunter Vanguard Cayde-6. Over the course of this adventure, players will have the opportunity to explore new regions, unlock new abilities, earn a wealth of powerful new weapons, and discover lost Awoken secrets. Players who pre-order Destiny 2: Forsaken – Legendary Collection today will receive a suite of special rewards to commemorate the last stand of one of the most memorable characters from the game. Cayde's Exotic Stash pre-order bonus includes a unique exotic weapon ornament for his iconic Ace of Spaces hand cannon, Cayde's ship, an exotic gunslinger-themed emote, and shaders of Cayde to decorate any piece of armor with his colors.

"Perfect for players joining the Destiny 2 universe or one of the veterans seeking revenge for Cayde-6, the Legendary Collection gives players access to all the great Destiny 2content in one place." said Byron Beede, Executive Vice President and General Manager of Destiny at Activision. He added, "With secrets to discover, and an epic hunt at the forefront, Destiny 2: Forsaken is a great chapter to jump into the Destiny story."