The new Teen Titans Special #1 had a number of relatively shocking scenes, including Damian Wayne, Bruce Wayne's son and the current Robin. And seemingly reversing pledges he had made to his father…
…and picking up the gun again.
But it's not the only promise he broke in the comic. Bat when the Batcave acquired a new member, Damian Wayne made a pledge.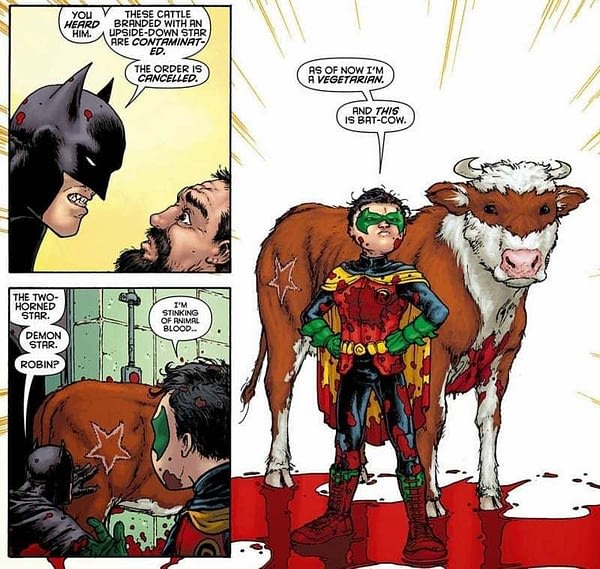 Something he kept up with in subsequent appearances.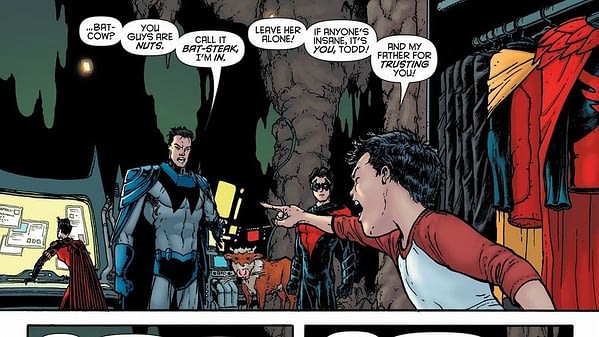 Both with Alfred…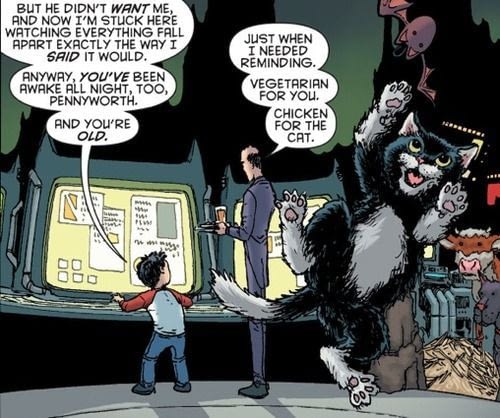 And with Superboy…
But in Teen Titans Special #1 an awful lot is made of his regular (when he can) visits to a restaurant to revisit a childhood favourite, ox blood soup, also known as seonjiguk.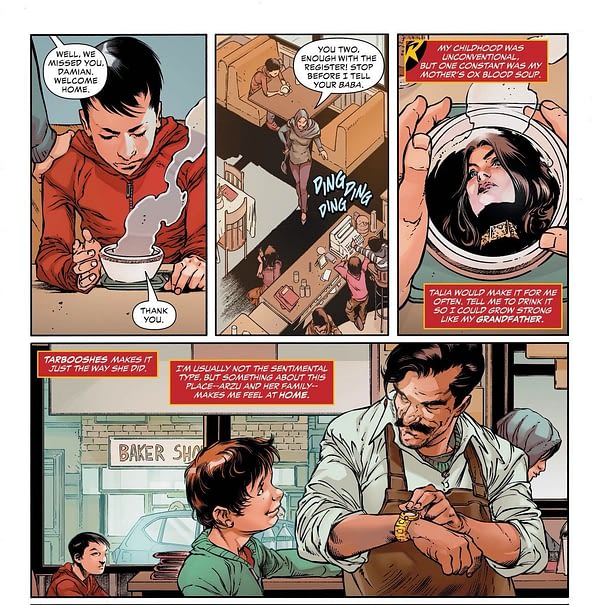 A recipe would include dried Napa cabbage, vegetables and meat in a hearty beef broth, including sliced congealed ox blood.
Vegetarian no more? Or maybe they take blood from cow who volunteer it, while being kept alive and happy? Yes that must be it…
Copies have sold for up to $13.50 but mostly settled around $8 to $9.
TEEN TITANS #20
(W) Adam Glass (A/CA) Bernard Chang
Batman has no idea what he's doing. Superman? Not a clue. Wonder Woman? Whatever. Damian Wayne is Robin, and he's done with the bleeding-heart approach favored by the heroes of the senior circuit. New plan of action: recruit a new Teen Titans. Kid Flash, Red Arrow and newbies Roundhouse, D'jinn and…wait, Lobo has a daughter? That'll end well. And then build something in secret deep beneath the new Teen Titans HQ. Secret from his teammates, secret from even Batman. It's a secret that will change the way you look at Robin forever!  In Shops: Jul 25, 2018
SRP: $3.99
(Last Updated
June 29, 2018 2:43 pm
)
Related Posts
None found