Aspen Press continues its 25th-anniversary promotions with a 25-cent Dellec Primer for September 2018, a relaunch of the series, a new collection — as well as everything else non-Dellec the publisher has planned for the month.
DELLEC PRIMER 2018 JUL181619
(W) Vince Hernandez (A) Micah Gunnell, Peter Steigerwell
Celebrate Aspen's 15 Year Anniversary with 25-cent Primer issues!
New readers and fans alike can find everything they need to know about Aspen's most daring series, DELLEC, in this new 15 Year Anniversary Primer issue! Revisit the supernatural world of Dellec and his quest to avenge the tragedies of his past…all for only a quarter! These Aspen Anniversary edition primer issues are the perfect compliment to discover more about Aspen's current slate of new and returning titles!
In Shops: Sep 12, 2018
SRP: $0.25
DELLEC TP VOL 01 HANDS OF GOD
JUL181620
(W) Various (A) Marco Lorenzana (CA) Various
It's Spreading…
Dellec is really an everyday man caught up in a blur of immorality, yet his quest is always clear – destroy the forces of evil where they flourish – and even places where the lines of good and evil are not easily defined. Following a tragic set of circumstances leading to his wife's murder at the hands of a malevolent Demi-God named Tera, our hero lands headfirst into the battle between good and evil – and his chances for survival are grim. However, Dellec is not one to back down from a fight no matter the foe – specifically when his own life hangs in the balance. This is the tale of one man's quest for vengeance and redemption as he attempts to take on the very being that created mankind itself – God!
Written and created by Frank Mastromauro (Shrugged, Dellec) and Vince Hernandez (Charismagic, Damsels in Excess), and featuring artwork by Micah Gunnell (Shrugged, Deadpool Team-Up) and Peter Steigerwald (Soulfire, Kick-Ass), this incredible new trade paperback collects together all six original issues of DELLEC along with the zero issue, Beginnings story and a whole lot more. Don't miss out on this riveting first volume of DELLEC's epic story.
In Shops: Sep 12, 2018
SRP: $18.99
DELLEC VOL 2 #1 CVR A GUNNELL JUL181622
(W) Vince Hernandez (A) Andre Risso, Michael Sta. Maria (CA) Micah Gunnell
Aspen's hardest hitting series, DELLEC returns for its long-awaited second volume!
Dellec's previous battle against a higher power and the forces of evil led to a tragic ending-as he sacrificed his own life in a struggle with the Demi-God, Tera! But, a new underground resistance forged by Father Strayer is in the works, and with a shocking new leader to combat Terra and her minions, Dellec's cause is ever growing. However, a new evil has emerged…one that could spell doom for not just the innocent-but every living soul! Â
From the minds of creators Frank Mastromauro (Shrugged, Awaken Skies) and Vince Hernandez (Michael Turner's Fathom: Kiani, Charismagic), along with art by Andre Risso, Michael Ste Maria and John Starr, this newest volume of DELLEC is gonna redefine your definition of the human spirit!
In Shops: Sep 12, 2018
SRP: $3.99
DELLEC VOL 2 #1 CVR B QUALANO DELLEC VOL 2 #1 CVR C BARRIOS INC
AWAKEN SKIES #2 CVR A LORENZANA
JUL181625
(W) Frank Mastromauro (A/CA) Marco Lorenzana
A new world of flight prepares to take the Aspen Universe by storm!
On the run with her friends, Mira begins to uncover that the life she knew wasn't what it seemed. But, the family talk will need to wait as those in pursuit of the technology she now possesses are closing in…and nowhere on, above, or below the surface is safe!
Don't miss Aspen's newest action-adventure series from creator Frank Mastromauro (Shrugged, Overtaken), artist Marco Lorenzana (Overtaken) and colorist Justice (Aspen Mascots)!
In Shops: Sep 05, 2018
SRP: $3.99
AWAKEN SKIES #2 CVR B CAMPETELLA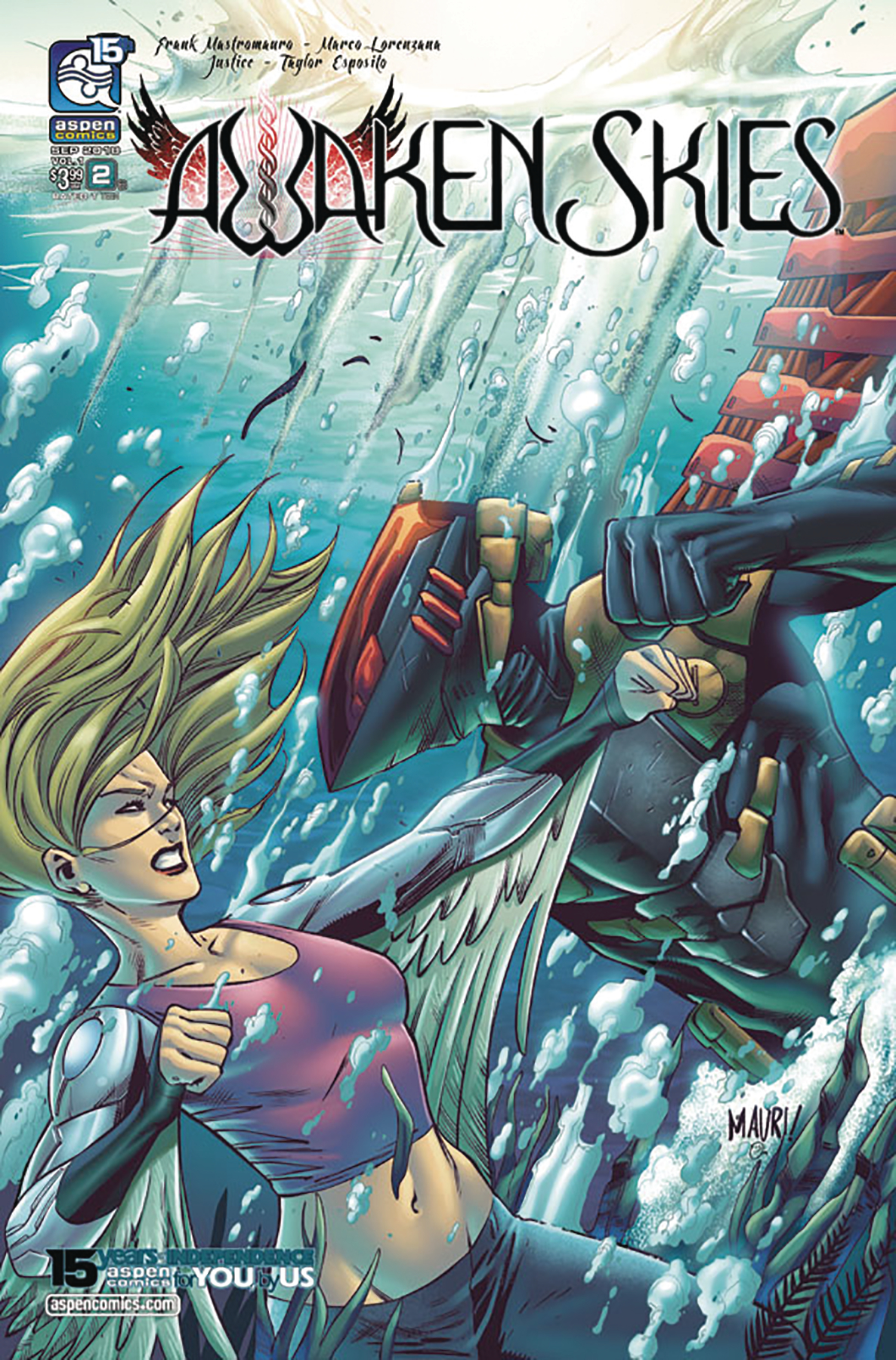 NU WAY #3 CVR A KONAT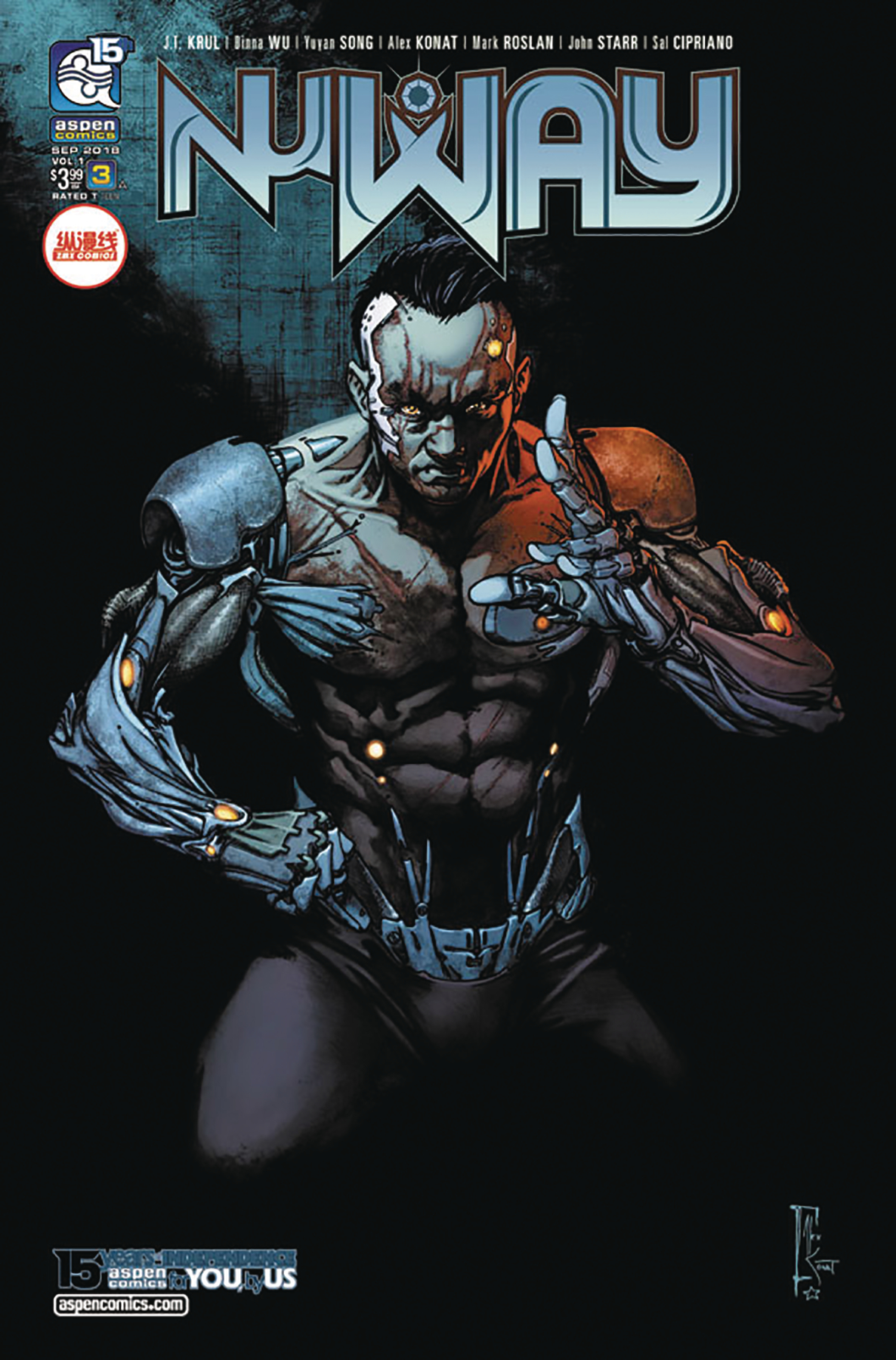 JUL181627
(W) J. T. Krul (A/CA) Alex Konat
It will take every bit of your heart… and soul! On the run, Zihao and Harper try to hide in the shadows as they plot their next move forward. Zihao thinks the hard part is over and that he can chart a new path, but his past life isn't done with him yet. Not by a long shot. Jasper dedicated a lot of resources to Zihao's development, and he aims to see a return on his investment, one way or another! Don't miss this exciting new chapter of an electrifying story in a bold new world! Aspen is proud to partner with ZMX Entertainment on their landmark project created by J.T. Krul, Yuyan Song, and Dinna Wu, and featuring the stellar creative team of Alex Konat, Mark Roslan, John Starr, and Sal Cipriano.
In Shops: Sep 19, 2018
SRP: $3.99
NU WAY #3 CVR B GUNDERSON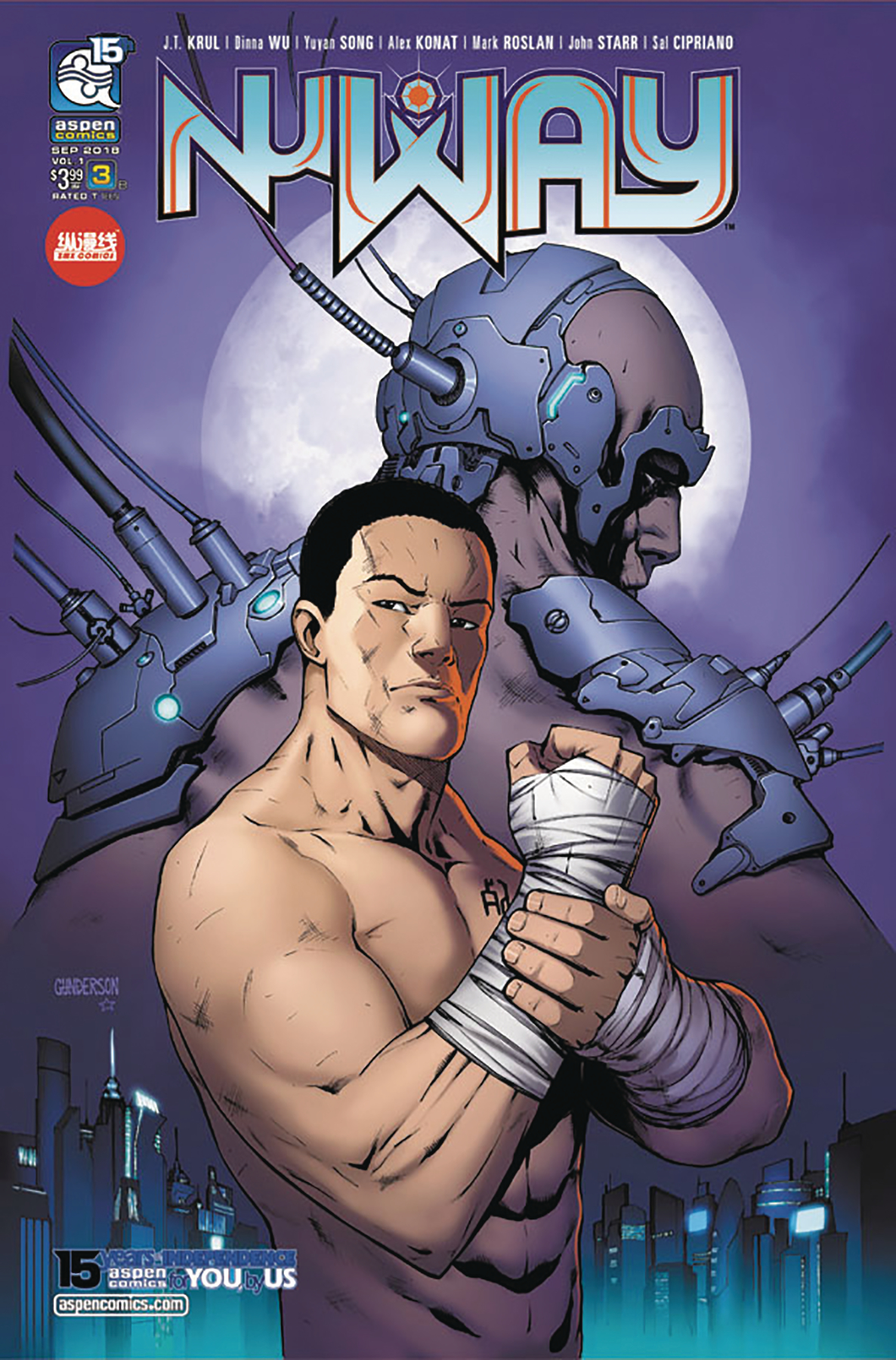 DISSENSION WAR ENTERAL #3 CVR A GUNDERSON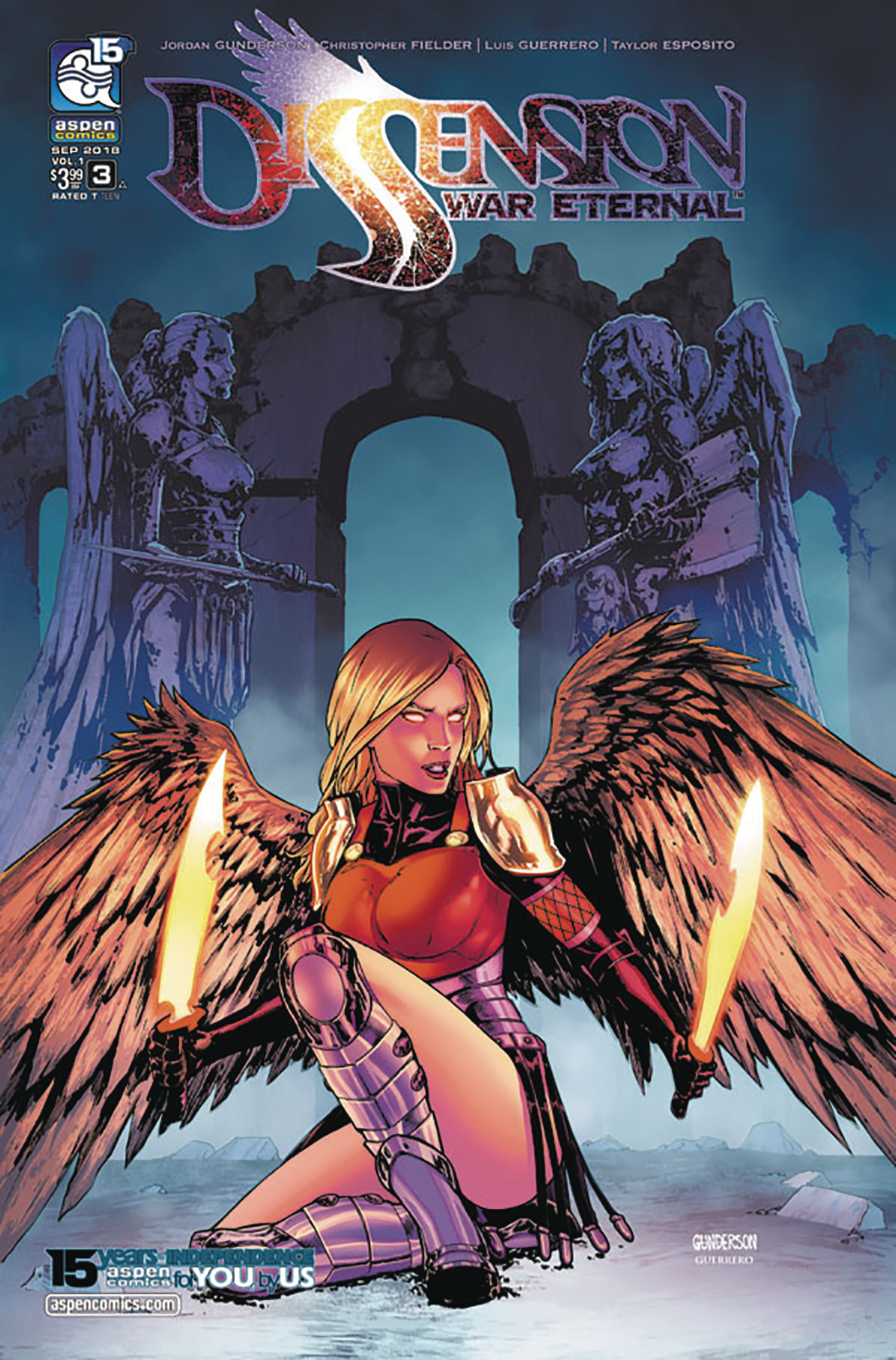 JUL181629
(W) Jordan Gunderson, Chrisopher Fielder (A) Jordan Gunderson, Jordan Gunderson
In the not so distant future… A new player enters the field to challenge the syndicate of fallen angel's plans for world domination. Delphi and Pirate must now tackle their mission alone as every facet of their relationship is tested! From artist and creator Jordan Gunderson comes Aspen's most thrilling new series, DISSENSION: WAR ETERNAL!
In Shops: Sep 26, 2018
SRP: $3.99
DISSENSION WAR ENTERAL #3 CVR B TO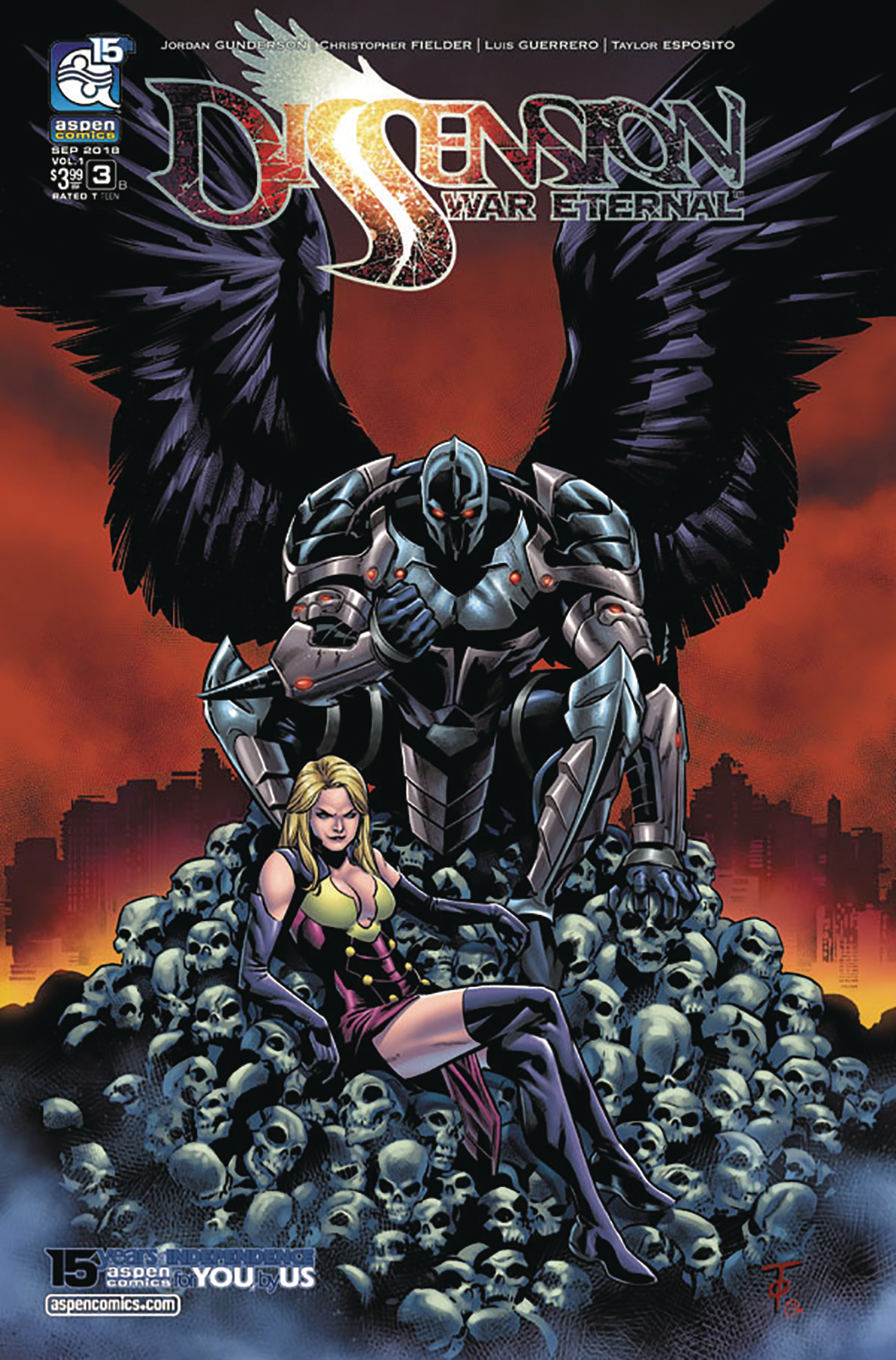 SOULFIRE VOL 7 #3 CVR A LADJOUZE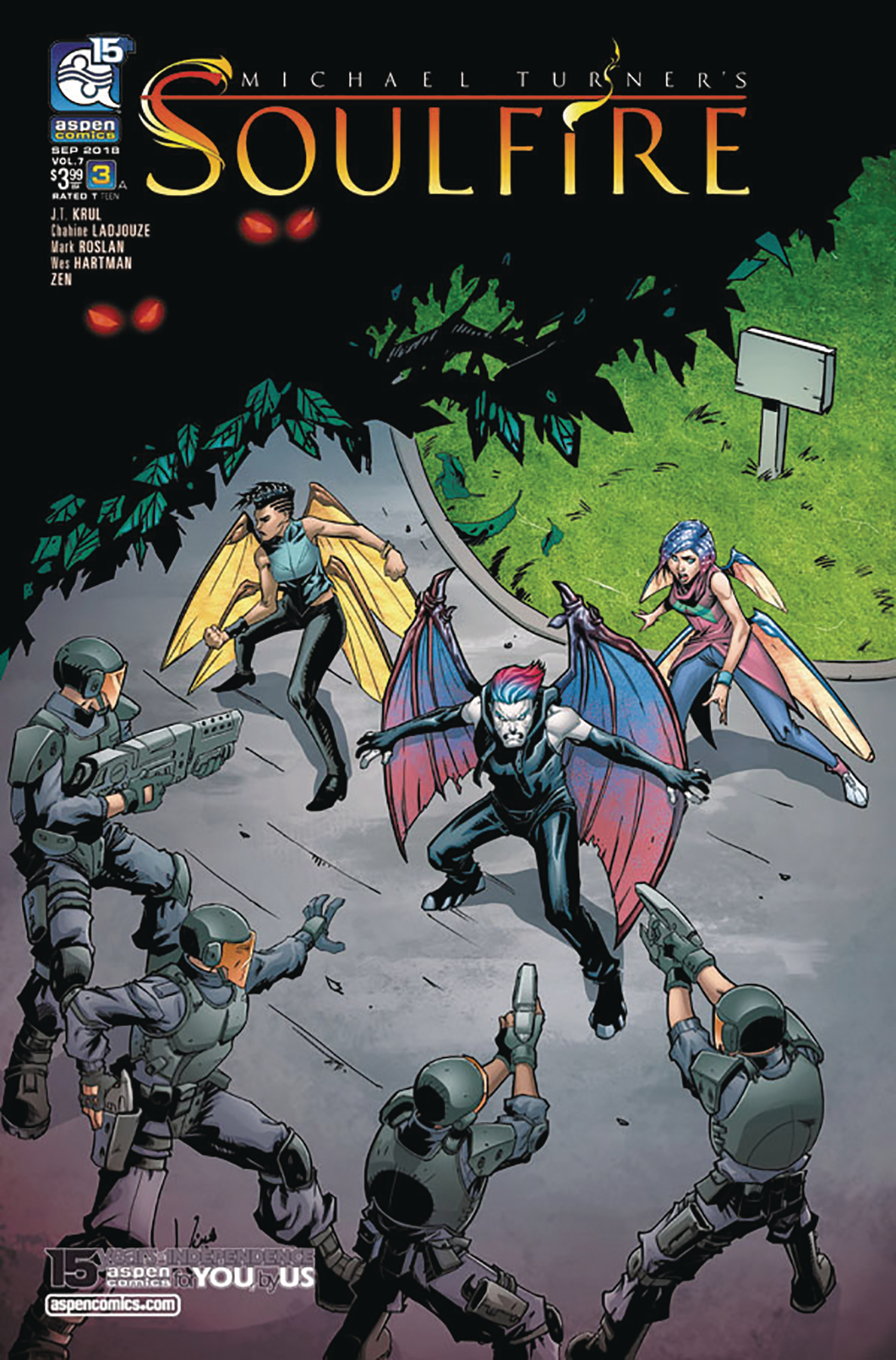 JUL181631
(W) J. T. Krul (A/CA) Chahine Ladjouze
Celebrating the 15th anniversary of its creation, Michael Turner's incredible vision of magic and wonder returns for an all-new volume!
Cassidy wants nothing more than to live a normal life, but there's nothing normal about having magical abilities. Like it or not, she's special and that puts a target on her back. Meanwhile, Malikai and Grace try to find Janus, the man who attacked Ren. While in the Everlands, Sarin looks to Onyx for answers about a means to a power greater than his own!
Michael Turner and Aspen Comics' flagship title commemorates its landmark fifteenth year and the creative team of long time Soulfire writer J.T. Krul (Teen Titans, Jirni), newcomer Chahine Ladjouze, and colorist Wes Hartman have joined forces to bring new readers as well as loyal fans alike a Soulfire story for the next generation!
In Shops: Sep 19, 2018
SRP: $3.99
SOULFIRE VOL 7 #3 CVR B MARIA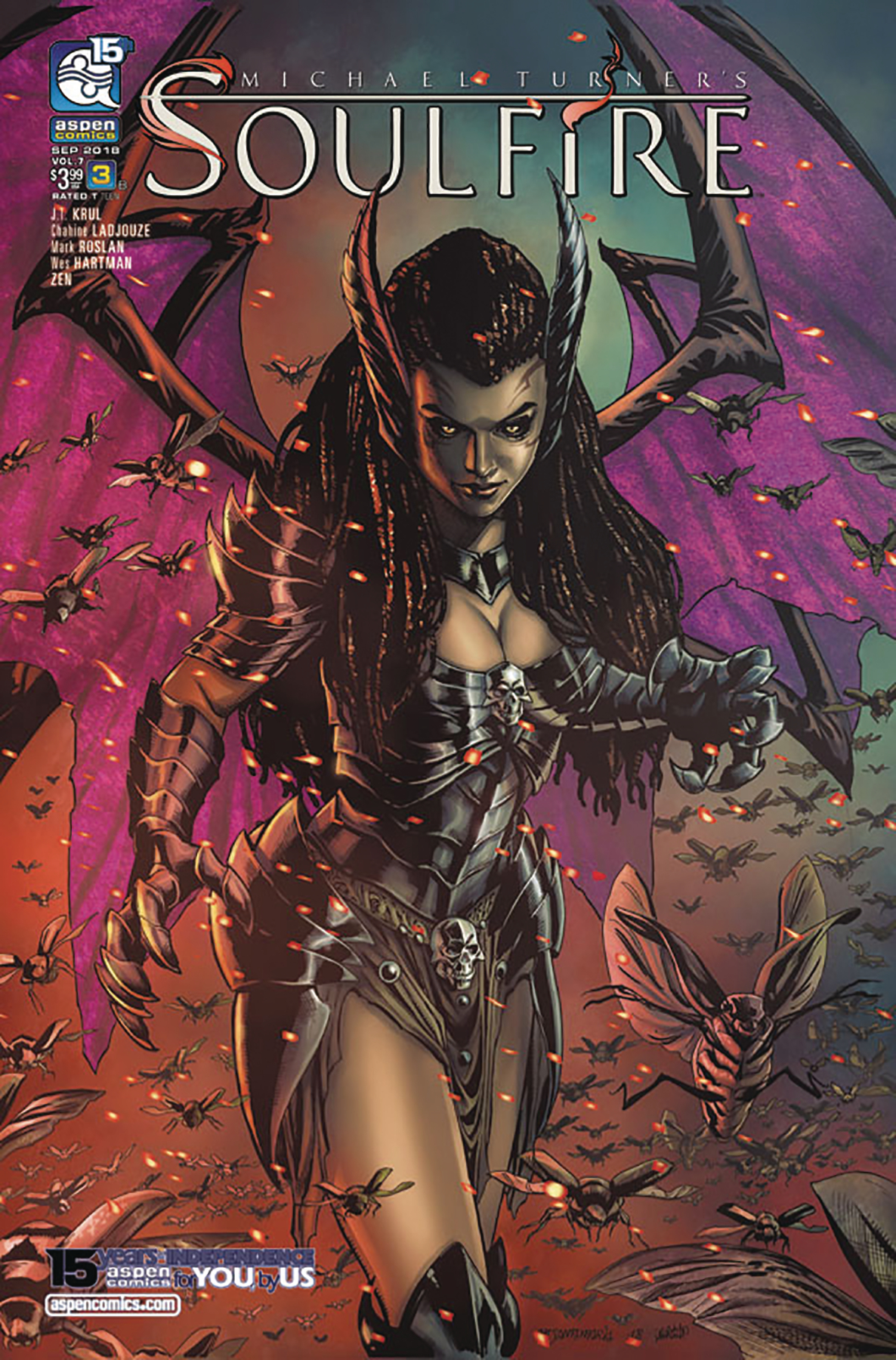 SOULFIRE VOL 7 #3 10 COPY MORANELLI RETAILER INCV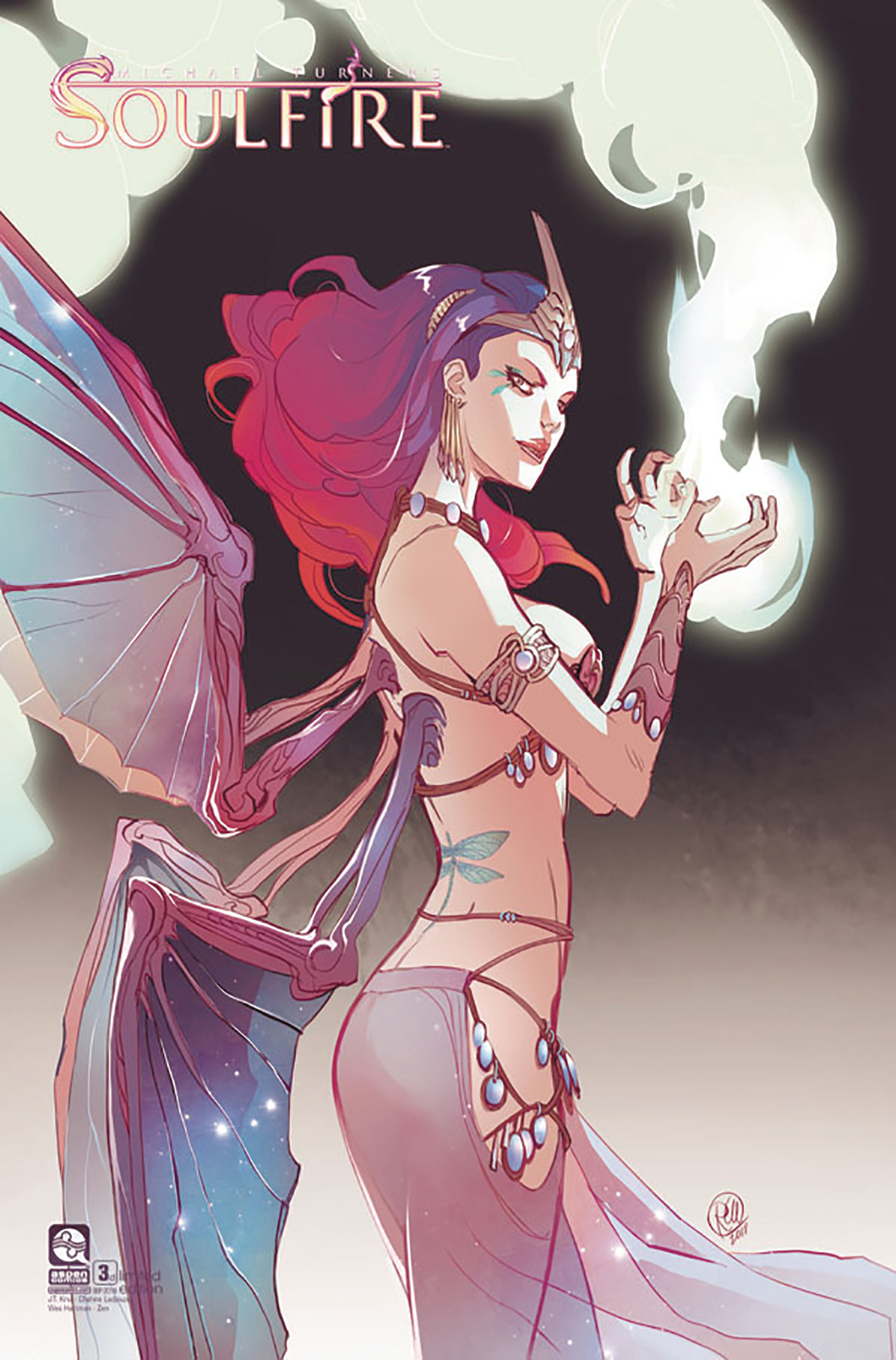 FATHOM VOL 7 #4 CVR A OUM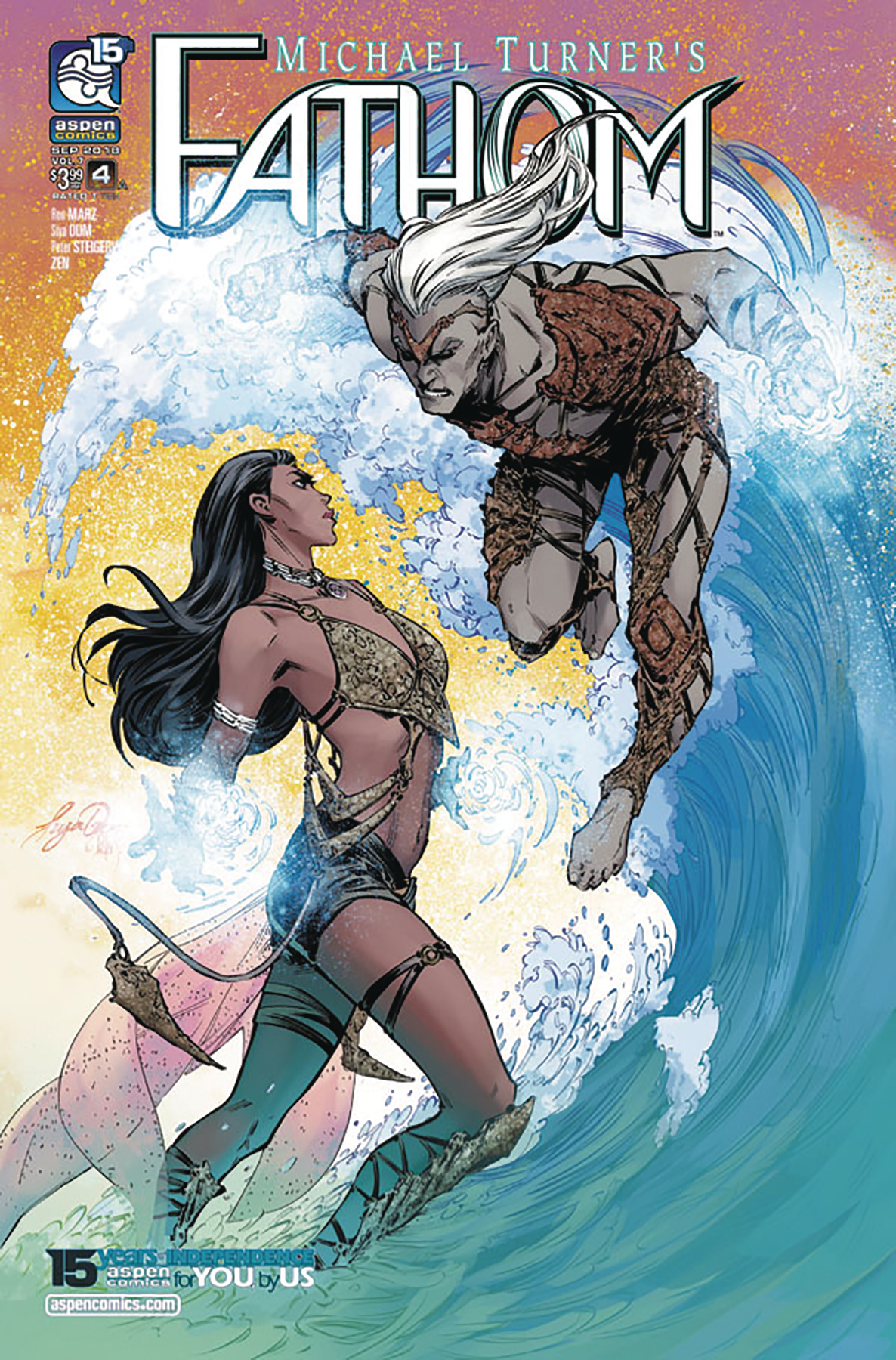 JUL181634
(W) Ron Marz (A/CA) Siya Oum
1998's Best-Selling Title of the Year Celebrates 20 Years in 2018!
It's Aspen Matthews versus her former mentor and dissident Killian in the showdown that's been years in the making! And no member of The Blue may survive!
Michael Turner and Aspen Comics' flagship title commemorates its landmark twenty years since its debut in grand fashion! The superstar creative team of Ron Marz (Green Lantern, Witchblade) and Siya Oum (Lola XOXO) are on board to deliver Fathom, and the iconic heroine, Aspen Matthews, to a new generation of readers as well as loyal fans alike!
In Shops: Sep 12, 2018
SRP: $3.99
FATHOM VOL 7 #4 CVR B PANTALENA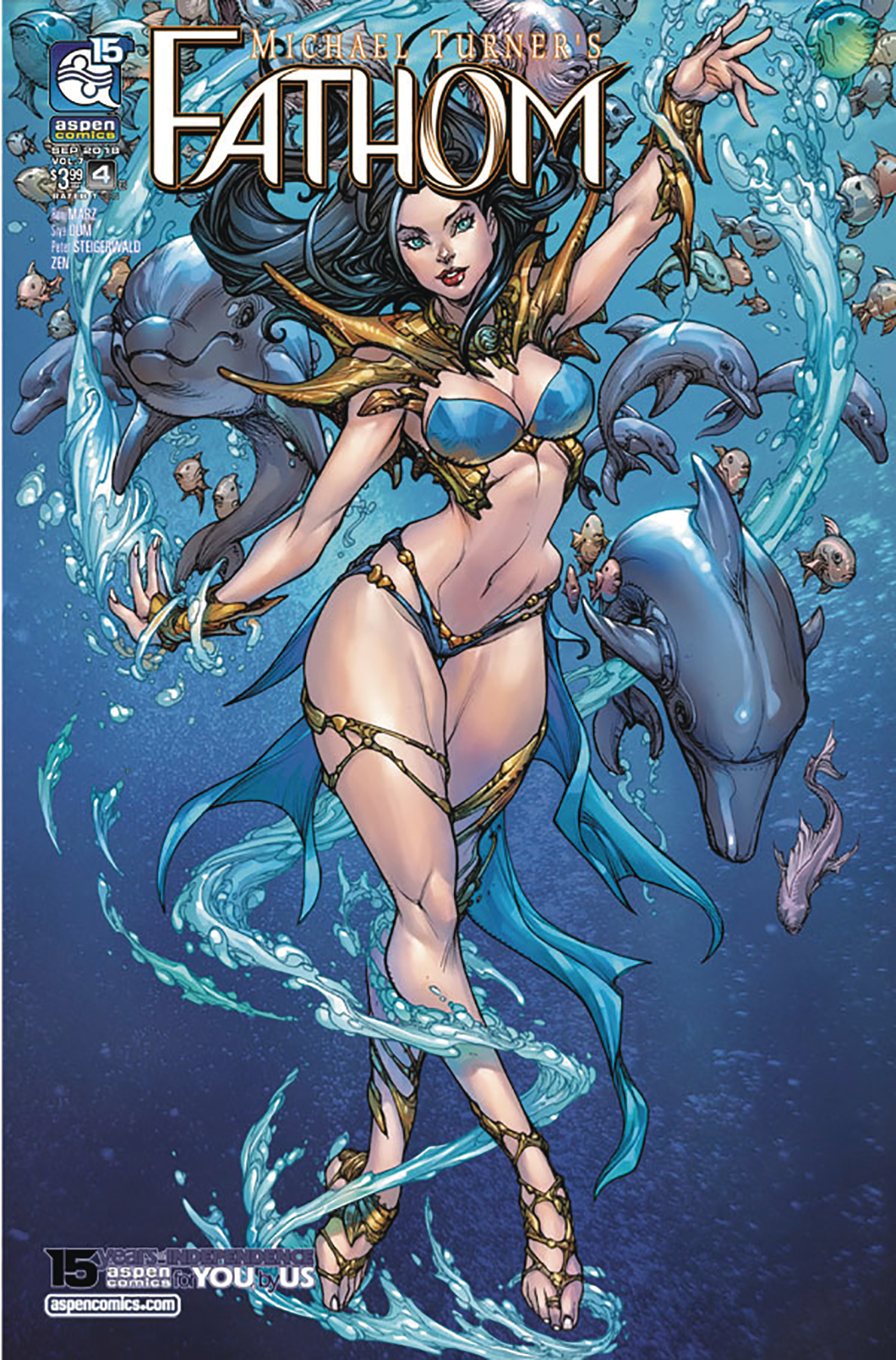 FATHOM VOL 7 #4 12 COPY OUM INC CVR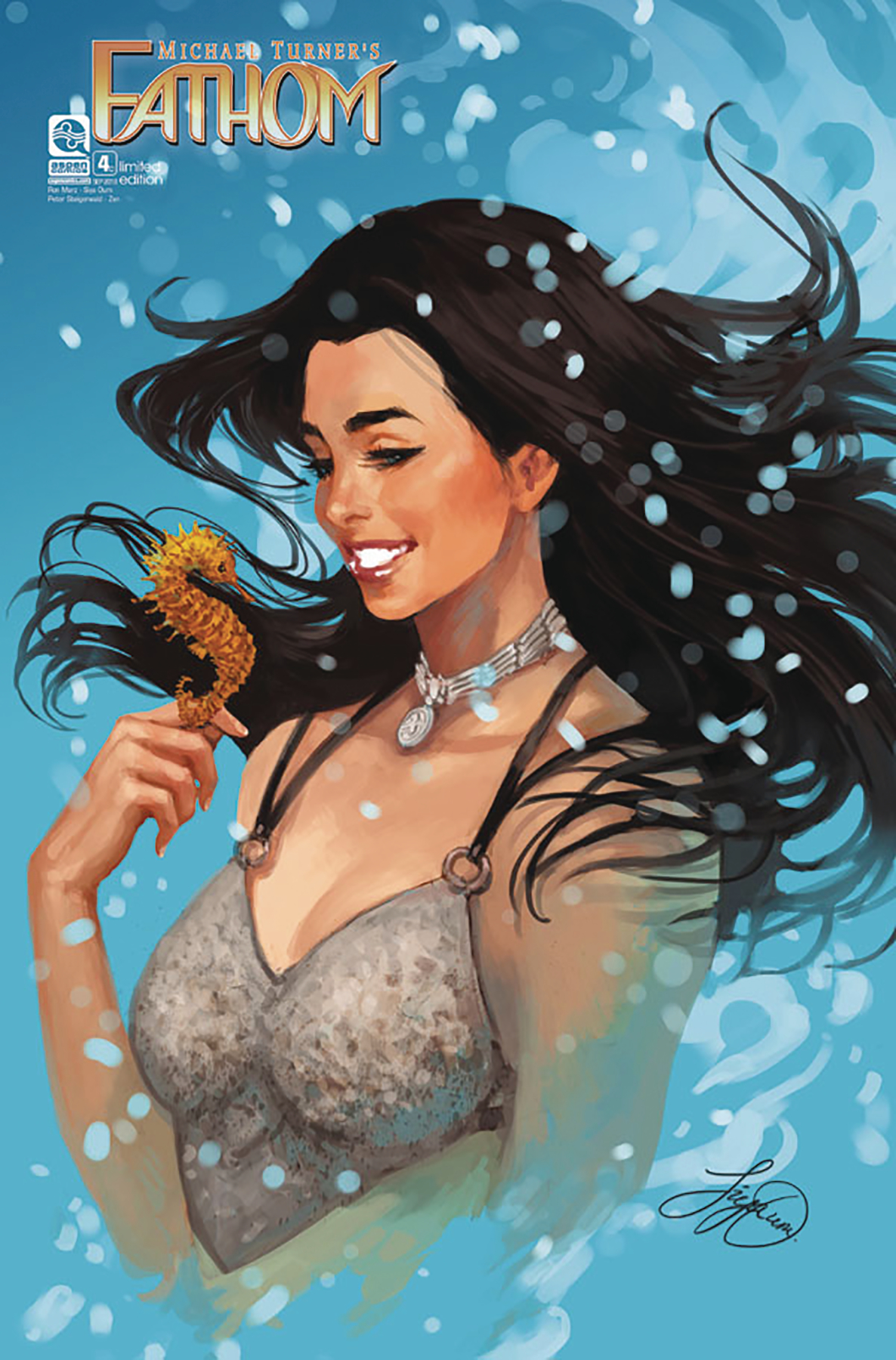 EXECUTIVE ASSISTANT IRIS VOL 5 #5 CVR A TRAN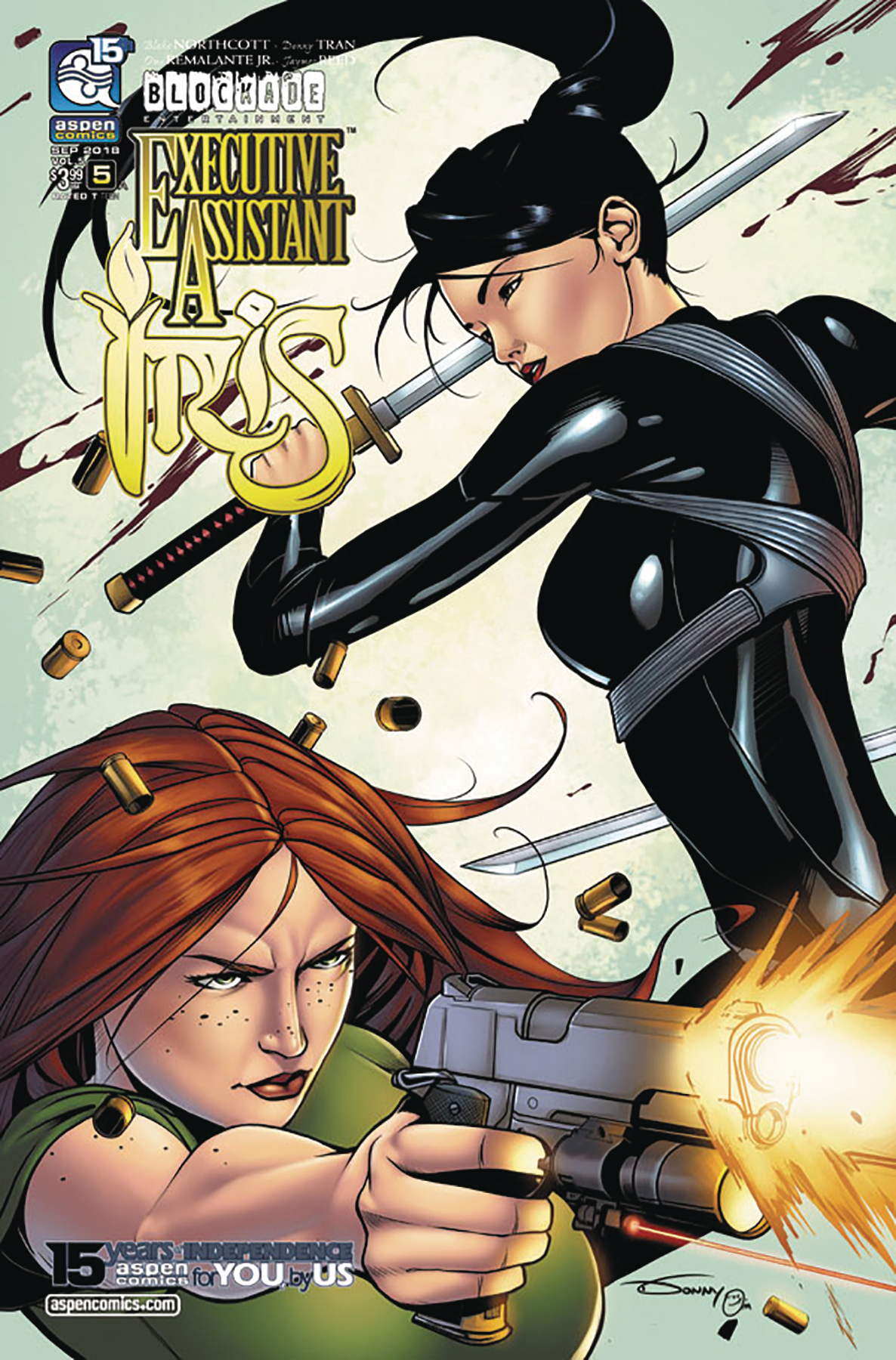 JUL181637
(W) Blake Northcott (A/CA) Donny Tran
The fifth volume of Aspen Comics' hit action-adventure assassin series concludes! Iris and Mack launch an all-out assault on Magni Global Headquarters-a building more fortified than the Pentagon. They'll face guards, assassins, and security powerful enough to kill a superhuman … and not everyone will survive! Brought to you by acclaimed author Blake Northcott (Michael Turner's Fathom) with art by newcomer Donny Tran, this newest pulse-pounding 10 year anniversary chapter of Executive Assistant: Iris is sure to be the greatest volume yet!
In Shops: Sep 26, 2018
SRP: $3.99
EXECUTIVE ASSISTANT IRIS VOL 5 #5 CVR B CAFARO
FATHOM KIANI TP VOL 03 BLADE OF VENGEANCE JAN188458
(W) Vince Hernandez (A) Giuseppe Cafaro
One of the most powerful figures in the Fathom universe returns for this epic third chapter!
Following the tragic events of The Elite Saga and the shattering of her family ties, Kiani has risen above the surface and seemingly disappeared amongst the large expanse of the human population. However, with a power inside her that is capable of changing-or destroying–the world's landscape, her presence can only remain hidden for so long!
The long sold out Kiani volume 3 series is collected in its entirety, including a comprehensive cover gallery and a whole lot more!
In Shops: Sep 19, 2018
SRP: $9.99
(Last Updated
June 21, 2018 3:45 pm
)
Related Posts
None found