Rolled & Told #1 is a new attempt to merge the worlds of comics and games, with missions for a variety of tabletop games laid out, one every issue. And out from Lion Forge in September, along with all the other things below… considering how many comic stores also sell tabletops, this seems like a natural in.
UPGRADE SOUL GN
JUL182004
(W) Ezra Claytan Daniels (A/CA) Ezra Claytan Daniels
For their 45th anniversary, Hank and Molly Nonnar decide to undergo an experimental procedure that will give them their youth back, but their hopes are dashed when the couple is faced with the results: severely disfigured yet intellectually and physically superior duplicates of themselves. Can the original Hank and Molly coexist in the same world as their clones? In Upgrade Soul, McDuffie Award-winning creator Ezra Claytan Daniels asks probing questions about what shapes our identity-Is it the capability of our minds or the physicality of our bodies? Is a newer, better version of yourself still you? This page-turning graphic novel follows the lives of Hank and Molly as they thrust into a very David Cronenberg-esque life change.
In Shops: Sep 05, 2018
SRP: $19.99
CURTAIN CALL HC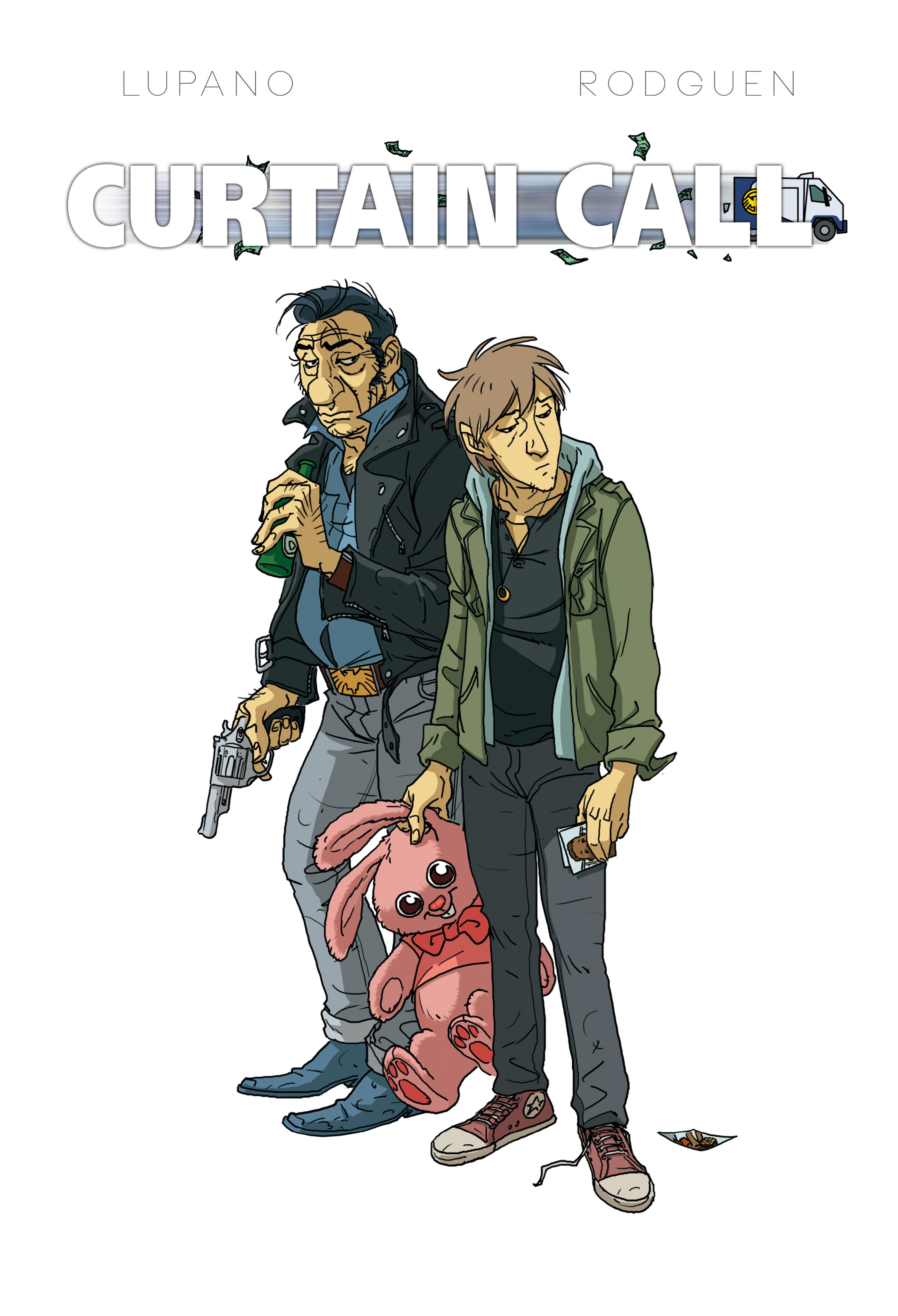 JUL182005
(W) Wilfrid Lupano (A/CA) Rodolphe Guenoden
Vincent's life is spiraling down the drain. He has abandoned the woman he loved and their unborn child. But now, with nothing in his life but a barfly drinking buddy named Gaby Rocket, he's ready to finally fix himself and make things right. And that all starts with a bank truck heist . . .But for Vincent, it's not about the money. He sees an opportunity to do something noble in the midst of this crime that could give his life the purpose its long been missing. Unfortunately, his buddy Gaby doesn't see eye to eye with him on this.
 Â
A character-driven crime thriller in the proud tradition of Martin Scorsese and the Coen Brothers, where the caper itself is just the framework for an engaging and engrossing set of character studies, written by award-winning author Wilfrid Lupano and illustrated by DreamWorks animator Rodolphe Guenoden.
In Shops: Sep 26, 2018
SRP: $19.99
FRATERNITY HC
JUL182006
W) Juan D?az Canales (A/CA) Jose-Luis Munuera
Fraternity is a haunting horror story written by Juan Diaz Canales the Co-Creator of the popular BLACKSAD series and illustrated by the talented Jose-Luis Munuera. During the Civil War, the inhabitants of a small frontier town discover a mysterious beast is prowling the forest around them, a beast that may have a connection to a feral child found several years earlier. Fraternity is perfect for fans of the monster genre and people who have a love for the classics universal monster movies as this tale feels like it would have been right at home amount them.
In Shops: Sep 19, 2018
SRP: $19.99
MORTALS IMMORTALS GREEK MYTH HC JUL182007
(W) Francoise Rachmuhl (A/CA) Charlotte Gastaut
The stories of the Greek mortals and immortals, and their legendary exploits, tower as tall now as they have for thousands of years! Never have these classic stories of Greek gods and goddesses, heroes and heroines, been so sumptuously illustrated.
This is the perfect introduction to Greek Mythology and if you're are already a fan you will find all your favorite stories here, and elevated by this book's beautiful art and design.
In Shops: Sep 05, 2018
SRP: $16.99
ROLLED AND TOLD #1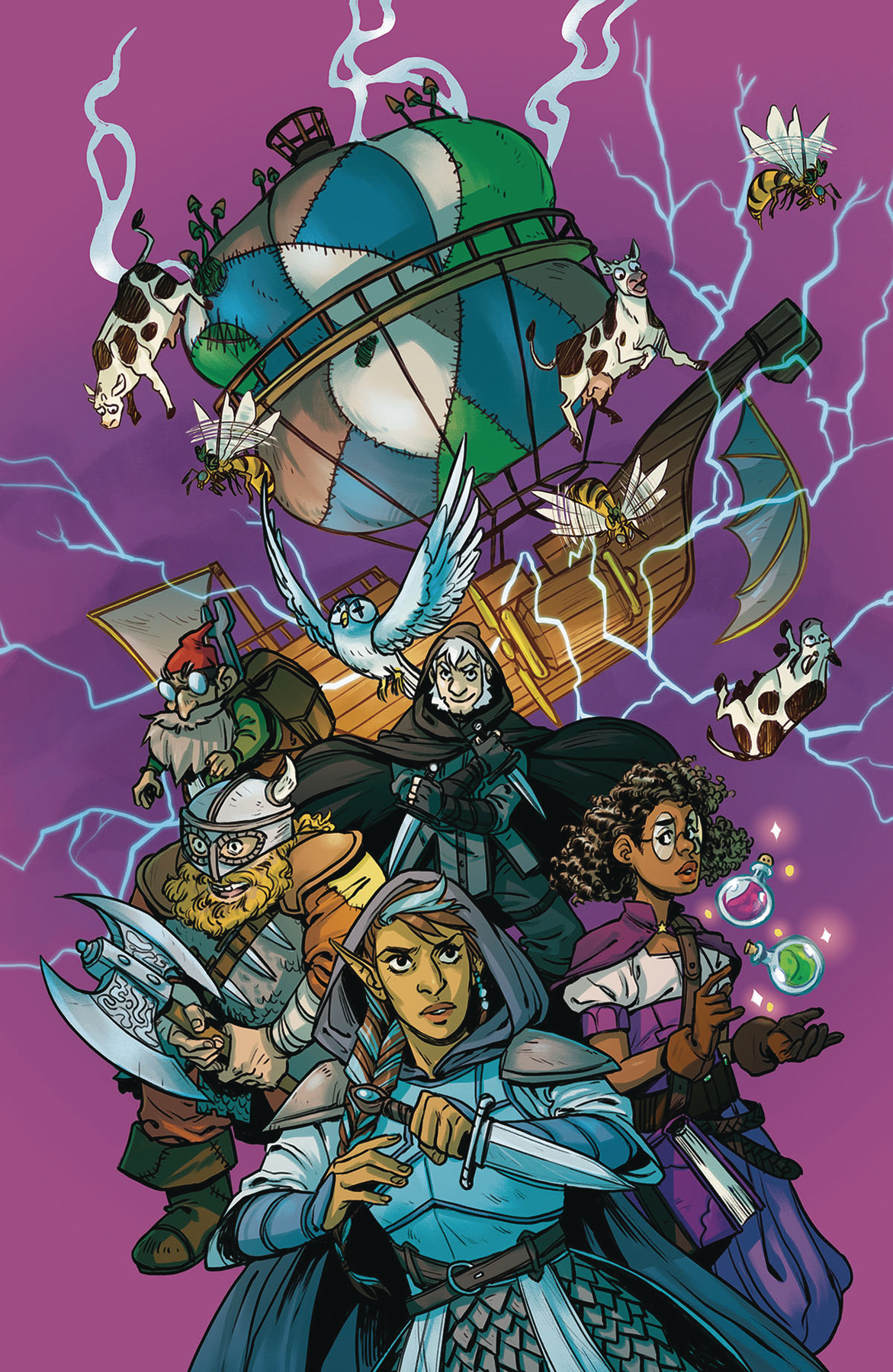 APR188219
(W) E.L. Thomas, Tristan J. Tarwater (A) Max Bare, Jade F. Lee, Ben Sears, Nicole Goux, Jemma Salume (CA) Naomi Franquiz, Naomi Franquiz
An all-inclusive gaming experience! Each and every month we bring you a ready-to-play, fun adventure for one of your favorite table top role-playing games. These 64 pages are packed with beautiful illustrations, comics coinciding with each adventure to excite and inspire your players, and helpful articles sure to enhance the game for new and old game masters alike.
It's time to take to the skies with Rolled & Told! Authors E.L. Thomas and Tristan J. Tarwater have crafted swashbuckling, electrifying, and gravity-defying adventures for your roleplaying group to play. When a gaggle of goblins commandeer a gnomish airship, it's up to the players to work with those gnomes to board the ship and take back what's theirs!
In Shops: Sep 26, 2018
SRP: $7.99
VOLTRON LEGENDARY DEFENDER VOL 3 #3 CVR A YAMASHIN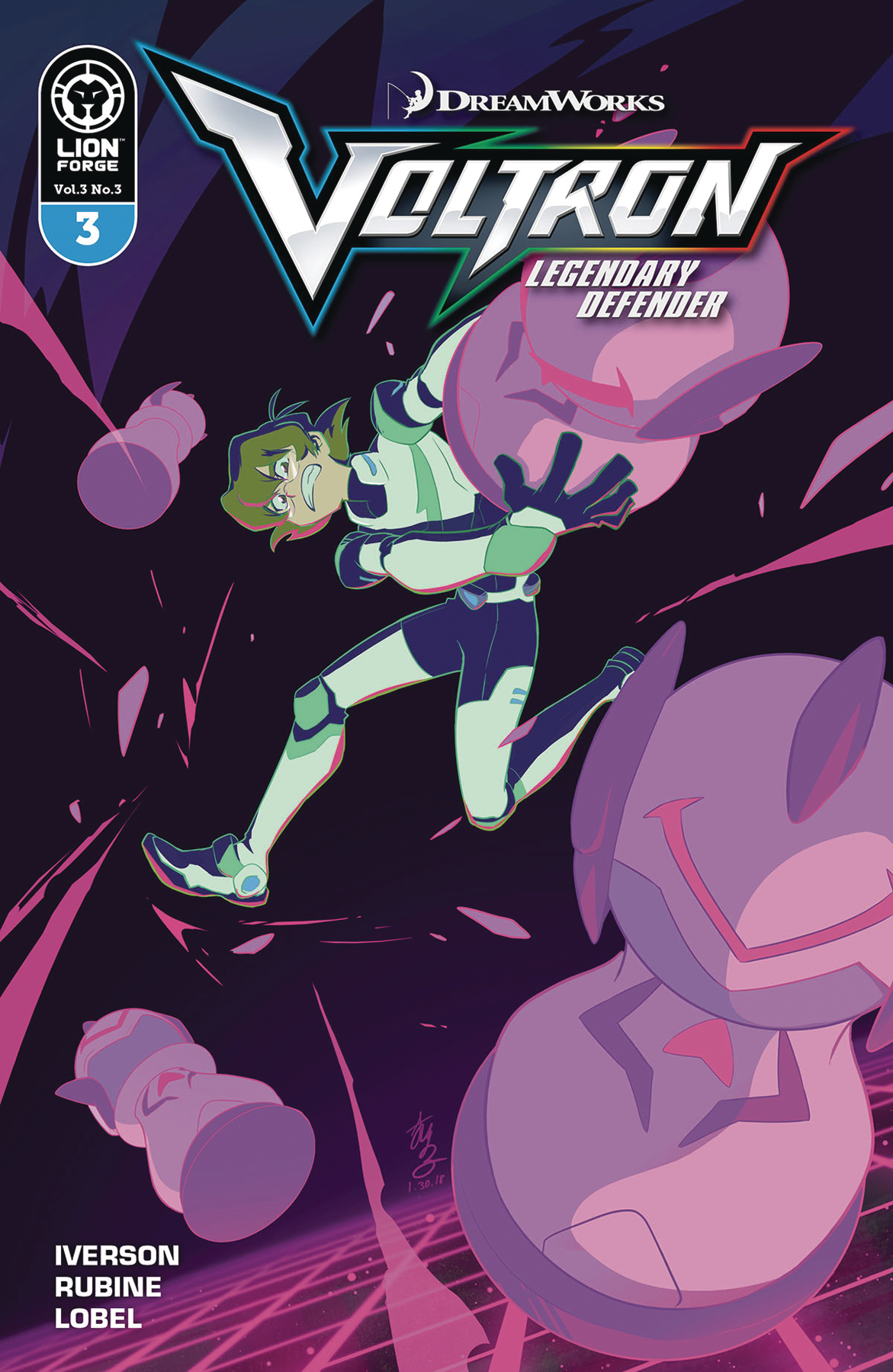 JUL182009
W) Mitch Iverson (A) Erwin Prasetya (CA) Mariko Yamashin
The Paladin's plan to infiltrate the SPRAWL and cut off the Galra's supply chain continues taking our heroes to new places and new team ups!
In Shops: Sep 12, 2018
SRP: $3.99
VOLTRON LEGENDARY DEFENDER VOL 3 #3 CVR B CARREON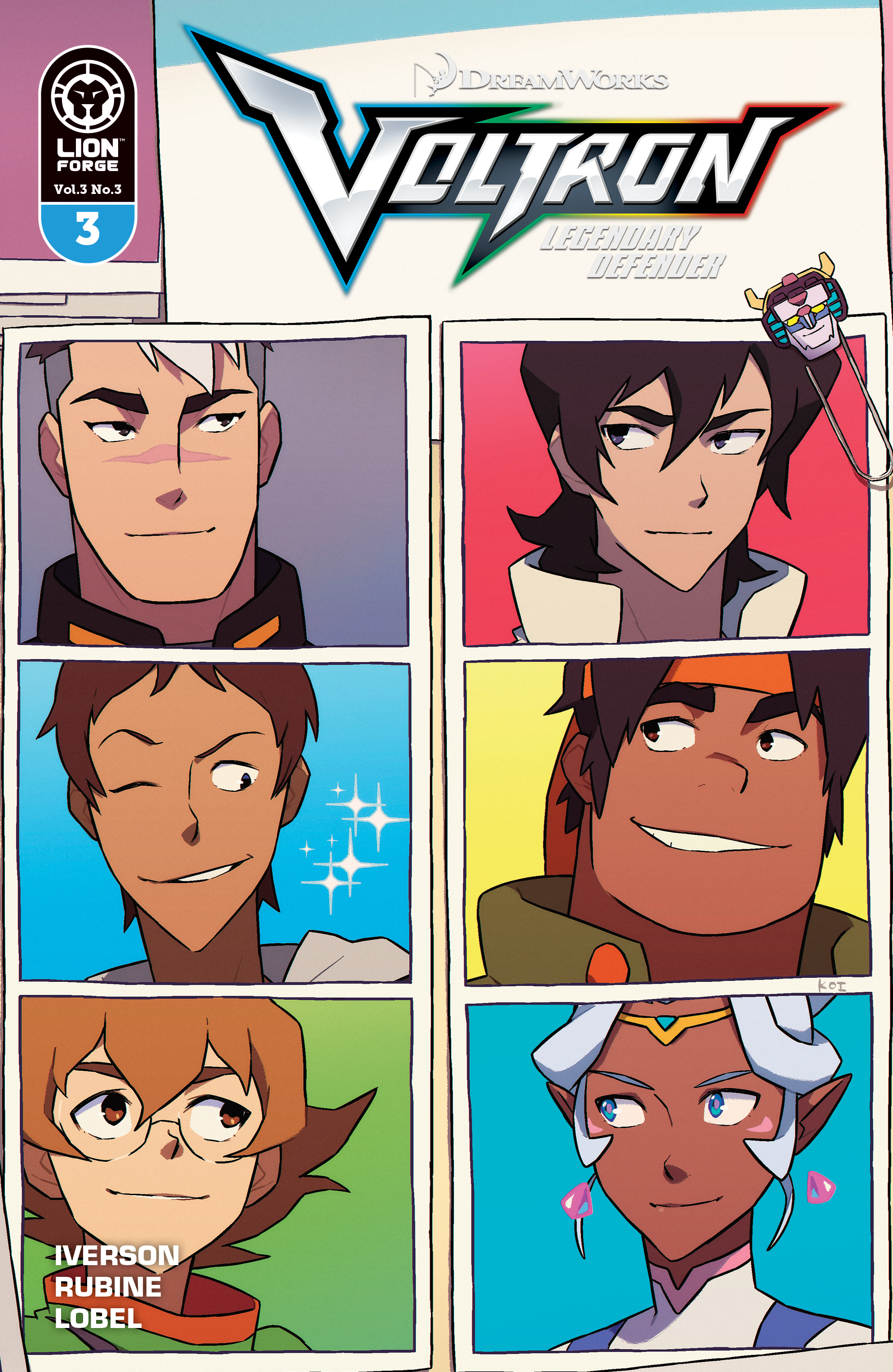 JUL182010
W) Mitch Iverson (A) Erwin Prasetya (CA) Koi Carreon
The Paladin's plan to infiltrate the SPRAWL and cut off the Galra's supply chain continues taking our heroes to new places and new team ups!
In Shops: Sep 12, 2018
SRP: $3.99
<
INFINITY 8 #6
MAGNETIC COLLECTION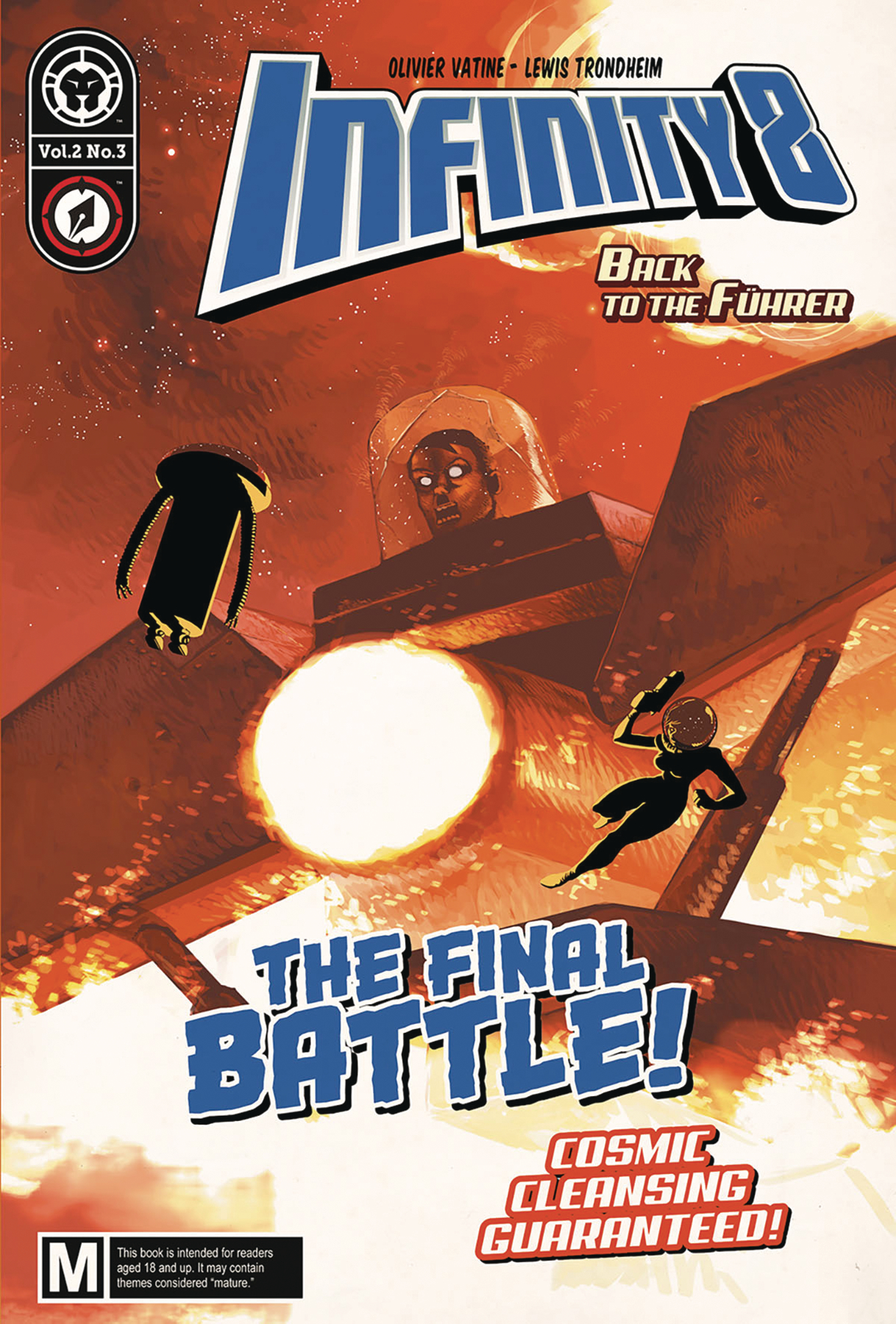 JUL182011
W) Lewis Trondheim (A/CA) Olivier Vatine
Hitler's head has mobilized an army of robots to take over the ship, and if he reaches the captain, his new Reich will become the permanent timeline! Only Stella Moonkicker can reach the bridge in time to stop the giant, marauding robots in time!
In Shops: Sep 19, 2018
SRP: $3.99
CATALYST PRIME ASTONISHER TP VOL 02 JUL182012
(W) Alex De Campi (A/CA) Pop Mahn, Al Barrionuevo
Magnus Attarian, heir to the AtiSat Corp., once tried to save the world but ended up with a bad case of post traumatic stress disorder instead. Then, after using his ability to travel inside the minds of meteor affected individuals, Magnus tried to become a superhero. Now Magnus has to deal with a different enemy altogether: his family . . . and superpowers only go so far.
In Shops: Sep 12, 2018
SRP: $14.99
CATALYST PRIME ASTONISHER #10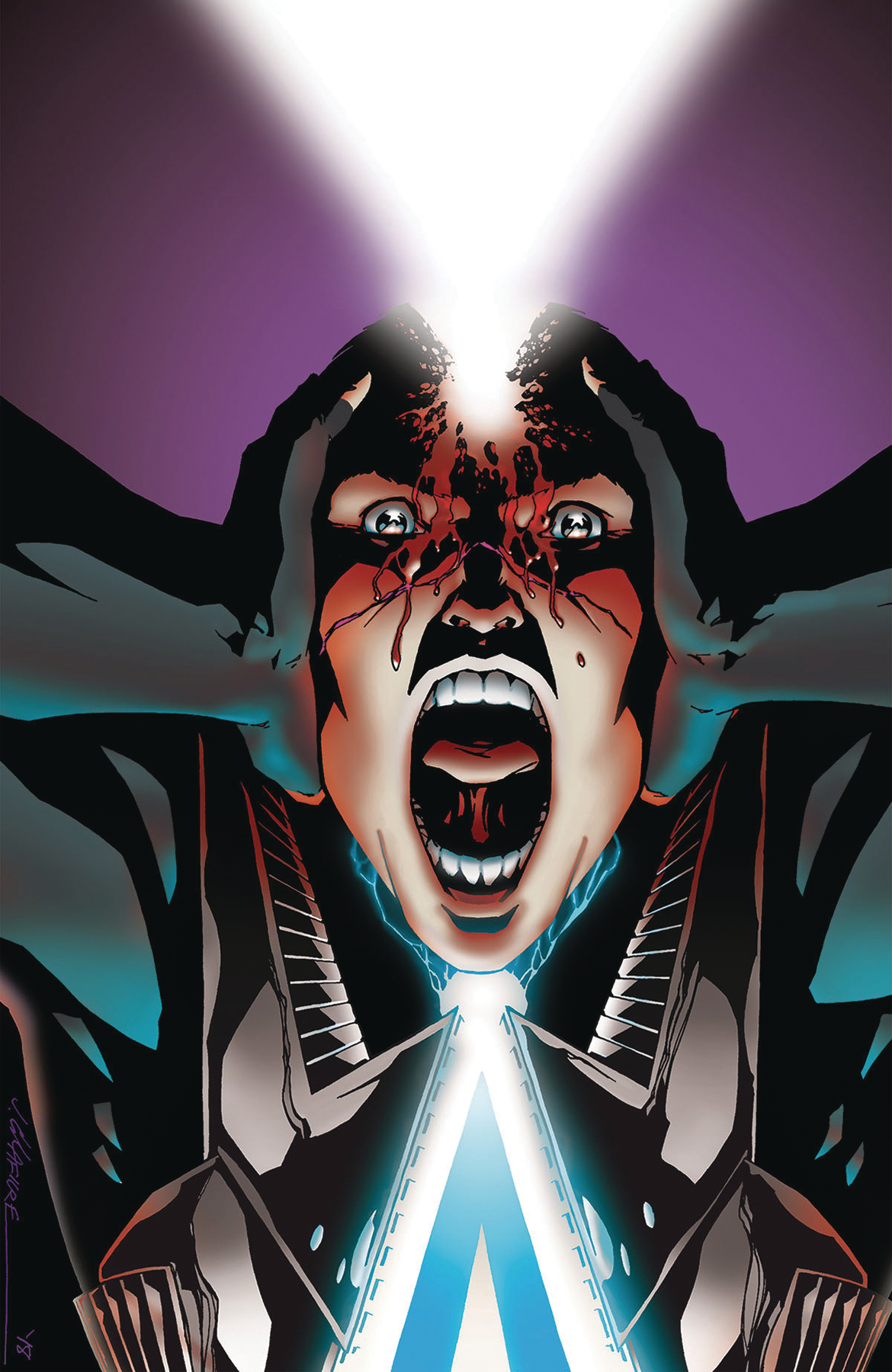 JUL182013
W) Christopher Priest (A) Al Barrionuevo (CA) Jamie Grant, Jim Calafiore
As Magnus's journey continues, he finds himself at a crossroads between his old life and the new one he envisions for himself. With his mother, Olivia, out of commission due to a sudden illness and his brother, Drew, locked away for his crimes, Magnus has been forced to do the one thing he never wanted to do: be the CEO of AtiSat Corp.
In Shops: Sep 12, 2018
SRP: $3.99
CATALYST PRIME SUMMIT #9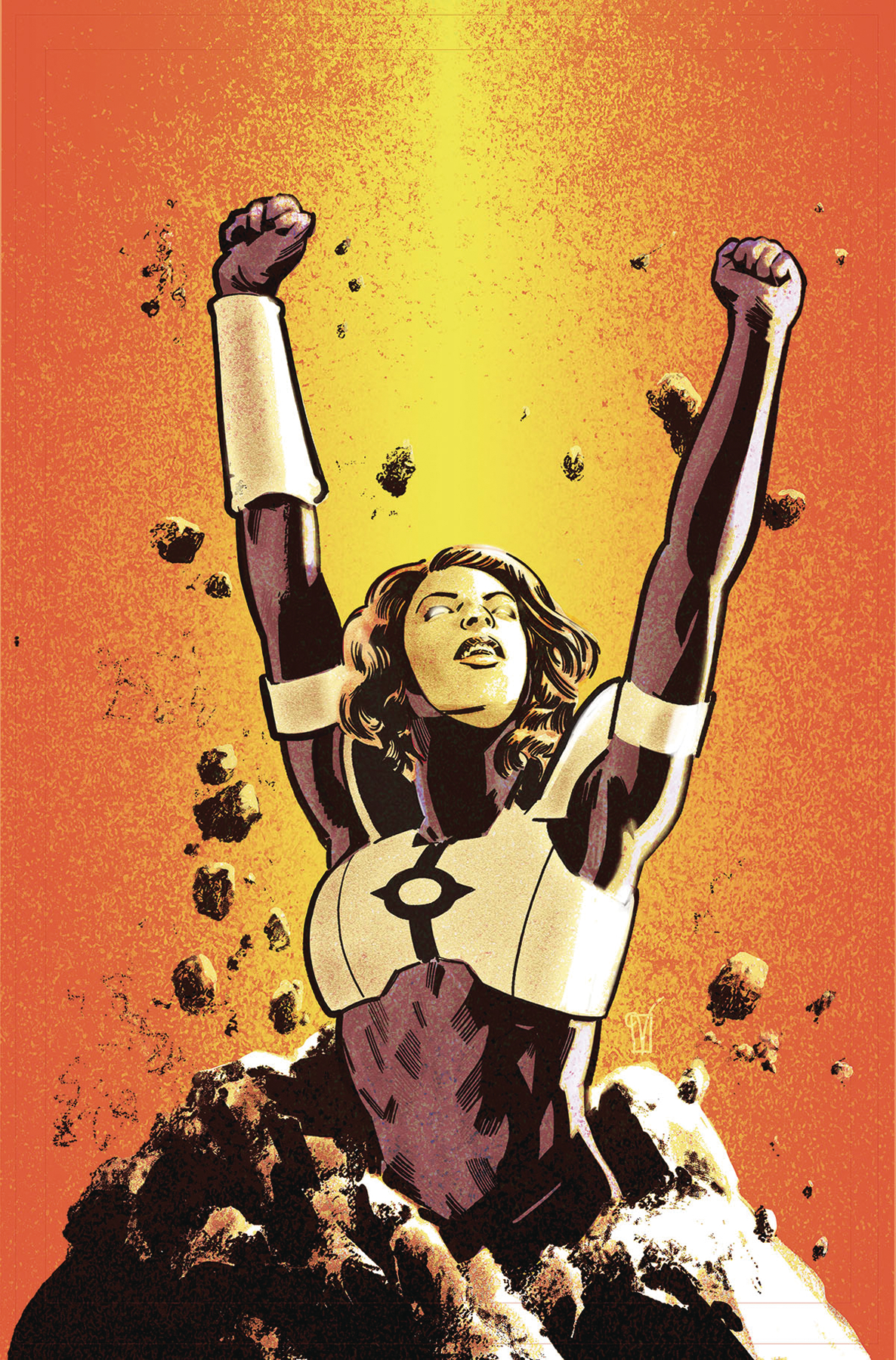 JUL182014
(W) Amy Chu (A) Federico Dallocchio (CA) Valentine DeLandro
Val is joined by a surprising ally to take down the foe who stole meteor rocks, her suit design, and shot J.B. Needless to say, Val is out for a little bit of blood.
In Shops: Sep 19, 2018
SRP: $3.99
<
CATALYST PRIME INCIDENTALS #12
JUL182015
(W) Ramon Govea, Brandon Easton (A) Jose Jaro (CA) Ryan Brown
Hollywood lures you in, and if you're lucky, spits you back out. If you're unlucky, you end up like Martina, Seven's former close friend who's caught in a web of horror and abuse. The Incidentals team springs into action to confront the man responsible, but they still haven't confronted their own personal horrors making them easy prey for that man to inflict the same type of pain on them.
In Shops: Sep 26, 2018
SRP: $3.99
CATALYST PRIME SUPERB #13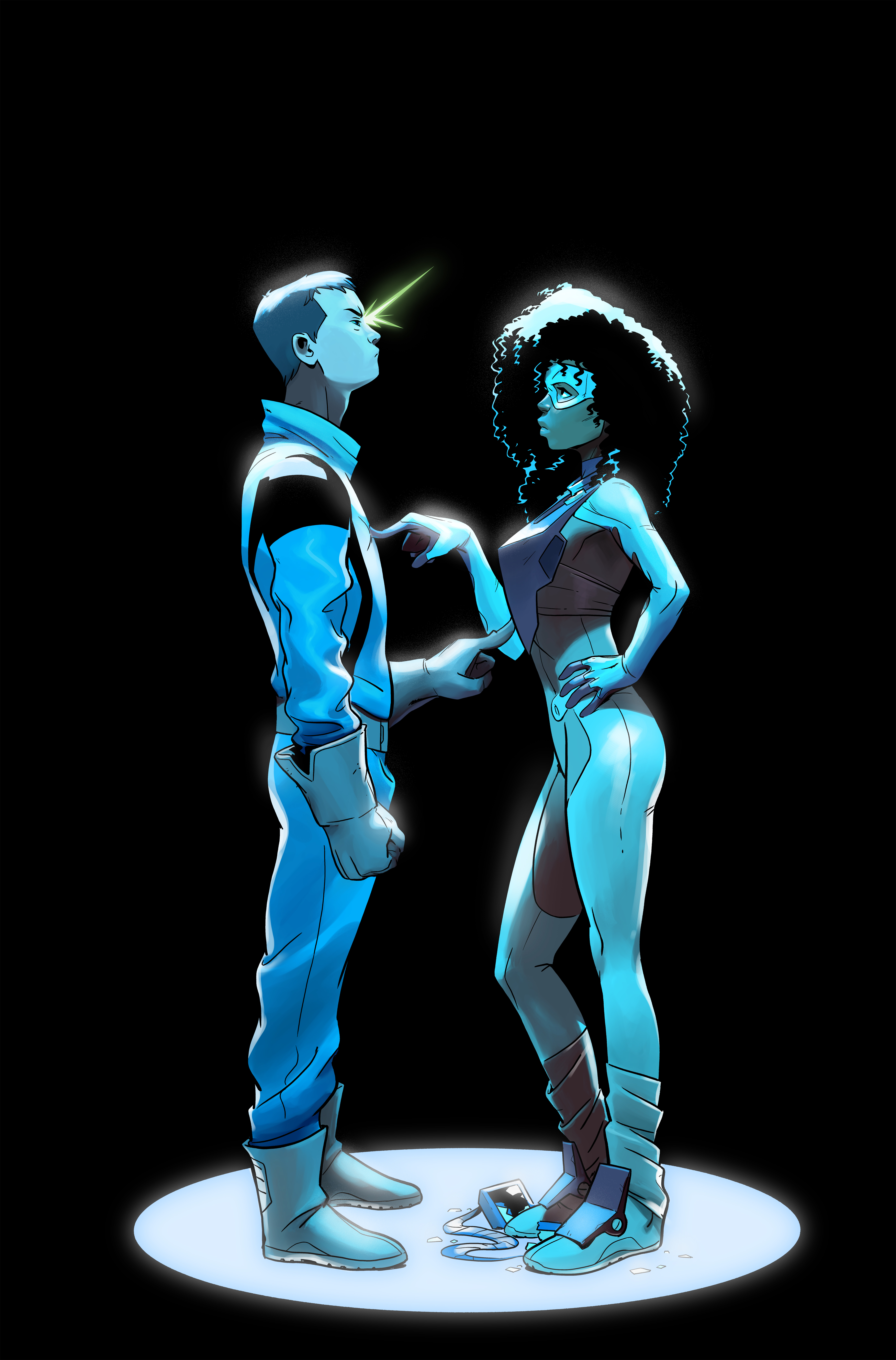 JUL182016
(W) David Walker (A) Alitha Martinez (CA) Anthony Piper
The team embarks on their big mission to seek out the Orphanage, but can they stand united when moral conflicts arise?
In Shops: Sep 19, 2018
SRP: $3.99
CATALYST PRIME NOBLE #11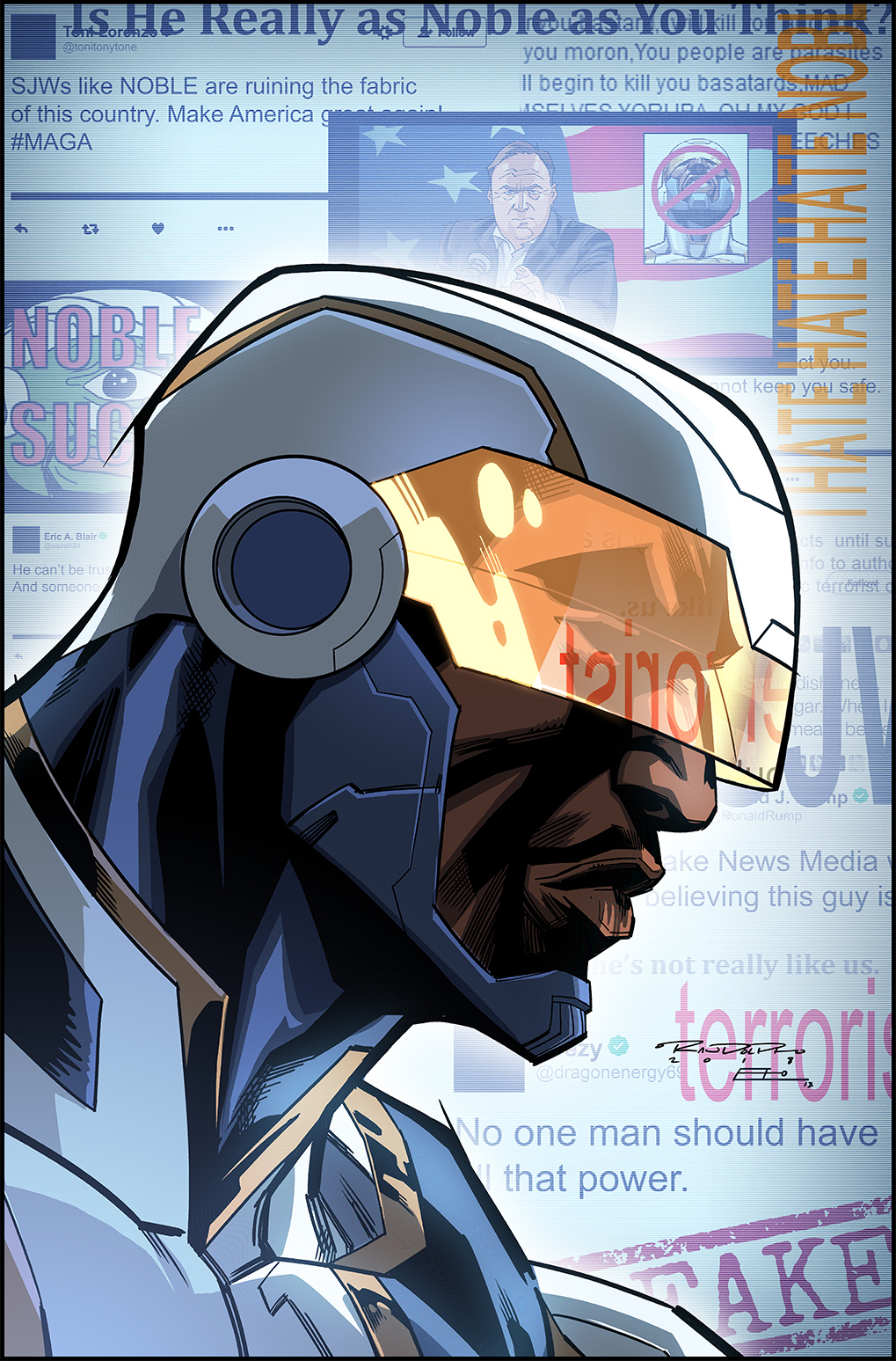 JUL182017
(W) Brandon Thomas (A) Manuel Garcia (CA) Khary Randolph, Emilio Lopez
David Powell has fully adopted his identity as the superhero Noble, becoming both an inspiration to many and a potential threat to others.  However somebody is ready to challenges Noble's public image and question his cause.
In Shops: Sep 05, 2018
SRP: $3.99
CATALYST PRIME ACCELL #14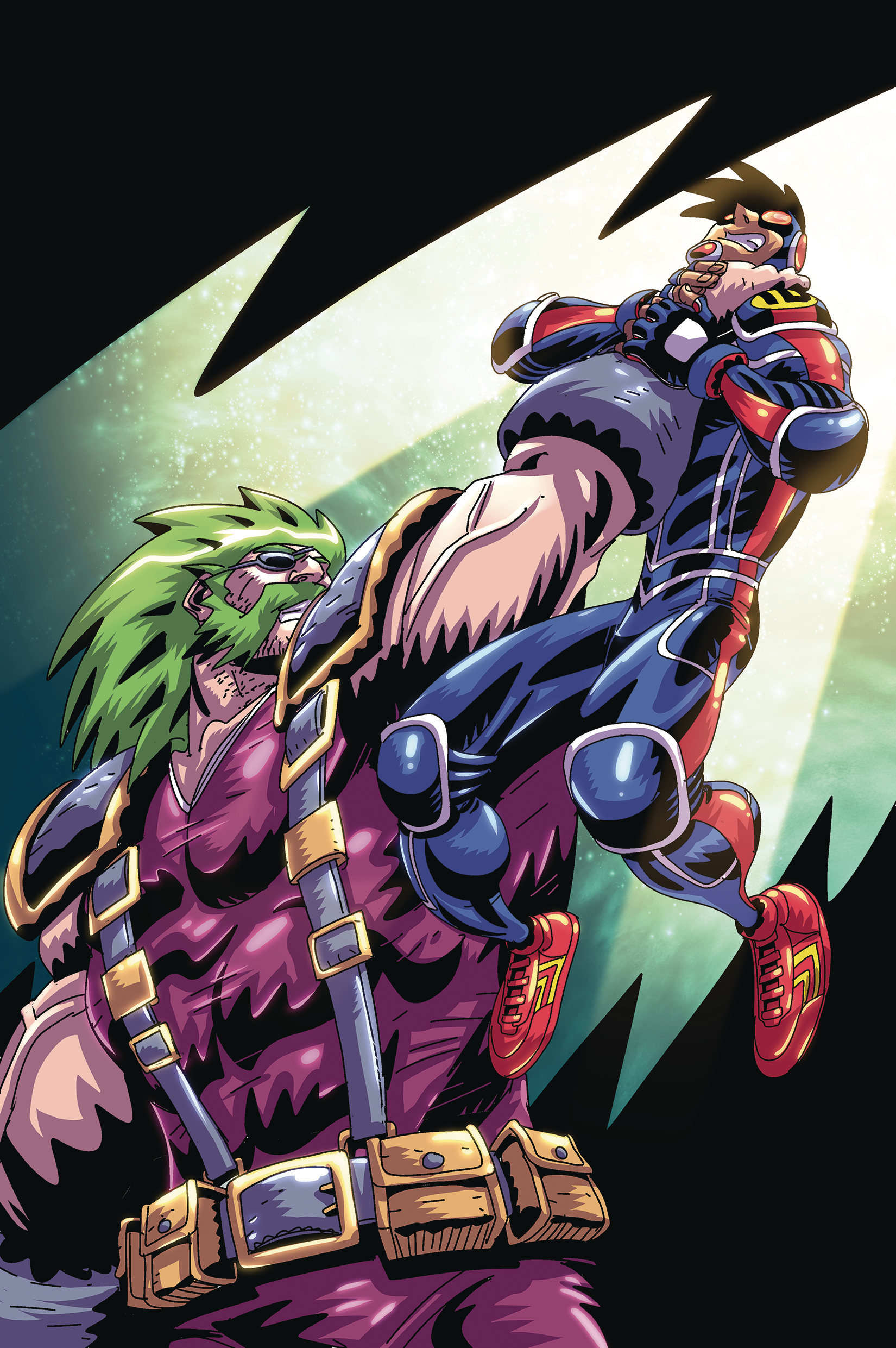 JUL182018
W) Joe Casey (A/CA) Damion Scott
Something is affecting his powers leaving him vulnerable. Althea Morrison comes to the shocking conclusion that the Stream reality Daniel finds himself in when he runs is, in fact, killing him.
In Shops: Sep 12, 2018
SRP: $3.99
DINOSAUCERS #2
JUL182019
(W) Michael Uslan (A/CA) Andrew Pepoy
As the fully advanced humanoid dinosaurs from Reptilon launch their attack fleet toward Earth, government leaders from across the world become aware of the extraterrestrial attack, which can only mean one thing . . . WAR OF THE WORLDS. Â
In Shops: Sep 12, 2018
SRP: $3.99
CELLIES #4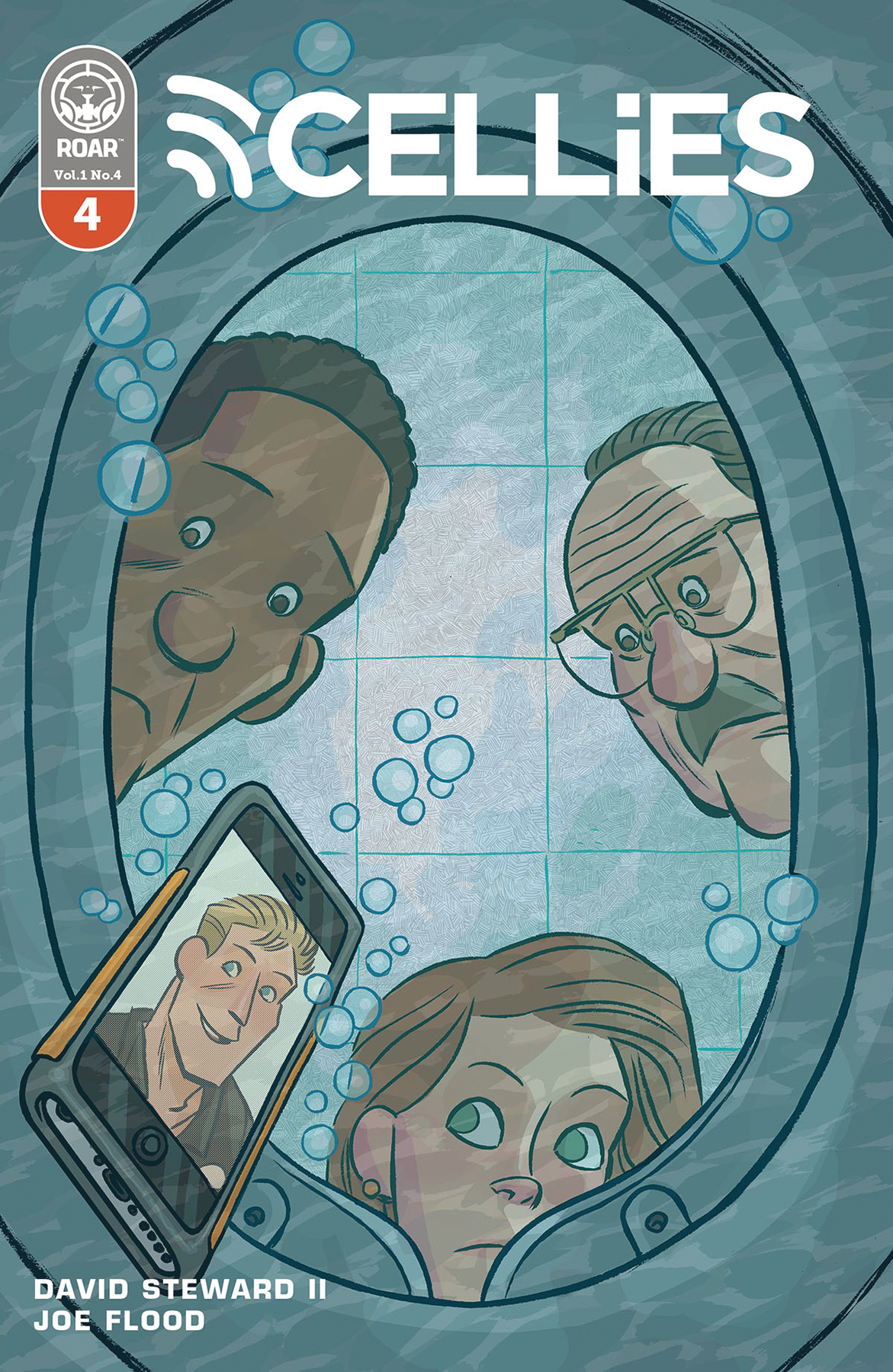 JUL182020
(W) Joe Flood (A/CA) Joe Flood
Rey rebels from work and home when she calls in "sick" to join her friends at Seven Sails theme park's Shocktober Nights. But when Devin agrees to cover for Rey without Christian or Rey's parents finding out, things get scary complicated. Â
In Shops: Sep 05, 2018
SRP: $3.99
MAE VOL 2 #4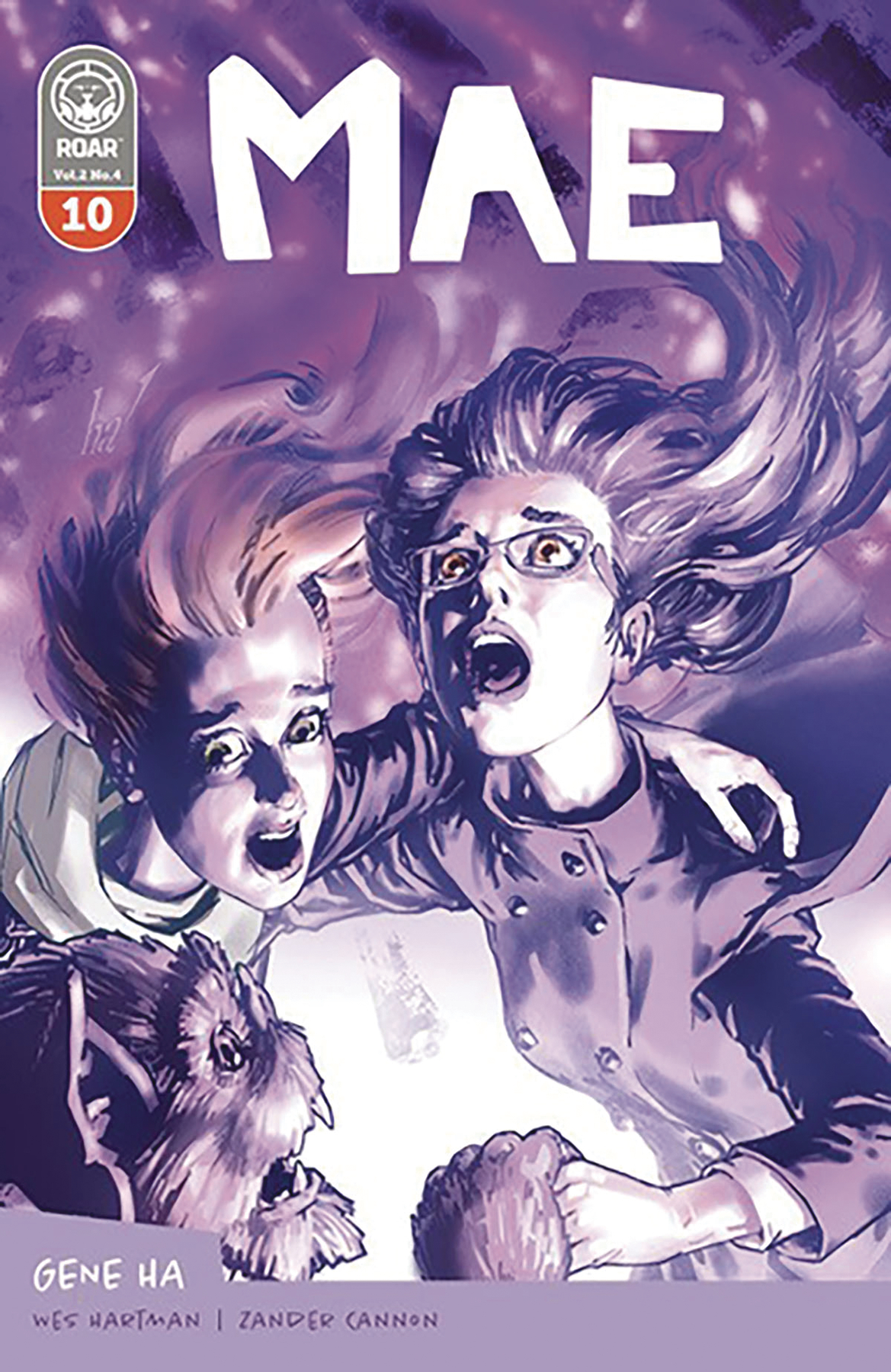 JUL182021
(W) Gene Ha (A/CA) Gene Ha
A brief trip through the gate back to Indiana leaves Mae feeling more confused than ever. With a dangerous storm ahead in the other world, she'll need reinforcements to help find her dad.
In Shops: Sep 19, 2018
SRP: $3.99
ENCOUNTER TP VOL 01 JUL182022
W) Art Baltazar, Franco (A/CA) Chris Giarrusso
A brand new series from the creators of Tiny Titans and Mini Marvels! Encounter is a new kind of hero; an alien escaped to Earth, who can take any form he chooses, and decides to become a hero! With help from his talking dog Barko, he fights crime on our planet. Collects issues 1-5.
In Shops: Sep 19, 2018
SRP: $12.99
ENCOUNTER #6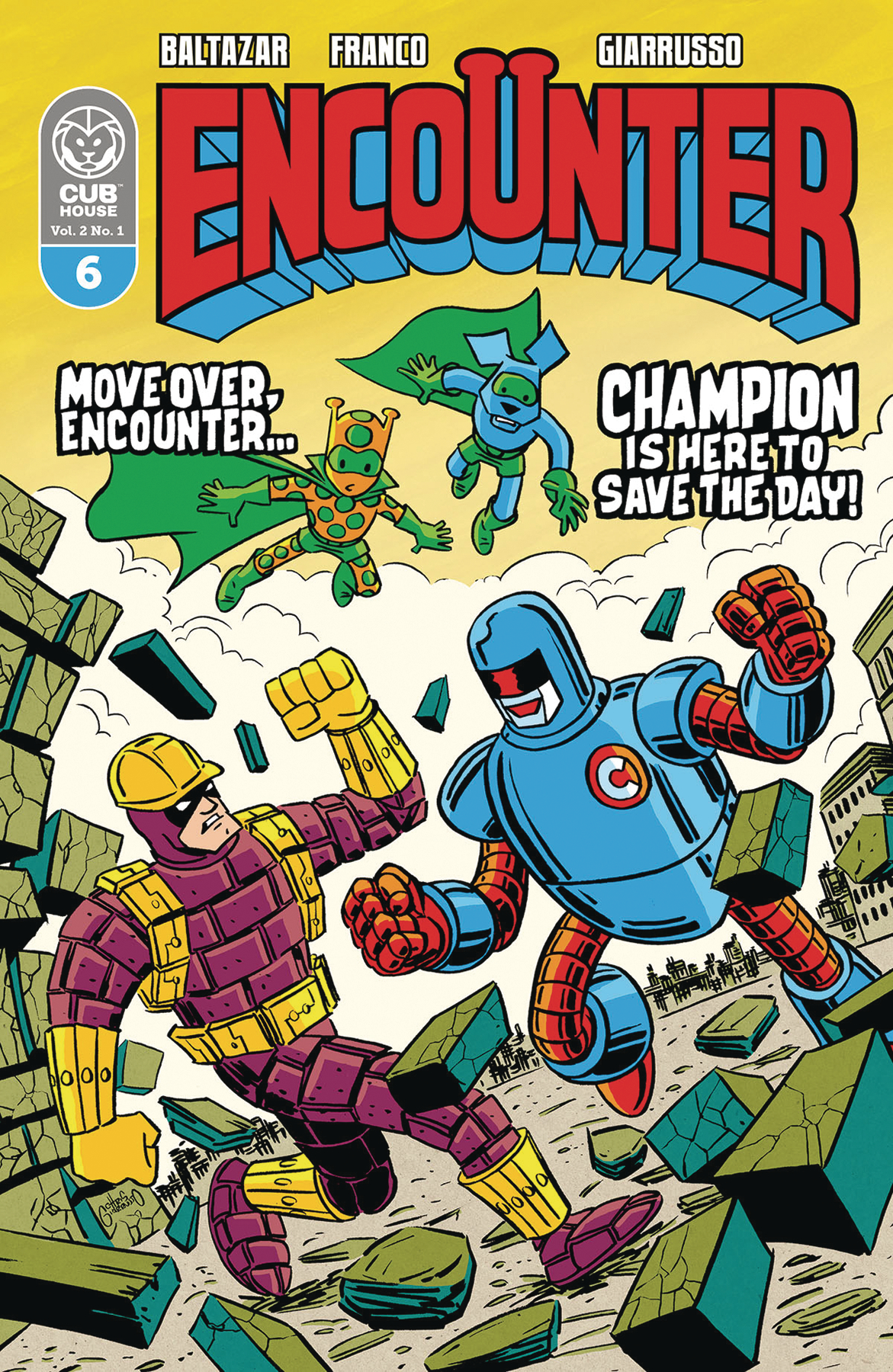 JUL182023
(W) Art Baltazar, Franco (A/CA) Chris Giarrusso
Encounter and Barko can defend humanity from the toughest villains, but what happens when they meet . . . another hero?! Never fear, Encounter, Champion is here! This masked defender of justice is eager to help them take down villains, but our heroes aren't sure if Champion is really friend or foe!
In Shops: Sep 19, 2018
SRP: $3.99
(Last Updated
June 20, 2018 3:53 pm
)
Related Posts
None found