Today sees the publication of Batman #49 by Tom King, Mikel Janin and June Chung.
Much has been made of the Joker's intention to attend the wedding of Batman and Catwoman. Indeed, today's Batman Wedding Prelude: Red Hood Vs Anarky is focused on that fact as well.
Batman and the Joker have circled each other since the beginning. And there was one moment, most telling, in Batman: The Killing Joke by Alan Moore and Brian Bolland, where that final scene saw Batman recognise something in the Joker as something in him. The suggestion sometimes taken in this final page is that Batman finally kills the Joker. Batman leans on the Joker – or is he strangling him? The laughter stops, the sirens blare…
Well, in today's Batman #49, the Joker remembers that scene. So, guessing he didn't die. Unless that was one of the Three Jokers.
So the Joker believes he held Batman as opposed to the other way round? But as much as this is about the Joker and Batman, it is also about the Joker and Catwoman, and they do have a sort of Mexican bleed-off….
And the love that only speaks its name in the Batman Lego Movie.
We have also talked about what this Batwedding could mean for Batman and Catwoman, after reading through Tom King's run in one go…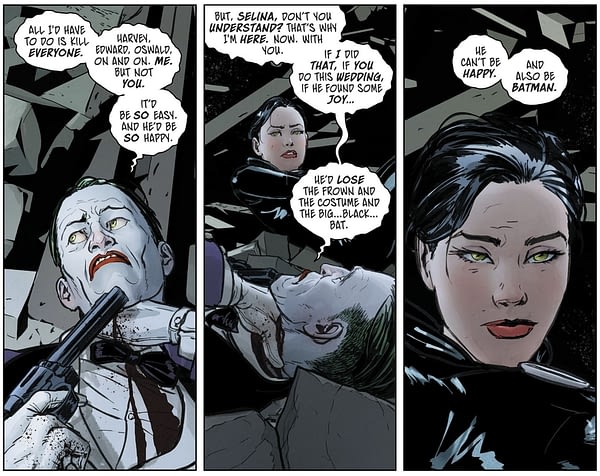 A Batwedding means no more Batman. And a Joker needs his Batman.
And without a Batman, The Joker might just as well…
The Catwoman laughs. Finally, she laughs. Just as Batman did in The Killing Joke. And just as the Joker did back then, he dies.
The death of the Joker, folks. The laugh of the Catwoman. And the end of the marriage…?
Batman #49 is published today. No retailer has ordered enough copies if this follows through…
Batman #50 is published on the 4th July.
BATMAN #49
(W) Tom King (A/CA) Mikel Janin
"THE BEST MAN" part two! Now it's up to Catwoman to rescue her one true love. It's the Cat vs. the Clown in one exciting showdown that sets the stage for our giant anniversary issue-and the biggest union in comics! In Shops: Jun 20, 2018
SRP: $2.99
BATMAN #50
(W) Tom King (A) David Finch, Joelle Jones, Mitch Gerads, Rafael Albuquerque, Neal Adams, Andy Kubert, Becky Cloonan, Ty Templeton, Jose Luis Garcia-Lopez, Frank Miller, Lee Bermejo (A/CA) Mikel Janin
It's the wedding you never thought you'd see! The Batrimony is real as Bruce Wayne and Selina Kyle are set to tie the knot in a can't-miss, extra-length milestone issue that will reshape Gotham City. All their friends (and a few enemies?) will be party to a comic book coupling for the ages. Superstar scribe Tom King officiates the sure-to-be-offbeat nuptials, joined by an all-star lineup of guest classic Bat-artists doffing their hats to the lucky couple in a series of pre-wedding flashback scenes sure to set the romantic mood.In Shops: Jul 04, 2018
SRP: $4.99