Last year we ran a piece asking the question of whatever happened to Geoff Johns's teased and promised Justice League story Rise of the Seven Seas, as we now celebrate five years of empty promises… and we've heard nothing but crickets from Geoff and DC since then.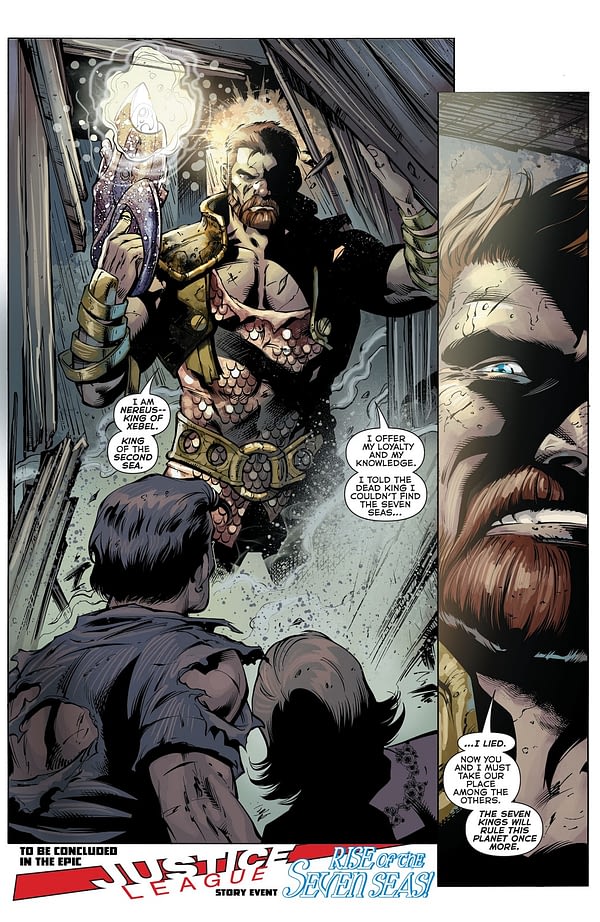 Until last week when in the wave of Aquaman movie hype The Aquaman Shrine tweeted:
The movie draws material from Geoff Johns' unfinished work "Rise of the Seven Seas" and introduces new rulers, Atlantean kingdoms & a reimagination of a classic Aquaman villain originally intended for comics, on the big screen. #Aquaman pic.twitter.com/UDebvOVbAP

— The Aquaman Shrine (@AquamanShrine) June 15, 2018
Well, it seems highly likely they may just be right and have the edit to back it up. Pictured are the rulers of the "Seven Seas" of Atlantis — separate kingdoms that resulted when Atlan caused the continent to sink beneath the wave thousands of years ago (see Geoff's New 52 run). As of now the only kingdoms we know of are the Atlantean capital of Atlantis and Xebel, the penal colony where Mera is from.
Rise of the Seven Seas was originally to be a Justice League/Aquaman event and it's clear Geoff planned to introduce a whole lot more into his Sea King mythos. New rulers and kingdoms now likely to be introduced first in the December movie rather than the comics.
Well, will the Seven Seas ever make its way back into comics canon? Scott Snyder has teased the second arc of his Justice League run to be a big Aquaman storyline… Kelly Sue DeConnick is believed to be taking on the Aquaman comic as well as part of the DC Creative Refresh…. and Geoff Johns didn't mention Aquaman in his lineup of titles. But doesn't mean that in his new position he couldn't get an Aquaman comic away that toes in with the movie, showing his original comic book plans for the storyline…
And who's the classic Aquaman villain referenced in The Shrine's tweet? That would make three or four for the movie eh? But who's counting on their trident, er, pentadent, right?