We broke down the monthly marketshare for April on Friday, now we expand with the Top 100 for comics and graphic novels, as ordered by North American stores in the direct market from Diamond Comic Distributors.
As well as these listed, BOOM! Studios' Mighty Morphin Power Rangers #27 was their top book at #133, Frank Miller's Xerxes: The Fall of the House of Darius and the Rise of Alexander #2 was Dark Horse's top book at #129, Dynamite Entertainment's Red Sonja/Tarzan #1 ranked #142, and IDW Publishing's TMNT: Urban Legends #1 ranked #159.
And look, Action Comics #1000 still made it into the top twenty-five, the month after it was published.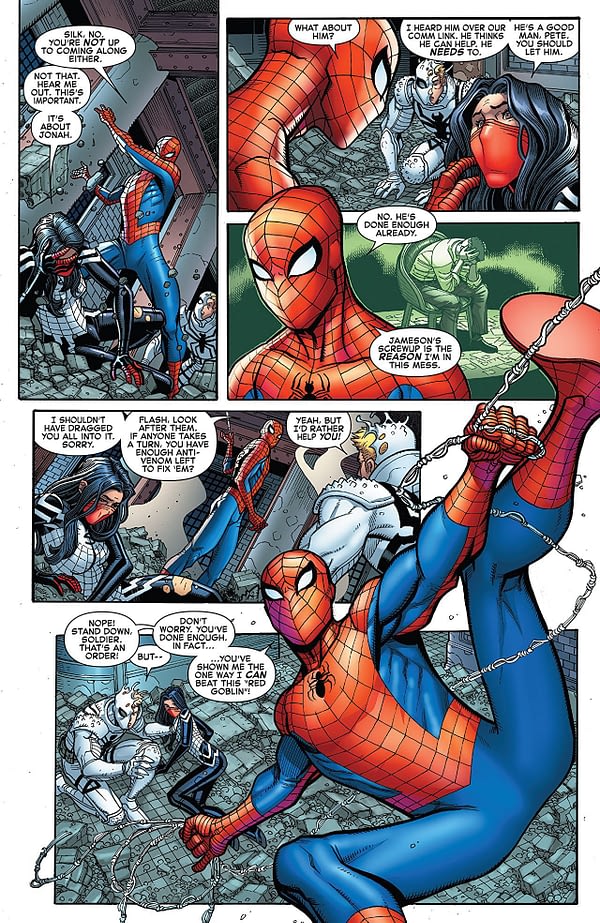 TOP 100 COMIC BOOKS
Based on Total Unit Sales of Products Invoiced in May 2018
| | | | | |
| --- | --- | --- | --- | --- |
| RANK | DESCRIPTION | PRICE | ITEM CODE | VENDOR |
| 1 | AMAZING SPIDER-MAN #800 | $9.99 | MAR180826-M | MARVEL COMICS |
| 2 | VENOM #1 | $4.99 | MAR180796-M | MARVEL COMICS |
| 3 | DOOMSDAY CLOCK #5 | $4.99 | MAR180233-M | DC ENTERTAINMENT |
| 4 | AVENGERS #1 | $4.99 | MAR180776-M | MARVEL COMICS |
| 5 | BLACK PANTHER #1 | $4.99 | MAR180786-M | MARVEL COMICS |
| 6 | BATMAN #47 | $2.99 | MAR180256-M | DC ENTERTAINMENT |
| 7 | BATMAN #46 | $2.99 | MAR180254-M | DC ENTERTAINMENT |
| 8 | JUSTICE LEAGUE NO JUSTICE #1 | $3.99 | MAR180228-M | DC ENTERTAINMENT |
| 9 | MAN OF STEEL #1 [*] | $3.99 | APR180145 | DC ENTERTAINMENT |
| 10 | WALKING DEAD #179 (MR) | $3.99 | MAR180767-M | IMAGE COMICS |
| 11 | BATMAN WHITE KNIGHT #8 | $4.99 | MAR180260-M | DC ENTERTAINMENT |
| 12 | JUSTICE LEAGUE NO JUSTICE #2 | $3.99 | MAR180230 | DC ENTERTAINMENT |
| 13 | AVENGERS #2 | $3.99 | MAR180783-M | MARVEL COMICS |
| 14 | JUSTICE LEAGUE NO JUSTICE #3 | $3.99 | MAR180231 | DC ENTERTAINMENT |
| 15 | JUSTICE LEAGUE NO JUSTICE #4 | $3.99 | MAR180232 | DC ENTERTAINMENT |
| 16 | DESPICABLE DEADPOOL #300 | $5.99 | MAR180832-M | MARVEL COMICS |
| 17 | INFINITY COUNTDOWN #3 | $4.99 | MAR180804-M | MARVEL COMICS |
| 18 | INVINCIBLE IRON MAN #600 | $5.99 | MAR180837-M | MARVEL COMICS |
| 19 | X-MEN WEDDING SPECIAL #1 | $4.99 | MAR180930 | MARVEL COMICS |
| 20 | FLASH #47 | $2.99 | MAR180279-M | DC ENTERTAINMENT |
| 21 | BATMAN PRELUDE TO THE WEDDING ROBIN VS RAS AL GHUL #1 | $3.99 | APR180173 | DC ENTERTAINMENT |
| 22 | FLASH #46 | $2.99 | MAR180277-M | DC ENTERTAINMENT |
| 23 | ACTION COMICS #1000 | $7.99 | FEB180142-M | DC ENTERTAINMENT |
| 24 | DETECTIVE COMICS #980 | $2.99 | MAR180273-M | DC ENTERTAINMENT |
| 25 | DETECTIVE COMICS #981 | $2.99 | MAR180275-M | DC ENTERTAINMENT |
| 26 | STAR WARS DARTH VADER #16 | $3.99 | MAR180965-M | MARVEL COMICS |
| 27 | STAR WARS #47 | $3.99 | MAR180958-M | MARVEL COMICS |
| 28 | ACTION COMICS SPECIAL #1 | $4.99 | MAR180226 | DC ENTERTAINMENT |
| 29 | HUNT FOR WOLVERINE MYSTERY MADRIPOOR #1 | $3.99 | MAR180823-M | MARVEL COMICS |
| 30 | STAR WARS #48 | $3.99 | MAR180961-M | MARVEL COMICS |
| 31 | X-MEN RED #4 | $3.99 | MAR180904-M | MARVEL COMICS |
| 32 | HUNT FOR WOLVERINE WEAPON LOST #1 | $3.99 | MAR180814-M | MARVEL COMICS |
| 33 | CAPTAIN AMERICA #701 | $3.99 | MAR180855-M | MARVEL COMICS |
| 34 | SUPERMAN SPECIAL #1 | $4.99 | MAR180227 | DC ENTERTAINMENT |
| 35 | STAR WARS LANDO DOUBLE OR NOTHING #1 | $3.99 | MAR180948-M | MARVEL COMICS |
| 36 | HUNT FOR WOLVERINE ADAMANTIUM AGENDA #1 | $3.99 | MAR180817-M | MARVEL COMICS |
| 37 | HUNT FOR WOLVERINE CLAWS OF KILLER #1 | $3.99 | MAR180820-M | MARVEL COMICS |
| 38 | HARLEY LOVES JOKER #1 | $3.99 | MAR180235-M | DC ENTERTAINMENT |
| 39 | CAPTAIN AMERICA #702 | $3.99 | MAR180858-M | MARVEL COMICS |
| 40 | MIGHTY THOR GATES OF VALHALLA #1 | $4.99 | MAR180870-M | MARVEL COMICS |
| 41 | VENOMIZED #5 | $3.99 | MAR180872-M | MARVEL COMICS |
| 42 | STAR WARS ANNUAL #4 | $4.99 | MAR180963-M | MARVEL COMICS |
| 43 | X-MEN RED ANNUAL #1 | $4.99 | MAR180907-M | MARVEL COMICS |
| 44 | SPAWN #285 | $2.99 | FEB180704-M | IMAGE COMICS |
| 45 | SAGA #52 (MR) | $2.99 | MAR180752 | IMAGE COMICS |
| 46 | HARLEY LOVES JOKER #2 | $3.99 | MAR180237-M | DC ENTERTAINMENT |
| 47 | NEW CHALLENGERS #1 | $2.99 | MAR180239 | DC ENTERTAINMENT |
| 48 | OBLIVION SONG BY KIRKMAN & DE FELICI #3 (MR) | $3.99 | MAR180720 | IMAGE COMICS |
| 49 | DEATHSTROKE #31 | $3.99 | MAR180271-M | DC ENTERTAINMENT |
| 50 | X-MEN GOLD #28 | $3.99 | MAR180929 | MARVEL COMICS |
| 51 | X-MEN GOLD #27 | $3.99 | MAR180928 | MARVEL COMICS |
| 52 | ASTONISHING X-MEN #11 | $3.99 | MAR180940-M | MARVEL COMICS |
| 53 | WONDER WOMAN #46 | $2.99 | MAR180312-M | DC ENTERTAINMENT |
| 54 | WONDER WOMAN #47 | $2.99 | MAR180314-M | DC ENTERTAINMENT |
| 55 | MARVEL TWO-IN-ONE #6 | $3.99 | MAR180887-M | MARVEL COMICS |
| 56 | STAR WARS THRAWN #4 | $3.99 | MAR180970-M | MARVEL COMICS |
| 57 | DEATH OR GLORY #1 (MR) | $4.99 | MAR180577-M | IMAGE COMICS |
| 58 | OLD MAN LOGAN #39 | $3.99 | MAR180932 | MARVEL COMICS |
| 59 | YOU ARE DEADPOOL #1 | $3.99 | MAR180844-M | MARVEL COMICS |
| 60 | OLD MAN LOGAN #40 | $3.99 | MAR180933 | MARVEL COMICS |
| 61 | X-MEN BLUE #27 | $3.99 | MAR180938 | MARVEL COMICS |
| 62 | X-MEN BLUE #28 | $3.99 | MAR180939 | MARVEL COMICS |
| 63 | DAREDEVIL #602 | $3.99 | MAR180889-M | MARVEL COMICS |
| 64 | ALL NEW WOLVERINE #35 | $3.99 | MAR180936-M | MARVEL COMICS |
| 65 | BARRIER #1 COLLECTORS ED (MR) | $4.99 | MAR180571 | IMAGE COMICS |
| 66 | INFINITY COUNTDOWN CAPTAIN MARVEL #1 | $3.99 | MAR180808 | MARVEL COMICS |
| 67 | TERRIFICS #4 | $2.99 | MAR180245 | DC ENTERTAINMENT |
| 68 | DOCTOR STRANGE #390 | $3.99 | MAR180897-M | MARVEL COMICS |
| 69 | SUICIDE SQUAD #41 | $2.99 | MAR180308-M | DC ENTERTAINMENT |
| 70 | INFINITY COUNTDOWN DAREDEVIL #1 | $4.99 | MAR180810-M | MARVEL COMICS |
| 71 | IMMORTAL MEN #2 | $2.99 | MAR180242 | DC ENTERTAINMENT |
| 72 | HAL JORDAN AND THE GREEN LANTERN CORPS #44 | $2.99 | MAR180289-M | DC ENTERTAINMENT |
| 73 | STAR WARS DOCTOR APHRA #20 | $3.99 | MAR180968-M | MARVEL COMICS |
| 74 | HAL JORDAN AND THE GREEN LANTERN CORPS #45 | $2.99 | MAR180291-M | DC ENTERTAINMENT |
| 75 | SUPER SONS #16 | $3.99 | MAR180304-M | DC ENTERTAINMENT |
| 76 | STAR WARS LAST JEDI ADAPTATION #1 | $4.99 | MAR180953-M | MARVEL COMICS |
| 77 | BRAVE & THE BOLD BATMAN & WONDER WOMAN #4 | $3.99 | MAR180270 | DC ENTERTAINMENT |
| 78 | PETER PARKER SPECTACULAR SPIDER-MAN #304 | $3.99 | MAR180877 | MARVEL COMICS |
| 79 | SUICIDE SQUAD #42 | $2.99 | MAR180310-M | DC ENTERTAINMENT |
| 80 | BARRIER #2 (MR) [*] | $3.99 | MAR180573 | IMAGE COMICS |
| 81 | OLD MAN HAWKEYE #5 | $3.99 | MAR180894 | MARVEL COMICS |
| 82 | DOMINO #2 | $3.99 | MAR180912 | MARVEL COMICS |
| 83 | NIGHTWING #44 | $3.99 | MAR180301-M | DC ENTERTAINMENT |
| 84 | WEAPON H #3 | $3.99 | MAR180944-M | MARVEL COMICS |
| 85 | MEDIEVAL SPAWN WITCHBLADE #1 | $2.99 | MAR180598-M | IMAGE COMICS |
| 86 | BARRIER #3 (MR) [*] | $3.99 | MAR180574 | IMAGE COMICS |
| 87 | SPIDER-MAN #240 | $3.99 | MAR180878 | MARVEL COMICS |
| 88 | DAREDEVIL #603 | $3.99 | MAR180891 | MARVEL COMICS |
| 89 | FLASH SPEED BUGGY SPECIAL #1 | $4.99 | APR180160-M | DC ENTERTAINMENT |
| 90 | YOU ARE DEADPOOL #2 | $3.99 | MAR180847-M | MARVEL COMICS |
| 91 | INFINITY COUNTDOWN DARKHAWK #1 | $3.99 | MAR180812-M | MARVEL COMICS |
| 92 | SUPER SONS DYNOMUTT SPECIAL #1 | $4.99 | APR180162-M | DC ENTERTAINMENT |
| 93 | BARRIER #4 (MR) [*] | $3.99 | MAR180575 | IMAGE COMICS |
| 94 | GREEN LANTERNS #47 | $2.99 | MAR180283-M | DC ENTERTAINMENT |
| 95 | GREEN LANTERNS #46 | $2.99 | MAR180282-M | DC ENTERTAINMENT |
| 96 | STAR WARS POE DAMERON #27 | $3.99 | MAR180967 | MARVEL COMICS |
| 97 | WEAPON X #17 | $3.99 | MAR180942 | MARVEL COMICS |
| 98 | BARRIER #5 (MR) [*] | $4.99 | MAR180576 | IMAGE COMICS |
| 99 | AQUAMAN #36 | $3.99 | MAR180246-M | DC ENTERTAINMENT |
| 100 | YOU ARE DEADPOOL #4 | $3.99 | MAR180851-M | MARVEL COMICS |
TOP 100 GRAPHIC NOVELS
Based on Total Unit Sales of Products Invoiced in May 2018
| | | | | |
| --- | --- | --- | --- | --- |
| RANK | DESCRIPTION | PRICE | ITEM CODE | VENDOR |
| 1 | STAR WARS TAG & BINK WERE HERE #1 | $7.99 | MAR180947 | MARVEL COMICS |
| 2 | INFINITY GAUNTLET TP | $24.99 | JUL110745 | MARVEL COMICS |
| 3 | WHERE WE LIVE LAS VEGAS SHOOTING BENEFIT ANTHOLOGY TP | $19.99 | MAR180600 | IMAGE COMICS |
| 4 | SNOTGIRL TP VOL 02 CALIFORNIA SCREAMING | $15.99 | MAR180757 | IMAGE COMICS |
| 5 | DARK DAYS THE ROAD TO METAL HC | $29.99 | DEC170376 | DC ENTERTAINMENT |
| 6 | WONDER WOMAN TP VOL 05 HEART OF THE AMAZON TP REBIRTH | $16.99 | FEB180292 | DC ENTERTAINMENT |
| 7 | AMAZING SPIDER-MAN VENOM INC TP | $19.99 | FEB180936 | MARVEL COMICS |
| 8 | HELLBOY OMNIBUS TP VOL 01 SEED OF DESTRUCTION | $24.99 | JAN180104 | DARK HORSE COMICS |
| 9 | BLACK MAGICK TP VOL 02 AWAKENING II (MR) | $16.99 | MAR180642 | IMAGE COMICS |
| 10 | BLACK PANTHER LONG LIVE THE KING MPGN TP | $14.99 | FEB180931 | MARVEL COMICS |
| 10 | INFINITY WAR TP | $29.99 | JAN062102 | MARVEL COMICS |
| 12 | SAGA TP VOL 08 (MR) | $14.99 | OCT170715 | IMAGE COMICS |
| 13 | RICK & MORTY TP VOL 07 | $19.99 | FEB181702 | ONI PRESS INC. |
| 14 | HARLEY QUINN TP VOL 05 VOTE HARLEY REBIRTH | $16.99 | FEB180286 | DC ENTERTAINMENT |
| 15 | NIGHTWING THE NEW ORDER TP | $16.99 | FEB180308 | DC ENTERTAINMENT |
| 16 | REBORN TP (MR) | $16.99 | MAR180733 | IMAGE COMICS |
| 17 | SAGA TP VOL 01 (MR) | $9.99 | AUG120491 | IMAGE COMICS |
| 18 | BLACK PANTHER TP BOOK 05 AVENGERS OF NEW WORLD PART 2 | $19.99 | FEB180932 | MARVEL COMICS |
| 19 | SWING TP VOL 01 (A) | $9.99 | FEB180533 | IMAGE COMICS |
| 20 | SHERLOCK FRANKENSTEIN LEGION OF EVIL FROM BLACK HAMMER TP | $17.99 | JAN180101 | DARK HORSE COMICS |
| 21 | STAR WARS POE DAMERON TP VOL 04 LEGEND FOUND | $19.99 | FEB180942 | MARVEL COMICS |
| 22 | J SCOTT CAMPBELL DANGER GIRL 20TH ANNIV | $9.99 | FEB180476 | IDW PUBLISHING |
| 23 | GREEN ARROW TP VOL 05 HARD TRAVELING HERO REBIRTH | $16.99 | FEB180285 | DC ENTERTAINMENT |
| 24 | MOON KNIGHT LEGACY TP VOL 01 CRAZY RUNS IN FAMILY | $17.99 | FEB180940 | MARVEL COMICS |
| 25 | SUPERMAN REBORN TP REBIRTH | $16.99 | FEB180289 | DC ENTERTAINMENT |
| 26 | DESPICABLE DEADPOOL TP VOL 02 BUCKET LIST | $15.99 | FEB180925 | MARVEL COMICS |
| 27 | SUPERGIRL BEING SUPER TP | $16.99 | FEB180311 | DC ENTERTAINMENT |
| 28 | PUNISHER WAR MACHINE TP VOL 01 | $17.99 | MAR180993 | MARVEL COMICS |
| 28 | VENOM & X-MEN POISON-X TP | $17.99 | FEB180930 | MARVEL COMICS |
| 30 | SILVER SURFER EPIC COLLECTION TP THANOS QUEST | $39.99 | MAR181006 | MARVEL COMICS |
| 31 | PAPER GIRLS TP VOL 01 | $9.99 | JAN160645 | IMAGE COMICS |
| 32 | WILD STORM TP VOL 02 | $16.99 | FEB180316 | DC ENTERTAINMENT |
| 33 | DEATH OF WOLVERINE COMPLETE COLLECTION TP | $39.99 | FEB180946 | MARVEL COMICS |
| 34 | X-MEN GOLD TP VOL 05 CRUEL AND UNUSUAL | $15.99 | MAR180997 | MARVEL COMICS |
| 35 | WATCHMEN TP | $19.99 | FEB140265-M | DC ENTERTAINMENT |
| 36 | REDNECK TP VOL 02 EYES UPON YOU (MR) | $16.99 | MAR180736 | IMAGE COMICS |
| 37 | MONSTRESS TP VOL 01 (MR) | $9.99 | APR160803 | IMAGE COMICS |
| 38 | BATWOMAN TP VOL 02 WONDERLAND REBIRTH | $14.99 | FEB180283 | DC ENTERTAINMENT |
| 39 | RICANSTRUCTION REMINISCING & REBUILDING PUERTO RICO TP | $19.99 | JAN189143 | SOMOS ARTE, LLC |
| 40 | MOTOR CRUSH TP VOL 02 | $16.99 | MAR180718 | IMAGE COMICS |
| 41 | EXTREMITY TP VOL 02 WARRIOR | $16.99 | MAR180672 | IMAGE COMICS |
| 42 | PAPER GIRLS TP VOL 04 | $14.99 | FEB180663 | IMAGE COMICS |
| 43 | PUNISHER MAX BY GARTH ENNIS OMNIBUS HC VOL 01 (MR) | $100.00 | NOV171043 | MARVEL COMICS |
| 44 | HULK RETURN TO PLANET HULK TP | $15.99 | FEB180933 | MARVEL COMICS |
| 45 | DAYGLOAYHOLE QUARTERLY #1 (MR) | $6.00 | FEB181778 | SILVER SPROCKET |
| 46 | POKEMON SUN & MOON GN VOL 01 | $4.99 | MAR182040 | VIZ MEDIA LLC |
| 47 | STAR WARS LOST STARS GN VOL 01 | $13.00 | MAR182086 | YEN PRESS |
| 48 | INJUSTICE GROUND ZERO TP VOL 02 | $16.99 | FEB180303 | DC ENTERTAINMENT |
| 49 | HAWKEYE KATE BISHOP TP VOL 03 FAMILY REUNION | $15.99 | FEB180938 | MARVEL COMICS |
| 50 | DEADLY CLASS TP VOL 01 REAGAN YOUTH (MR) | $9.99 | MAY140626 | IMAGE COMICS |
| 51 | BATMAN GHOSTS TP | $19.99 | FEB180299 | DC ENTERTAINMENT |
| 52 | COLOR YOUR OWN DEADPOOL AGAIN TP | $9.99 | FEB180924 | MARVEL COMICS |
| 53 | AMAZING SPIDER-MAN EPIC COLLECTION SPIDER-MAN NO MORE TP | $39.99 | FEB180947 | MARVEL COMICS |
| 54 | SACRED CREATURES TP VOL 01 (MR) | $22.99 | DEC170664 | IMAGE COMICS |
| 55 | ARCHIE TP VOL 05 | $17.99 | MAR181177 | ARCHIE COMIC PUBLICATIONS |
| 56 | BEASTS OF BURDEN ANIMAL RITES TP | $19.99 | JAN180121 | DARK HORSE COMICS |
| 57 | STAR WARS HAN SOLO HC | $24.99 | NOV171076 | MARVEL COMICS |
| 58 | INFINITY TP | $49.99 | JUN140730 | MARVEL COMICS |
| 59 | SAGA TP VOL 02 (MR) | $14.99 | APR130443 | IMAGE COMICS |
| 60 | ACTION COMICS 80 YEARS OF SUPERMAN HC | $29.99 | DEC170241 | DC ENTERTAINMENT |
| 61 | FUTURE QUEST PRESENTS TP VOL 01 | $16.99 | FEB180297 | DC ENTERTAINMENT |
| 62 | SAGA TP VOL 07 (MR) | $14.99 | JAN170850 | IMAGE COMICS |
| 63 | BATMAN TP VOL 04 THE WAR OF JOKES & RIDDLES (REBIRTH) | $19.99 | SEP170400 | DC ENTERTAINMENT |
| 64 | STAR WARS LEGENDS EPIC COLLECTION EMPIRE TP VOL 04 | $39.99 | FEB180941 | MARVEL COMICS |
| 65 | GRAVEDIGGERS UNION TP VOL 01 (MR) | $16.99 | FEB180568 | IMAGE COMICS |
| 66 | EVOLUTION TP VOL 01 (MR) | $16.99 | FEB180552 | IMAGE COMICS |
| 67 | BLACK HAMMER TP VOL 02 THE EVENT | $19.99 | AUG170013 | DARK HORSE COMICS |
| 68 | THE GHOST THE OWL HC | $9.99 | FEB180968 | ACTION LAB ENTERTAINMENT |
| 69 | AMAZING SPIDER-MAN RENEW YOUR VOWS TP VOL 03 EIGHT YRS LATER | $17.99 | MAR180994 | MARVEL COMICS |
| 70 | ZERO HOUR CRISIS IN TIME HC | $24.99 | FEB180317 | DC ENTERTAINMENT |
| 71 | DARK FANG TP VOL 01 EARTH CALLING (MR) | $9.99 | FEB180548 | IMAGE COMICS |
| 71 | PAPER GIRLS TP VOL 03 | $12.99 | JUN170777 | IMAGE COMICS |
| 71 | SCOOBY DOO TEAM UP TP VOL 05 | $12.99 | FEB180310 | DC ENTERTAINMENT |
| 74 | PARADISO TP VOL 01 ESSENTIAL SINGULARITY (MR) | $9.99 | FEB180586 | IMAGE COMICS |
| 75 | ULTIMATE COMICS AVENGERS PREM HC BLADE VS AVENGERS | $24.99 | FEB110663 | MARVEL COMICS |
| 76 | ONE PIECE GN VOL 86 | $9.99 | MAR182033 | VIZ MEDIA LLC |
| 77 | DEADPOOL KILLS MARVEL UNIVERSE TP | $14.99 | AUG120709 | MARVEL COMICS |
| 78 | DEATHSTROKE THE TERMINATOR TP VOL 04 CRASH OR BURN | $24.99 | FEB180301 | DC ENTERTAINMENT |
| 79 | MMW MARVEL TEAM-UP HC VOL 03 | $75.00 | NOV171039-M | MARVEL COMICS |
| 80 | PAPER GIRLS TP VOL 02 | $12.99 | SEP160815 | IMAGE COMICS |
| 81 | MILK & CHEESE DAIRY PRODUCTS GONE BAD TP | $19.99 | JAN180118 | DARK HORSE COMICS |
| 82 | COLOR YOUR OWN STAR WARS HAN SOLO TP | $9.99 | JAN181039 | MARVEL COMICS |
| 83 | GREEN LANTERN KYLE RAYNER TP VOL 02 | $29.99 | FEB180302 | DC ENTERTAINMENT |
| 84 | ANGELIC TP VOL 01 HEIRS & GRACES | $12.99 | MAR180601 | IMAGE COMICS |
| 85 | BLACK PANTHER TP BOOK 01 NATION UNDER OUR FEET | $16.99 | JUN160956 | MARVEL COMICS |
| 85 | MARVEL 1872 TP | $15.99 | SEP150863 | MARVEL COMICS |
| 87 | BATMAN DETECTIVE REBIRTH DLX COLL HC BOOK 02 | $34.99 | FEB180281 | DC ENTERTAINMENT |
| 88 | SHE-HULK TP VOL 03 JEN WALTERS MUST DIE | $15.99 | FEB180934 | MARVEL COMICS |
| 89 | LOEG THE BLACK DOSSIER TP | $19.99 | FEB180306 | DC ENTERTAINMENT |
| 90 | DEADPOOL CLASSIC TP VOL 22 MURDER MOST FOWL | $34.99 | FEB180926 | MARVEL COMICS |
| 91 | MMW DEFENDERS HC VOL 06 | $75.00 | NOV171041-M | MARVEL COMICS |
| 92 | MY BOYFRIEND IS A BEAR GN | $19.99 | DEC171719 | ONI PRESS INC. |
| 93 | WOLVERINE GOES TO HELL OMNIBUS HC | $100.00 | NOV171044 | MARVEL COMICS |
| 94 | FULLMETAL ALCHEMIST FULLMETAL ED HC VOL 01 | $19.99 | MAR182019 | VIZ MEDIA LLC |
| 95 | SUPERMAN BY MARK MILLAR TP | $29.99 | FEB180313 | DC ENTERTAINMENT |
| 96 | CYBORG TP VOL 03 SINGULARITY REBIRTH | $16.99 | FEB180284 | DC ENTERTAINMENT |
| 97 | MONSTRESS TP VOL 02 (MR) | $16.99 | APR170834 | IMAGE COMICS |
| 97 | SUPERWOMAN TP VOL 03 THE MIDNIGHT HOUR REBIRTH | $16.99 | FEB180291 | DC ENTERTAINMENT |
| 99 | PUNISHER INVADES THE NAM TP | $34.99 | FEB180943 | MARVEL COMICS |
| 100 | MIGHTY MORPHIN POWER RANGERS TP VOL 01 | $19.99 | JUN161226 | BOOM! STUDIOS |