By Night #1
{{ reviewsOverall }} / 10
Users
(0 votes)
Summary
Writer: John Allison, Artist: Christine Larsen, Color Artist: Sarah Stern, Letters: Jim Campbell, Cover by: Christine Larsen. Variant Covers by: John Allison; Gurihiru, Designer: Michelle Ankley, Assistant Editor: Sophie Phillips-Roberts, Editor: Shannon Watters, Publisher: Boom! Studios, Release Date: Out Now, Price: $3.99
Jane Langstaff is a chemist at a commercial lab in Spectrum, South Dakota. Her job is dead-end, but she is devoted to it — for better or worse. Her day gets weird when an old friend from high school, Heather, convinces Jane to come out to get drinks. They haven't talked since each left for college. Over the course of drinks, Heather convinces Jane to explore an old abandoned factory with her in the hopes of reigniting Jane's dreams to be a documentarian.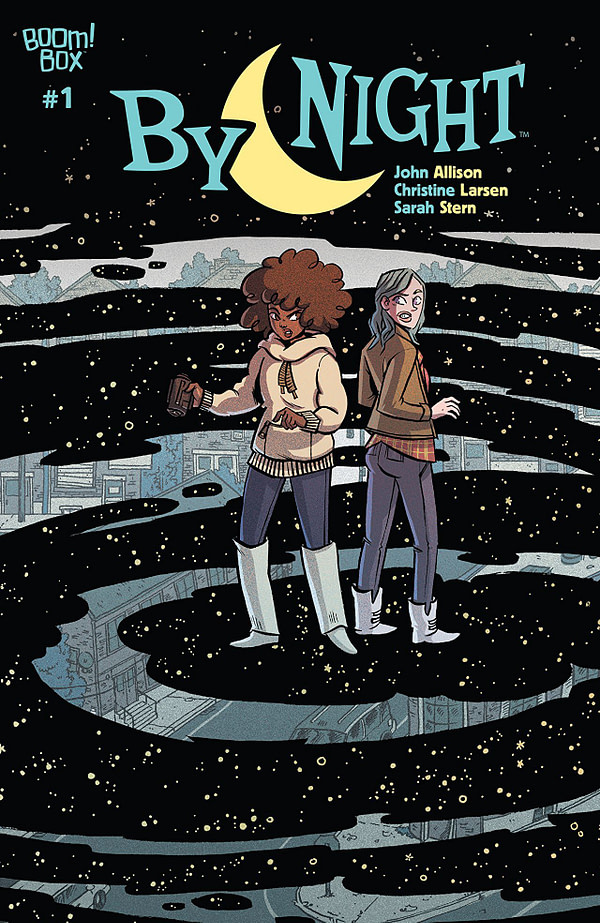 John Allison captures the voice of youth and the search for purpose once more with By Night. The Giant Days writer has a penchant for crafting interesting and endearing young women trying to find their way in the world.
Where Giant Days centers around the strong bonds of friendship, By Night focuses on a friendship lost to time and space. What do you say? How do you express your feelings? Do you express your feelings? These are the questions Jane asks herself in her reunion with Heather.
Like Giant Days, By Night #1 is quite funny too. One-liners, creative turns of phrase, and jokes at the expense of everyday life are all in full use throughout the book.
I read the synopsis of this book, so I knew where it was leading towards the end. That said, it still comes a little out of nowhere and doesn't quite fit the story leading up to it.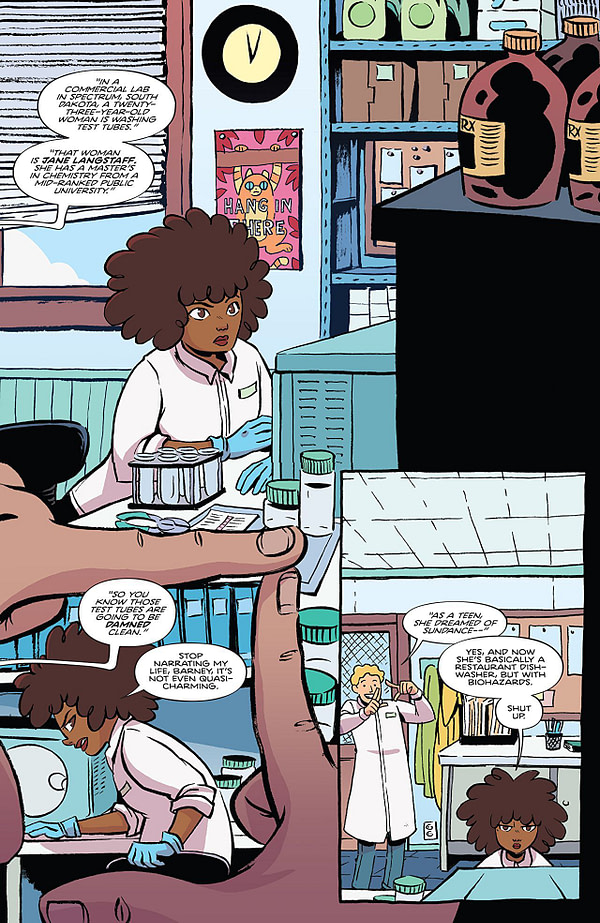 Christine Larsen's color art brings it all to life with a cute and expressive style that falls somewhere between Regular Show and Giant Days itself. Characters are drawn simplistically, but they are given enough detail to be distinct and memorable. The eyes especially look good, and a lot is expressed through them. Sarah Stern delivers a bright and vibrant color palette, bringing the visual style together well.
By Night #1 is another charming excursion for John Allison. Heather and Jane are likable characters, the premise is cute and creative, and you'll love to look at Larsen's and Stern's art. This one earns a recommendation. Check it out.
What people say... Leave your rating
Order by:
Be the first to leave a review.
Show more