If you've ever wanted to roam around in a Jurassic Park jeep doing fun things, you've got two options: Buy a jeep and all the decals and paint jobs that need to be done to recreate one, or wait for this new Rocket League pack to come out so you can race and score goals between raptor hunts. Today, Psyconix released more information about the upcoming Jurassic World pack that will be released in promotion of the upcoming film, in which you can have cars and accessories that look and are inspired by the film series. That includes the classic Jeep Wrangler from the original 1993 film, as you see below.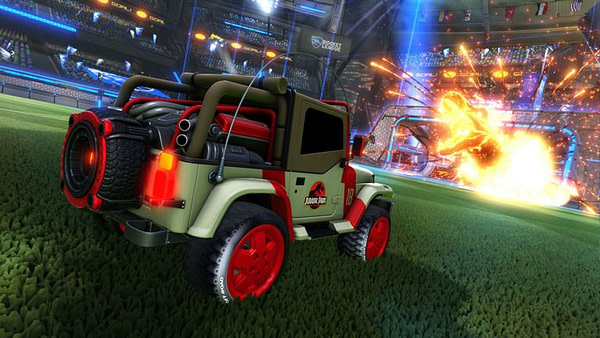 Much like all packs released for the game, it's not simply going to be free DLC. Some of the items you'll be able to win in a game, but others, such as the cars, will be available for purchase in their shop. The pack will be added on June 18th to the game, joining other promotions such as the WWE cars and the Justice League pack where you got to race around as a Batmobile. For now, kick back and enjoy the teaser trailer as you hum the classic theme song to yourself.
Enjoyed this article? Share it!