Looks like you can't keep a good – or bad- zombie down, especially now that the CW has renewed Rob Thomas' iZombie for a fifth season. While the series was on the bubble for renewal – averaging a 0.25 rating in the Adult 18-49 demo, with 770,000 live viewers – the show's dedicated fanbase and the network's interest in having established shows in place as it expands it expands its number of programming nights are thought to be factors in their decision.
https://youtu.be/TBMpgySDeME
Olivia "Liv" Moore (Rose McIver) was a rosy-cheeked, disciplined, over-achieving medical resident who had her life path completely mapped out…until the night she attended a party that unexpectedly turned into a zombie feeding frenzy. As one of the newly undead, Liv is doing her best to blend in and look as human as possible.

iZombie also stars Malcolm Goodwin, Rahul Kohli, Robert Buckley, David Anders and Aly Michalka.

Produced by Bonanza Productions Inc. in association with Spondoolie Productions and Warner Bros. Television, iZombie is executive produced by Thomas, Diane Ruggiero-Wright, Danielle Stokdyk and Dan Etheridge.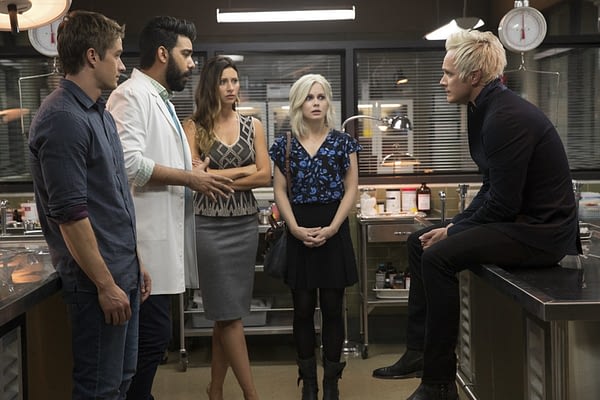 In an interview with Variety before the series premiere, Thomas addressed how iZombie would be different from "typical" comic book adaptations:
"Most of the comicbook shows are driven by a superhero at the core — someone with some pretty incredible abilities. There's some of that in our show, but it's really about living life as a zombie: How would you go about your day if you were just sort of reanimated flesh? There's a lot less ass-kicking in our show. There's certainly some of it, but I don't think we live or die in our superhero's ability to kick ass. It's like a character show about how you move on once everything in your life has been taken away from you.

When we talked about big-picture ideas for this show, there's been a lot of talk about quarter-life crisis and we feel like we have the poster child for quarter-life crisis: Someone who did everything they were supposed to for 25 years and looked up and realized they have to start from scratch."