After much nail biting, STARZ has announced they will indeed be ordering 2 more seasons of drama series Outlander.
STARZ Chief Chris Albrecht offered a statement about the pickup to Variety:
"Fans can rest assured their beloved Claire and Jamie will be back facing new challenges, adversaries and adventures in seasons five and six as we delve into American history and continue the story of the Frasers as they settle in the New World."
It also sounds like seasons five and six will run 12 episodes apiece, which is less than previous seasons of 13 episodes the past two years.
We also know, per Variety, that the season four premiere will air sometime in November, which at least is more of a date than "sometime in the fall".
The series is based on the novels by Diana Gabaldon, covering pretty much all genre of fiction from science fiction, history, romance to humor and philosophy. At present, there are 8 published books in the saga, the 9th "Go Tell The Bees That I Am Gone" is in process and slated for a release at some point in the nearish future.
Ronald D. Moore (Battlestar Galactica) brought the show to STARZ along with his production company Twin Ships and longtime Moore collaborator and executive producer Maril Davis has been with the series since day one.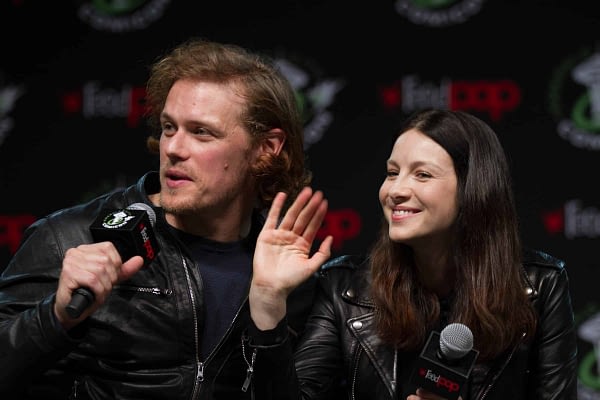 Caitriona Balfe stars as Claire Fraser, the time-traveling army nurse from the 1940's who falls in love with Jamie Fraser (Sam Heugah).  The pair circumvent the world in their travels, and even get involved with Revolutions on two continents.
Outlander will return to STARZ in November of 2018.
(Last Updated
May 9, 2018 2:47 pm
)
Related Posts