There is no arguing the impact James Cameron has had on the film industry.  From a piece of tape over a camera to create a signature effect in Escape From New York to resetting expectations of what CGI effects can be, Cameron has truly made himself a force in the art form.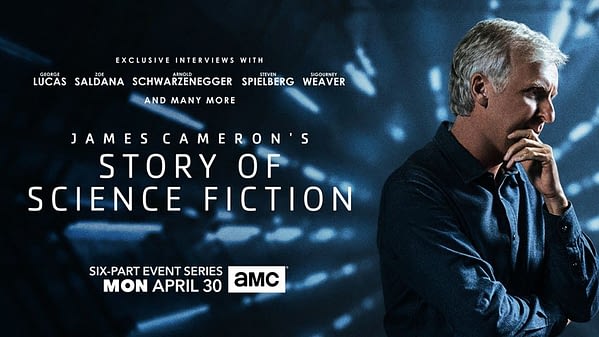 His newest project is a season of the AMC multi-part series Visionaries, a mini-series devoted to creators and what makes them tick.  The previous season saw The Walking Dead creator and one of Image Comics' founders Robert Kirkman talking about comics.  Cameron's season centers around Science Fiction, with some seriously awesome cameos and interviews.
The first episode of the 6 part series focused on aliens, you can read about that here.
Episode two titled "Outer Space" has come pretty great guest stars like Zoe Saldana, Jeff Goldblum, Geroge Lucas, Sigourney Weaver, Milla Jovovich, and Sir Ridley Scott imagining what waits in outer space.
Cameron starts by talking with Lucas, saying that space is the great unknown, that people can "use it as an excuse to get to another culture."
"The big boogieman is the unknown," says Lucas. "It's terrifying. There are THINGS up there, and the things have to mean something. Curiosity brings you thinks like stories."
Film critic Amy Nicholson starts talking about the opening scene of Gravity, that amazing 13 minutes with no cuts sequence, how small a human is against the vastness of the universe.
Astronaut Cady Coleman says Gravity brought people to space, what it felt like to have the view. "The view is unimaginable, so clean and pristine."
Coleman tells an amazing story about speaking with Sandra Bullock ahead of filming, advice she gave.
Ron Miller (illustrator, Dune) talks about Georges Méliès' A Trip To The Moon
Author Gary K. Wolfe brings up Astounding Stories, and realistic space adventures
Dr. Kevin Grazier talks about The Kessler Syndrome, and how he advised the Cuaróns about it's kinetic energy in Gravity
Chief Health and Safety officer of the NASA Mars simulator Sheyna Gifford speaks about the various reality touches in Gravity
James Cameron and Lucas talk about humans needing to travel to other galaxies, other universes.
David Gerrold calls faster than light travel the holy grail of space exploration. "It's different than handwavium, which is how you distract the viewer."
Star Trek is praised for bringing space travel into living rooms.
D.C. Fontana makes an appearance, talking about the story opportunities and social messages
Whoopi Goldberg talks about her first time seeing Trek, seeing Nichelle Nichols in space. That the majority of looks at the future of the time didn't have black people in them.
She went to Gene Roddenberry and asked about being in Star Trek
Zoe Saldana talks about meeting Nichelle, "She didn't just hand me the torch, she told me to run with it."
Ron Moore talks about what Star Trek meant to him
James Cameron and George Lucas talk about 2001: A Space Odyssey
Keir Dullea says "Everything was believable, but our jaws were on the ground. Everything had such reality. A visual entree of magnificence."
Will Smith says he saw Star Wars at age 11, and calls it the most magnificent experience he had had at the time. "I knew I wanted to live in that world, I've been chasing Star Wars my entire career."
John Dykstra talks about building the cameras and the miniatures for the film, which was kind of unusual for a production.
"Nothing in this world pops fully formed out of your head," Lucas says to Cameron talking about Star Wars.
Gareth Edwards (Rogue One: A Star Wars Story) talks about the wistful vibe of Star Wars, the twin suns of Tattooine
"It's made for 12 year olds. I always tell people not to underestimate 12 year olds, they get stuff a lot faster than the rest of us," Lucas says. "The whole point was to get them to think outside of the box."
"I'm not going to follow any rules. If you can imagine it, you can do it."
Sigourney Weaver mentions that it's the industrial military complex that often times is the monster in space in films
Oh hey Starship Troopers. IT'S AN UGLY PLANET, A BUG PLANET.
Screenwriter Edward Neumeier talks about the process of writing Starship Troopers, that Paul Verhoeven wanted to do a film about being a 15 year old in Nazi Germany.
Samuel R Delany talks about Robert A. Heinlein's steadfast belief that the army was extremely important to make boys into men.
Steven Spielberg stops by, and tells Cameron that he wasn't able to watch tv as a kid, and that's how he started imagining things.
Paul Frommer the linguist on Avatar says that every single plant you see on screen in Avatar has at least three names- Navi, Latin, and English
Luc Besson says he wrote the language and wrote a little dictionary for Leeloo's language in the 5th Element, that he and Milla could converse in it by the end.
Yes, Milla can still say all of Leeloo's name.
"Science fiction is probably the best way to open your mind about everything. Sci-fi is the oil so the doors open easier, so it's not so hard to push."
James Gunn says that at 8 years old, he was obsessed with building worlds. "I wrote up hundreds of pages of documents about the people and their cultures."
"When you're dealing with a raccoon and a tree, in some ways you're dealing with space fantasy. I designed Rocket to be a genetic experiment who kills things. Groot is the soul of the movie."
Zoe talks about filming the scene in GotG when Groot saves them, and how moving it was.
"They make a family, an outer space family," Gunn says.
Woo, The Martian. The gathered experts talk about the experience being about an intelligent person using their brain rather than a lightsaber or ray gun.
Andy Weir says the entire story is just a cascade of one issue rolling into another. He says the biggest influence on the book was Apollo 13, both the event and the movie.
Ridley Scott speaks with Cameron about directing The Martian, the terror and the drive to survive, his gallows humor. "I'm gonna have to science the shit out of this to survive."
"We have no choice but to science the shit out of everything to survive in our current world," Cameron says.
If we don't figure out how to get to Mars, and then build another spaceship to go somewhere else, we're toast," Lucas says.
***
Episode three of James Cameron's Story Of Science Fiction will be about monsters, and apparently Oscar winner Guillermo del Toro will stop by. The series airs on AMC on Tuesdays.
Enjoyed this article? Share it!