I recently had the chance to go to Pixar Fest at Disneyland and California Adventure. The summer celebration runs through September 3rd, 2018 and takes place in both parks.
Right now California Adventure is under serious construction in order to convert the pier into Pixar Pier. That means if you go right now… don't expect to ride the Incredibles Coaster, or waltz through the Toy Story Neighborhood. In fact, don't expect to do much in California Adventure, as the construction puts a real damper on things. The construction is supposedly on track to finish by June, just in time for the release of Incredibles 2.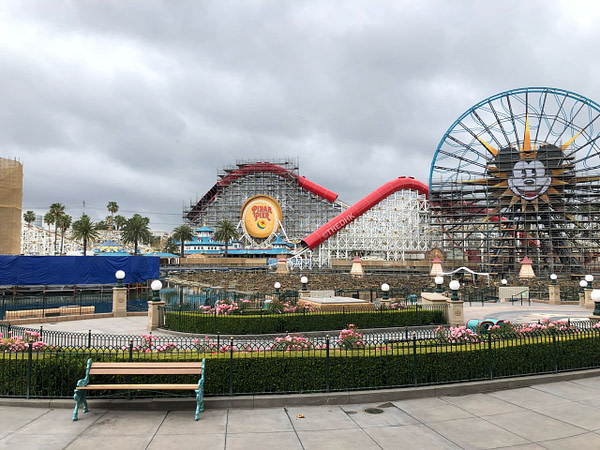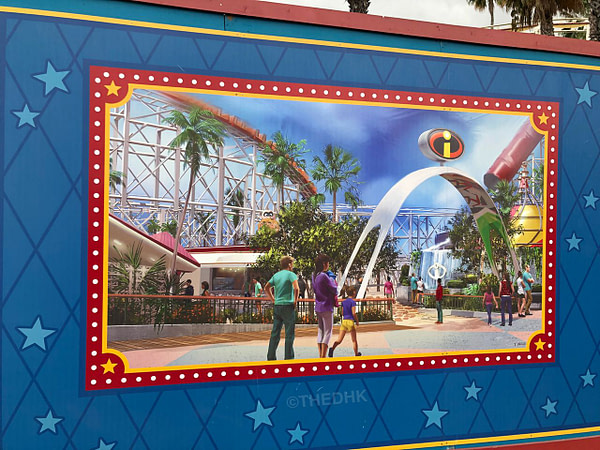 So what was there to do? Eat.
And eat we did. However, we came to almost immediately regret it. While the custom creations for Pixar Fest are visually stunning, those we did manage to acquire were borderline inedible.
The custom cake pops were number one on our list of things to try. We both opted for the Luxo ball, because, well, you have to right? The exterior was a sugary coating, but the interior was a goopy mess. We legitimately questioned whether or not the pops had been baked. They tasted more like sugary sludge than cake. An aggressive sugar high also set in immediately. I fear what these would do to a child's blood sugar levels. Parents, you've been warned.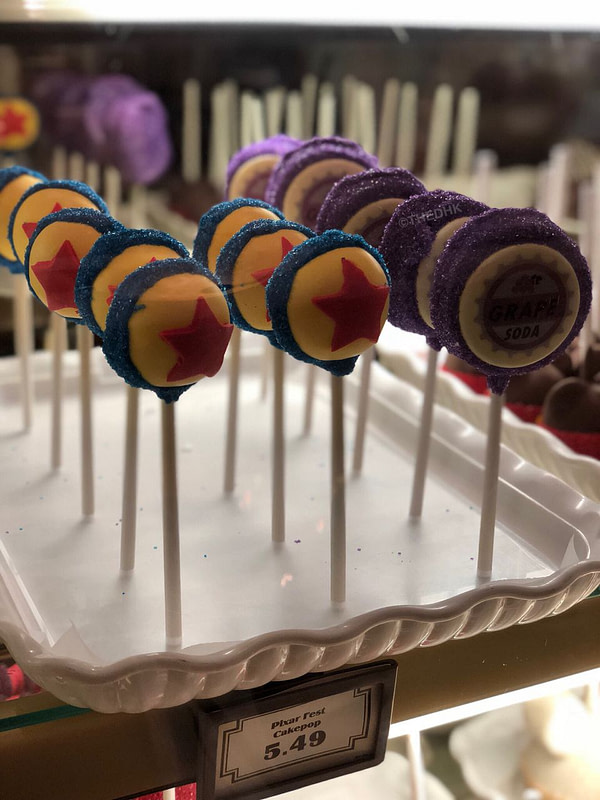 If you want to ignore my warning, the cake pops are available in both parks.
Next up was the Toy Story Alien Macaron. We headed over to Disneyland's Alien Pizza Planet in Tomorrowland to acquire one of these also optically appealing goodies. Once again we were betrayed. The outside was a standard Macaron, but the inside was a blackberry sugar paste with a lemon curd center we were not expecting. Even splitting the Macaron between two of us, we couldn't finish the sugary extraterrestrial.
On the non-sweet side we tried to acquire the Picnic-style lunch at the Plaza Inn in Disneyland. Turns out you need a reservation… and they don't serve the food at dinner time (which should have been self-explanatory from the name, but the sugar was probably interfering with our ability to reason at that point). We still managed to get the fried chicken that is most likely served during that lunch, during the dinner course. The main difference was that it came with different sides. It was a much-needed edible respite from the copious amounts of glucose we'd been ingesting. That being said, it wasn't anything to write home about.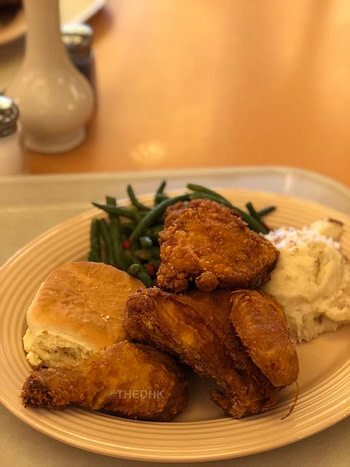 There are many more meals and treats available during the course of the summer. After eating the sampling we did, we decided it was best to abandon the rest of our ambitions to eat our way through the offerings. If there was a standout dish that wasn't sickly sweet or overpriced, I'd love to hear about it.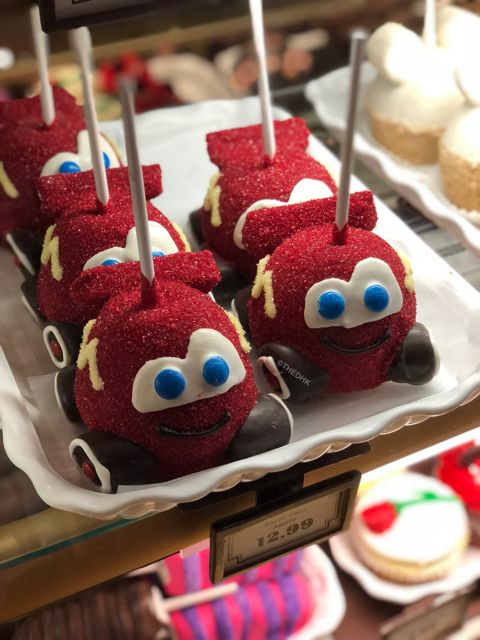 So what else is there to do at Pixar Fest if you don't want to give yourself diabetes during your visit?
Well, you can certainly shop. There's a bevy of merchandise available in both parks.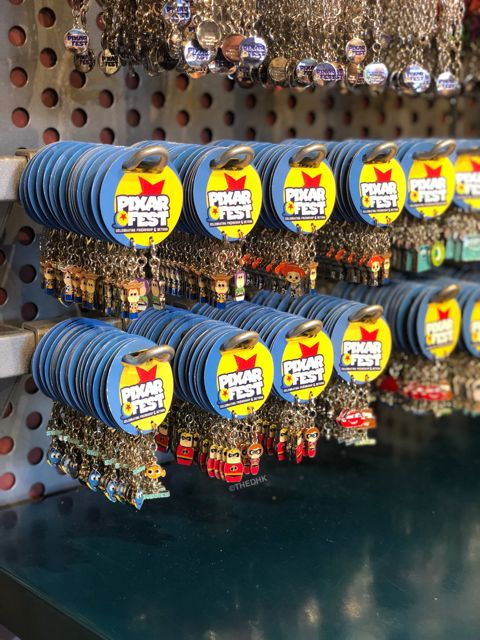 Otherwise there are a few parades/presentations to choose from.
There's the new Paint the Night Parade at California Adventure (which we were unable to see because we opted for the presentation at Disneyland, and there wasn't enough time to do both). There's also the Pixar Play Parade during the day in Disneyland proper, which features classic Pixar characters parading down the streets of Disneyland. As an adult at the park, it's a little underwhelming. However, I'm sure children enjoyed the spectacle.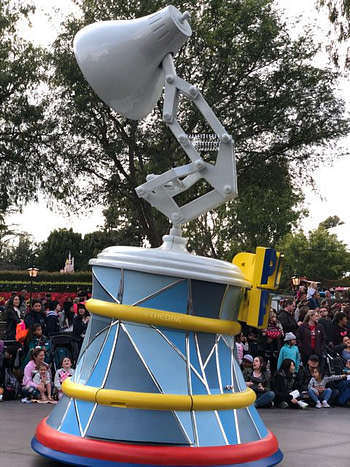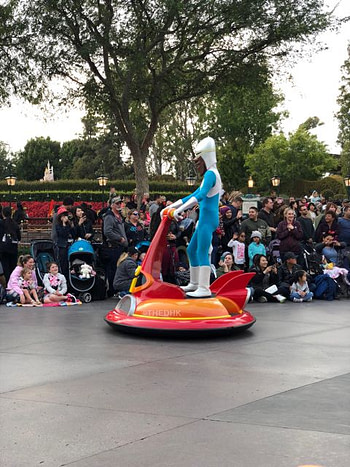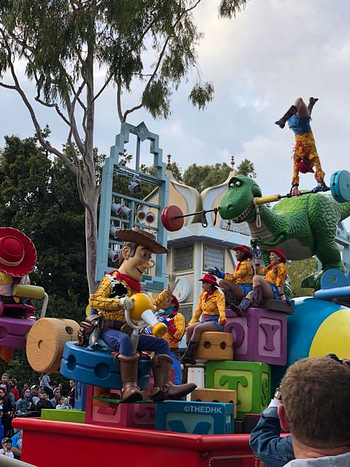 Finally there's the Together Forever – A Pixar Nighttime Spectacular to close out the evening at Disneyland. It's a fireworks show choreographed to a visual presentation of favorite Pixar moments. They project the visuals onto the castle, which is cool in theory, but hard to see if you stand at hobbit height like I do. Children will likely only be able to see the fireworks.
While the presentation strikes a few emotional moments, I kept comparing it to World of Color in California Adventure. There's something about World of Color's cohesion with the water show, mix of Disney and Pixar moments, and score that is a little more impactful than Together Forever. However, since California Adventure is under construction, World of Color is shut down temporarily. In fact, they've also drained the lake that normally sits full, so you can see all of the water piping that helps create the show. I'd love to see them transport Together Forever into World of Color when it does reopen.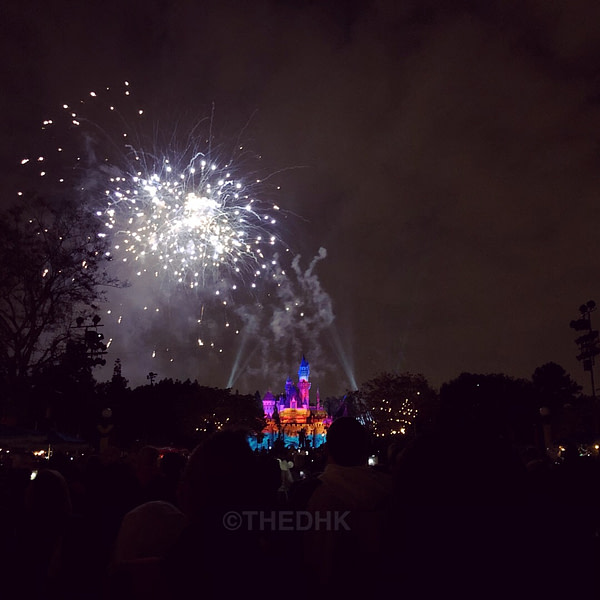 Overall, Pixar Fest feels like a temporary band aid to both parks. Until Pixar Pier actually opens, it doesn't feel like they've gone all in on the Pixar theme. There's a bit of cosmetic decoration around both parks and Downtown Disney, and again, the food. If you're going because you expect something incredibly different from your average Disneyland or California Adventure visit, consider holding off until the pier actually opens.