Netflix has dropped a trailer for Marvel's Luke Cage season 2 that shows us how things have changed for our hero since he got out of jail and helped save all of New York with the Defenders. Luke (Mike Colter) is protecting Harlem, still with Claire (Rosario Dawson) and working with Misty (Simone Missick). We get glimpses of Mariah Dillard (Alfre Woodard) and Shades (Theo Rossi) but the new trailer seems to set up the coming of John McIver (Mustafa Shakir) aka Bushmaster as someone who can actually hurt Luke.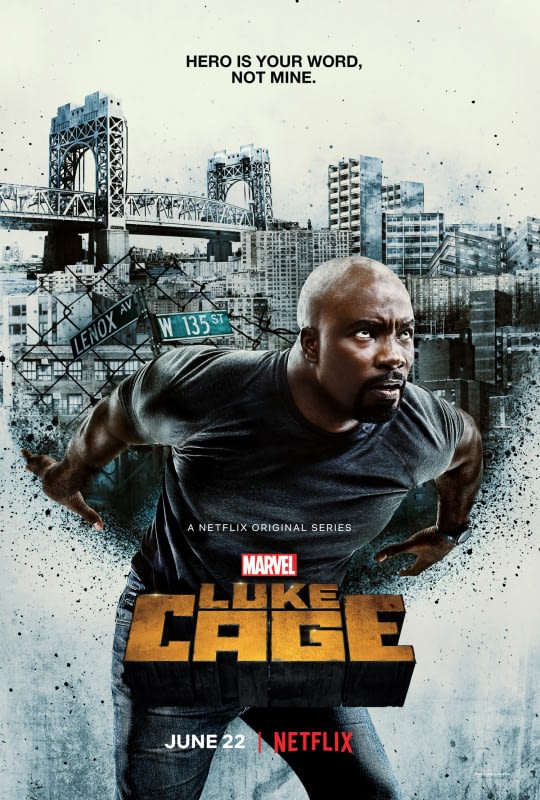 Synopsis for season 2:
After clearing his name, Luke Cage has become a celebrity on the streets of Harlem with a reputation as bulletproof as his skin. But being so visible has only increased his need to protect the community and find the limits of who he can and can't save. With the rise of a formidable new foe, Luke is forced to confront the fine line that separates a hero from a villain.
A couple of interesting takeaways from the trailer. At one point Luke is filming a video where he says, "You want to test me? You know where to find me." That might be something to draw out Bushmaster, but it could also be an ad for what could become the start of Heroes for Hire. And we will see Danny Rand (Finn Jones) in this season. Another interesting thing is we see the mechanical arm that Misty gets, taking her even closer to her comic book counterpart. And a nod of sorts back to season one when we see Mariah Dillard standing in front of the red painting that was associated with her brother, Cornell Stokes (Mahershala Ali) aka Cottonmouth.
Marvel's Luke Cage season 2 premieres June 22nd on Netflix.
https://youtu.be/sB1in0KkoG4
Enjoyed this article? Share it!