This was the Fantastic Four #1 by Dan Slott and Sara Pichelli image that was used to announce the news that the comic book series would be back, relaunched, by Marvel Comics.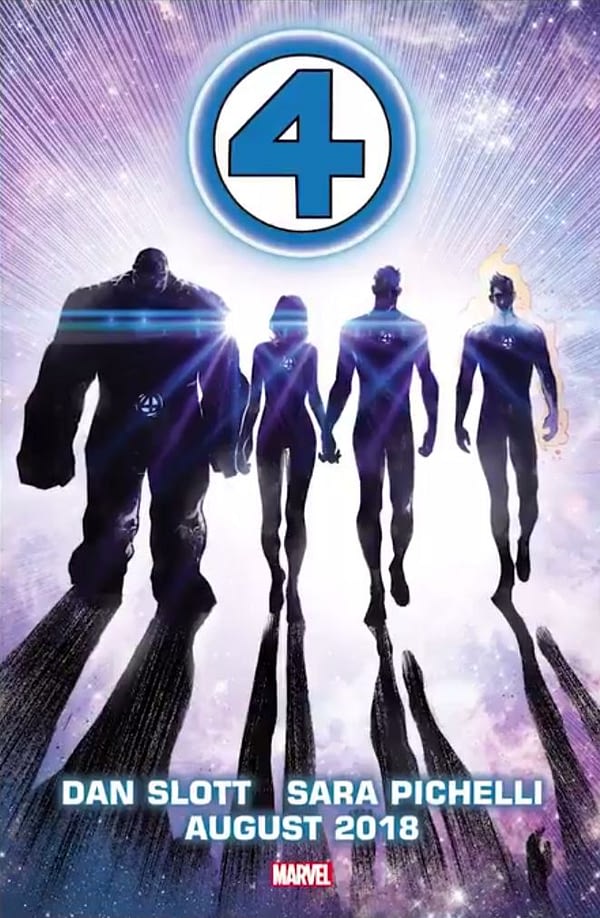 But at C2E2 at the Diamond Retail Summit, they had a different image.
That's Valeria Richards and Franklin Richards behind them. With silhouettes that suggest they have aged since we last saw them in Secret Wars…
…and Marvel Legacy.
If Franklin and Valeria have indeed aged, have Reed and Sue followed suit? What about Alex Power? Because Katie Power knows and is waiting for him…
FANTASTIC FOUR #1
FOUR HEROES. ONE TEAM. THEY'RE BACK.
Reed, Sue, Ben, Johnny: welcome home.

After a spacefaring foray into the unknown, Marvel's First Family returns this August with FANTASTIC FOUR #1.

Written by Dan Slott with art by Sara Pichelli, Mr. Fantastic and the Invisible Woman reunite with the Thing and the Human Torch this summer.

On Sale in August
(Last Updated
April 8, 2018 4:26 am
)
Related Posts
None found