Analog #1
{{ reviewsOverall }} / 10
Users
(0 votes)
Writer: Gerry Duggan, Artist: David O'Sullivan, Color Artist: Jordie Bellaire, Letters: Joe Sabino, Cover by: David O'Sullivan and Jordie Bellaire, Publisher: Image Comics, Release Date: April 4th, 2018, Price: $3.99
Jack is a man who trades in hardcopy information. Now privacy on the internet has been destroyed by a nebulous event in which Jack himself was involved, people pay good money to have information transferred through "paper boys" like Jack.
The book opens with one such delivery going sideways, with three men cornering Jack on one of his deliveries in St. Louis.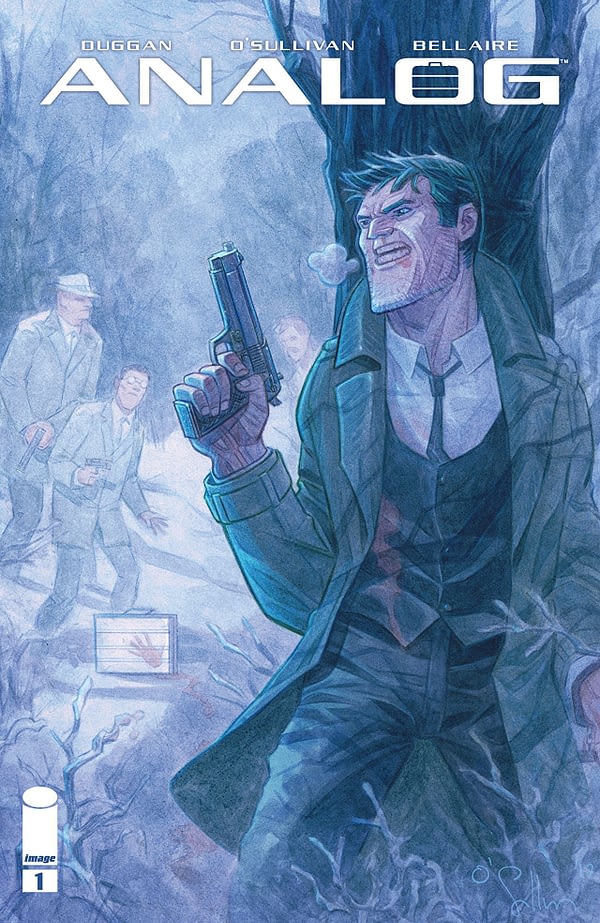 Analog presents a nice premise injected with noir vibes and a good lead if you can just get past the logic of said premise. The comic, very smartly, is intentionally vague with what exactly happened, and it should probably leave it like that. All we know is that everyone has access to everyone's information from an event called "the Great Doxxing," and Jack was at least partly responsible. I'm not sure what the logistics of such an act would be, and I'm willing to bet few do.
Jack is a good lead, and he's quite funny. He expresses some remorse for what he's done, but a part of him also holds that it was the right thing to do.
There's a great flashback sequence that involves a thin Mark Zuckerberg parody which tears both he and Facebook a new one. This scene runs through the privacy breaches, Russian involvement, and the 2016 election in a surprisingly brisk pace. I'm not sure how I feel about him being identifiable by a distinctly Jewish name, but the rest of it lands near-perfectly.
Jack's dad shows up late in the book. He's great too.
David O'Sullivan's artwork is very good. It relies on geometric shapes and heavy lining to give the comic a gritty and hard-edged feel. Jack has a very square jaw and muddled hair, and we first see him bleeding out on a bench. Jordie Bellaire matches this with darker and dirtier shades which complete the aesthetic.
Analog #1 gives a highly promising start to the series, with Gerry Duggan showing once more his chops when it comes to sci-fi and comedy. O'Sullivan and Bellaire are no slouches either, making the comic look as good as it reads. This one gets a recommendation. Check it out.
What people say... Leave your rating
Order by:
Be the first to leave a review.
Show more
(Last Updated
April 3, 2018 4:47 pm
)
Related Posts