Cost comparison UK website Money Supermarket has run a series of intentionally eyecatching, talked-about adverts designed to provoke in one way or another, such as The Strutter, with very little relevance to the actual product, just an overall feeling of being epic and being 'so Money Supermarket dot com'.
The latest re-envisions the British doll Action Man, the UK version of the original GI Joe dolls that managed to avoid being shrunk down to action figure size in the eighties – that would have to wait for the later Action Force reworking of GI Joe – into something celebrating the various iterations of Action Man as a Village People-style dance number, to the song Finally be CeCe Peniston. And, yes, as has been pointed out by many, epically gay.
There's much that has been made of the homoerotic appeal of GI Joe/Action Man over the years, but for Hasbro to license this for a TV ad for another brand. And make it a little more than subtext.
Reaction is, as expected, mixed. But not always for the reasons one might have expected.
Unfortunately just saw the #moneysupermarket Action Man ad.

Its shit for multiple reasons, but I especially thought/hoped we were past the stage where gay was the punchline. Like their He-Man ad, the creative process seems to be, "remember that thing, what if it was like, gay?" pic.twitter.com/NOQ1L1YMMU

— Spelling Mistakes Cost Lives (@darren_cullen) March 9, 2018
MoneySupermarket Epic Action Man https://t.co/9CQgFB73KK

OMFG I am SCREAMING! MS yet again with the best ad on TV, and YET AGAIN showing how classic boys toys were HELLA GAY! Action Man, you better werk!

— Joe Glass 🏳️‍🌈Haus of X, henny! NYCC 2019! (@JosephGlass) March 11, 2018
What the fuck is this Action Man bollocks? Another shitbox attempt to appeal to aging GenX, that's what. #MoneySupermarket

— Bodily Head (@bodily_head) March 11, 2018
Omg the Action Man @MoneySupermkt advert is everything 🙏🏻 #moneysupermarket #soextra

— Dani Vegas (@_dani_vegas_) March 10, 2018
Of course, the comic books got there first, courtesy of IDW…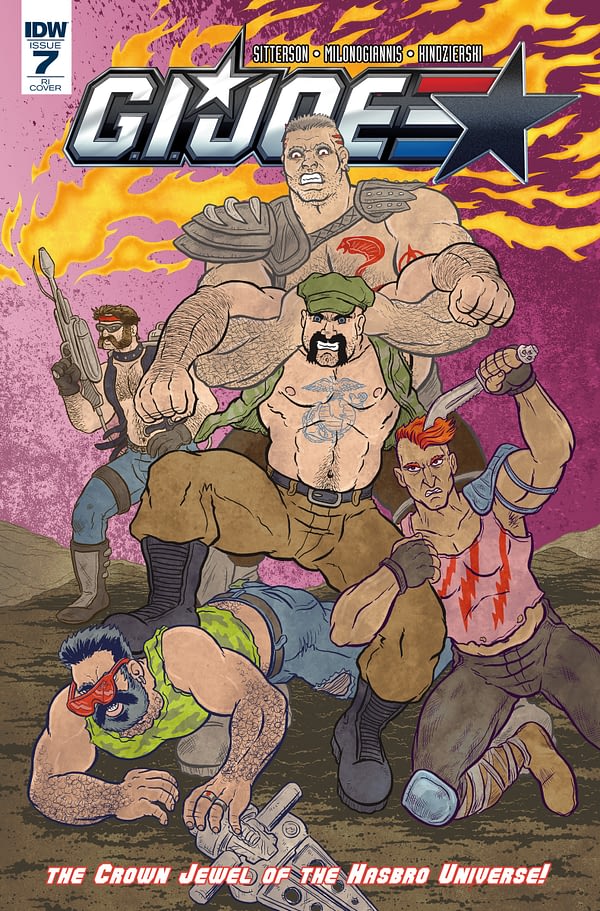 Here's a few other Money Supermarket TV ads, if only for context.
Phil and Snoop… and to be fair at least this was ostensibly about cars, and car insurance. But it wouldn't last.
The Strutter and Sharon… which would lead to all manner of dance numbers featuring a gang of such strutters against a gang of builders, symbolising class struggles. And cheaper deals on whatever.
And of course there was the Flashdance between He-Man and Skeletor, also officially licensed well away from the mother country. So Village People Action Man was clearly only the logical next step.
Basically, America, this is what Britain thinks of you. No one here has ever even heard of Grey Poupon.