Sacramento, California means a lot to Bleeding Cool. In that, it was the home of infamous comics conman Joshua Hoopes, and we'd always get the oddest reports about him back then.
But there's a different reason for talking about the city today, it is also the home to one of the many Baby Bells of Wizard World, the Fandemic Tour from ex-Wizard Chairman John Macaluso, in June.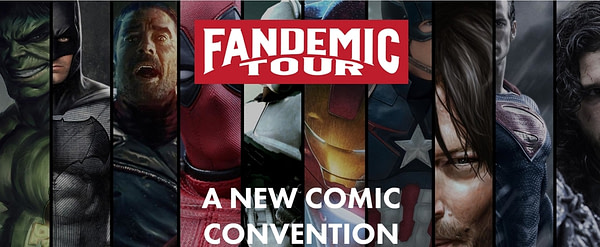 After the original debut show in Houston, last October had to be abandoned because of hurricanes, first delayed to December, then postponed until September 14th-16th 2018, it means that Sacramento will now be the Fandemic Tour debut.
So on June 22nd to the 24th, at the Sacramento Convention Center, the Fandemic Tour will be bringing familiar names Norman Reedus (The Walking Dead, The Boondock Saints), Jeffrey Dean Morgan (The Walking Dead, Magic City), Michael Rooker (Guardians of the Galaxy, The Walking Dead, Tombstone, Cliffhanger, Days of Thunder), Sean Gunn (Guardians of the Galaxy, Gilmore Girls), Milo Ventimiglia (This is Us, Heroes, Gilmore Girls), Dave Bautista (Guardians of the Galaxy, WWE Raw, Sean Patrick Flanery (The Boondock Saints, Powder) and Jason David Frank (Mighty Morphin Power Rangers) and more.
The names above will be at least two days of the show, or all three.
There will also be some comic book creators. Honest, such as Neal Adams (Batman, X-Men), Michael Golden, Arthur Suydam, Renee Witterstaetter, Mike DeCarlo, John Beatty, Rodney Ramos, Ric Meyers, Clinton Hobart, Rags Morales and Jim Salicrup as well as Phil Ortiz, animator from The Simpsons and Muppet Babies and  Rob Prior, the two-handed live pop artist.
During the weekend, Fandemic Tour will launch a Drink and Draw event to allow fans to mingle, receive drawing instructions from an expert artist, and… well, get drunk. A bit. Saturday night will showcase one of the highlights of the weekend in the form of a Costume Contest, which will begin at 7:00 PM when the show floor closes and is open to all.
General Admission tickets are available at the following prices:
$35 — Friday Pass
$45 — Saturday Pass
$40 — Sunday Pass
$75 — Full Weekend Pass
$150 — Fandemic Fanatic VIP
Tickets, celebrity packages and Photo Ops are available now at www.FandemicTour.com for each day of the weekend.
Sponsorship and booth space are still available. To apply, please contact Joe Avino at Sales@caconventions.com or Joe@caconventions.com or go to www.fandemictour.com and download the forms.
Josh Hoopes need not apply.