This article contains spoilers for the Flash season four episode – The Trial of the Flash.
.
.
.
.
.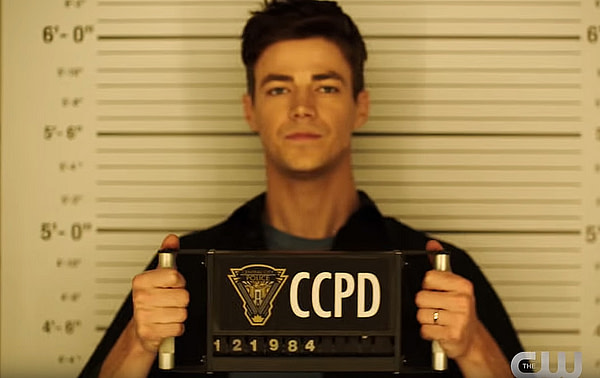 The Flash returned tonight with another title pulled straight out of the comics, the Trial of the Flash. And like they did last year with Flashpoint, this only last one episode. There really wasn't a trial. Barry (Grant Gustin) made no defense. Cecile (Danielle Nicolet) took time off work for nothing. Even the casting of Mark Valley to play Anton Slater seems a bit overkill for how much of a trail there wasn't. The episode starts with Barry telling Team Flash that he's not going to be a fugitive and that they've played into DeVoe's hands (DeVoe is now played by Kendrick Sampson). At court we learn that Barry is refusing to testify because he won't lie and he won't admit he's the Flash. What doesn't make sense is that other than trying to use photos of Mrs. DeVoe (Kim Englebrecht) kissing Dominic Lanse (DeVoe's new body) to throw doubt on the case, the defense immediately rests. They don't try to create any doubt. The fact Barry had just been with his family when DeVoe was supposed to be killed would've been evidence. Only one knife in the box when it arrived also. Anyway, there is no real shock when the jury finds him guilty and the judge sentences him to life in prison.
The interesting part of the episode are the other things. Barry having to convince Iris (Candice Patton) not to reveal his secret in court and him suddenly using a new power to stop time so he and Iris can talk. There's another moment Ralph (Hartley Sawyer) convinces Joe (Jesse L. Martin) that planting evidence will just ruin his own life as it did for Ralph. This is probably the best scene in the episode and adds depth to Ralph's character.
Oh, and there is the newest bus meta, Neil Borman (Ryan Alexander McDonald), who generates radiation and starts hurting people around him unwillingly. They dub him Fallout and Barry has to sneak out as the Flash to stop him when Vibe (Carlos Valdes) and Killer Frost (Danielle Panabaker) can't. In the comics he is used by the warden at Iron Heights to fuel the facility. It will be interesting to see how they'll use him here as part of the Thinker's master plan. There were more hints to that and Barry got to speak to the new Thinker face to face and learned that he has Dominic's telepathy ability too. Not looking good for the home team overall. The episode ends with Barry being put into a cell that has the words, "Henry Allen was here" scarped onto the wall.
The Ralph & Joe and Iris & Barry moments were the highlight of the episode. Other wise this felt like a lot of filler or set up.
Next week we have the return of Devon Gray's Axel Walker The Second Trickster back to create havoc in Central City. And it looks to be a Ralph Dibny centric episode, which makes sense since Barry is in prison. Maybe he'll get his name and real costume in this episode.
https://youtu.be/nYY-uOS8qag