There are few television partnerships more iconic than Special Agents Mulder and Scully from FOX's The X Files.  While yes, the actors behind the characters have been coworkers for going on 26 years, their real life friendship has always been goals. David Duchovny reminded us of this fact with his lovely message to Gillian Anderson today.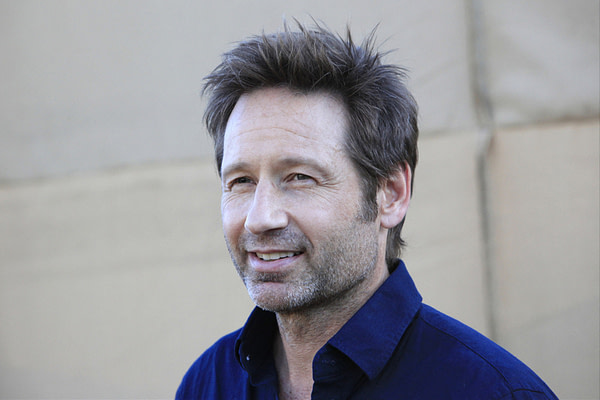 Today, Anderson received her star on the Walk of Fame in Hollywood, neighboring Duchovny's. Amusingly enough, they set up the podium for the speakers on top of David's star.  The actress looked STUNNING in a silver gown paired with ice blond hair and black rimmed glasses, her poise and grace obvious in every photo from the ceremony.
She thanked her friends and collaborators who spoke for her in a tweet, both Bryan Fuller (who she worked with on NBC's Hannibal and STARZ's American Gods) and Joel McHale (season 10 of The X-Files) offering their voices.
Thank you to my friends @BryanFuller & @joelmchale for making the best ever speeches and to all the fans who came out to celebrate with me!! And thanks to @HollywoodArea for my star, what a fun day! ⭐️ #WalkOfFame pic.twitter.com/tXpPC8WFdZ

— Gillian Anderson (@GillianA) January 9, 2018
David followed this up with a BEAUTIFUL message, one that will make X-philes (X-Files fans group noun) a little excited, a lot nervous for the unfolding of season 11, and even more in awe of the special relationship they have.
You said you'd be right next to me when you died, too. You were right. But this isn't death. It's a beginning. So much more for you. I hope that some kind soul bulids a Gilly ramp from yours to mine. Friends, partners, and now neighbors. Congratulations @GillianA! Love David pic.twitter.com/Pr499bbCJ6

— David Duchovny (@davidduchovny) January 9, 2018
If you read between the lines there and pair it with the news that Gillian said she's not coming back for future seasons after the end of 11, sure sounds like we know what the fate of Agent Scully is going to be.
BUT- Dana Katherine Scully is immortal.  Clyde Bruckman said so.