We had a little while there where we didn't have to post about allegations of horrible behavior perpetrated by the men of Hollywood, but here we are again. This time it comes in the form of actor/comedian T.J. Miller and a story that ran on The Daily Beast. It's not a pretty story, so a graphic content warning is needed. Aside from the women who came forward in the Daily Beast article, two other women have come forward to add more stories of Miller's alleged misconduct. These include transphobic emails Miller allegedly sent, as well as claims that he attempted to drug a woman's drink.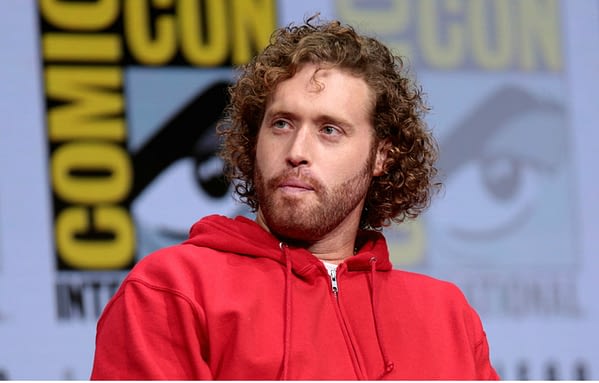 In the Daily Beast article, the young woman — whom the article to refers to as Sarah to protect her identity — describes several disturbing encounters with Miller in college.
"He just tried a lot of things without asking me, and at no point asked me if I was all right," the woman told The Daily Beast. "He choke[d] me, and I kept staring at his face hoping he would see that I was afraid and [that he] would stop… I couldn't say anything."
But months into their relationship, which she says started in the fall of 2001, Sarah said the first troubling encounter took place. She recalled having "a lot to drink" and admitted that there are "parts of [the incident] I don't remember." She stressed that "it is important to me to cop to that… [and] I'm not interested in forcing a pretend memory on anyone… 15 years later, I remain terrified of accusing someone of something they didn't do, but I have a visual and physical memory of that." However, Sarah said she has a distinct memory that as they were "fooling around" at her place, Miller began "shaking [her] violently" and punched her in the mouth during sex.
When Sarah asked about the bruises the next morning, she says Miller told her that she'd fallen down while drunk. Another encounter, which Sarah says took place when she was entirely sober, allegedly involved Miller choking her when they began to fool around.
"We started to fool around, and very early in that, he put his hands around my throat and closed them, and I couldn't breathe," she recalled. "I was genuinely terrified and completely surprised. I understand now that this is for some people a kink, and I continue to believe it is [something] that should be entered into by consenting parties. But, as someone who had only begun having sexual encounters, like, about three months earlier, I had no awareness this was a kink, and I had certainly not entered into any agreement that I would be choked. "I was fully paralyzed," Sarah continued.
Things were apparently loud and rough enough that Sarah's roommates began to worry. They knocked on her door to see if she was okay.
Sarah claimed that she was "choking audibly"—to the point that her roommates could hear what was happening and rushed over to knock on her bedroom door. Sarah said she then got up and walked to her door in a robe, and one of her roommates asked if everything was OK. "I don't know," she responded, before shutting the door, "I'll talk to you in the morning."
This is where that graphic content warning comes into play as Sarah describes what happened after her roommates checked in on her.
"He pulled me back to bed and more things happened," Sarah said. "He anally penetrated me without my consent, which I actually believe at that point I cried out, like, 'No,' and he didn't continue to do that—but he also had a [beer] bottle with him the entire time. He used the bottle at one point to penetrate me without my consent."
Sarah's former roommates say that the next morning, they were surprised at her appearance to the point where they offered to take her to the police or the hospital.
"She looked like she had been through a rough night—I recall seeing bruises [on Sarah]," Duffy said. "One roommate asked if she wanted to go to the police. Others offered to take her to the hospital, given how she looked."
Like many victims, Sarah didn't go to the police or the hospital, and by the time she was able to talk about it, a year had passed. The article goes into detail about how it was handled through student court and, ultimately, no action of note was taken.
Sarah isn't the only alleged victim of Miller's behavior — but this time, it isn't sexual assault or sexual harassment. Danielle Solzman revealed this terrible, transphobic email back in September, but didn't say who sent it. Now, she has revealed it was sent by Miller.
https://twitter.com/DanielleSATM/status/913077564691959808
https://twitter.com/DanielleSATM/status/943196079012696069
Danielle wasn't the only one who took to Twitter. Dalia, who happens to be a personal friend of mine, emerged with a story about Miller at a bar that will ring true for far too many women.
https://twitter.com/darent85/status/943182637765599232
As we were wrapping up this article, Vulture posted a story saying that adult film star Dana DeArmond has accused Miller and Kong: Skull Island director Jordan Vogt-Roberts of sexual harassment.
I was harassed by both Tj Miller and the director Jordan Vogt-Roberts shooting for Comedy Central's Mash Up. I've been saying Tj was an asshole for years. So there you go.

— Dana DeArmond (@danadearmond) December 19, 2017
I wonder if Jordan Vogt-Roberts was a creep to anyone else. After wrapping mash up he invited me for drinks. I thought he was polite when he walked me to my car. He leaned in for a kiss. I said "no thank you" he replied "don't make this weird" and kissed me anyway

— Dana DeArmond (@danadearmond) December 19, 2017
Miller and his wife have denied Sarah's allegations, saying in a statement:
"We met this woman over a decade ago while studying together in college, she attempted to break us up back then by plotting for over a year before making contradictory claims and accusations.  She attempted to discredit both of our voices and use us against one another by trying to portray Kate to be a continuous abuse victim of T.J. (further efforts to hurt the two of us).  She was asked to leave our university comedy group because of worrisome and disturbing behavior, which angered her immensely, she then became fixated on our relationship, and began telling people around campus 'I'm going to destroy them' & 'I'm going to ruin him.'

We are confident that a full consideration of accounts from and since that time will shed light and clarity on the true nature of not only this person's character, and also on the real facts of the matter.

We stand together in stating this is nothing more than an unfortunate resurgence of her lies designed to wreak havoc on two happily married people in the public eye."
Miller nor his wife have commented on any other allegations presented in this article.
Enjoyed this article? Share it!