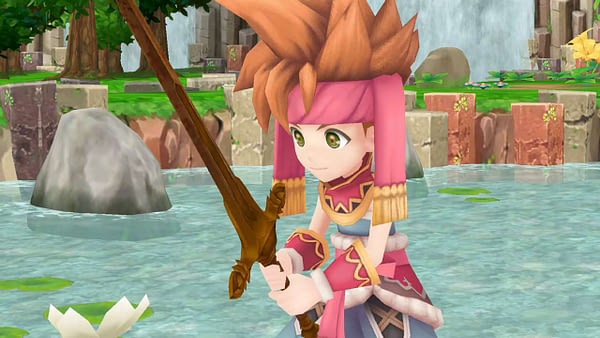 The Secret of Mana remake is being released digitally in a few months time, but Square Enix have just announced this morning that they will also be releasing the game in a limited physical edition run for PlayStation 4.
The physical copies of Secret of Mana will be available for the PlayStation 4 on February 15th, 2018, just like the digital release. These copies will be available exclusively at GameStop in the United States and EB Games in Canada, and available at all participating retailers in Latin America.
Those who pre-order the game in any form will receive special character costumes: "Moogle Suit" for Randi, Primm and Popoi, "Tiger Two-Piece" for Primm and "Tiger Suit" for Randi and Popoi. Primm's two-piece is, well, kind of absurd and disappointing. But that's just my personal take.
Originally released in 1993, Secret of Mana tells the story of Randi, Primm, and Popoi as they battle a treacherous empire in order to reclaim the power of Mana and bring the world back to order. This new version brings brand-new high-definition 3D graphics, a rearranged soundtrack and voice-over to the beloved volume in the Mana series.
So now Secret of Mana will be available digitally and physically for the PlayStation 4 system, and digitally for the PlayStation Vita and Steam all on February 15th. Cool.
Enjoyed this article? Share it!