Spoiler embargoes on Doomsday Clock #1 will be lifted in less than half an hour from participating websites. So watch out… Bleeding Cool already ran our own spoileriffic run through Doomsday Clock last night as well as asking whether you should even pick it up.
But we also looked at what was going on in Action Comics today and how that links in with Doomsday Clock. The thesis is that the story of Dr Manhattan is to do with the character's relationship with his father, responsible in part for his living the life that would turn him into a god.
And in both Action Comics and Batman, giving Bruce Wayne and Clark Kent encounters with their long dead fathers, each of which has tried to stop them from being a superhero.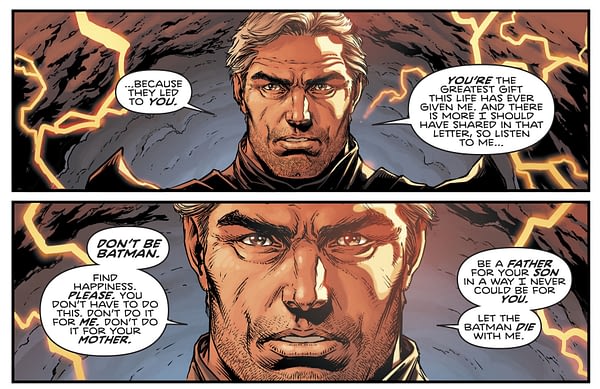 And today, Superman and Batman have the talk.
Hrm indeed, Batman. As Bruce Wayne then says…
Which goes right back to DC Universe Rebirth. The idea that The New 52 was caused by Dr Manhattan removing ten years from reality, time that has only recently been grabbed back by the Titans and Superman. With the ten-year old Jonathan Kent, Superboy, being the most visible manifestation of that.
But of late we have seen Flash dealing with his far future, Saturn Girl from the Legion Of Super-Heroes present in the DC Universe with the Emerald Empress after her, the Justice League travelled to a variety of futures…
Only to have their futures revisit them. As the children of the Justice League come from their future to deal with their parents…
The Titans has to put their own past together, taken by Abra Kadabra
…although it appears that he had some Watchmen-style help from Dr Manhattan too.
And are now dealing with a future Donna Troy…
While Cyborg also suddenly seems to remember his own experiences with Raven as part of the Titans team.
Then there's the kidnap of Tim Drake, imprisoned alongside a future Batman version of Tim Drake, recently fighting against Hypertime to prevent his own future.
New Order has a Jason Todd-future Batman…
While in Super Sons we have the arrival of yet another Batman Of Tomorrow, the future Damian Wayne, come to the present day.
And Batman Lost has its own future for Batman…
To paraphrase Dire Straits, four men say they're the future Batman, one of them's gotta be wrong. Oh, also suggesting that the New 52 and Pre-52 Superboy Conner is still around, in some form. Or should be, or at least can be remembered.
Though at least in today's Detective Comics #969, Tim Drake has come to terms with… well some of this at least. And finding a way through to be the next Batman – despite all the competition.
And today in Action Comics #992 we have Dr Manhattan interfering with the destruction of Krypton, extracting Jor-El and turning him into Mister Oz…
And Superman deciding clearly that what's needed is yet more time travel. Which apparently is the worst possible answer, as time traveller Booster Gold pops by to try and stop it.
Of course he's tried this kind of thing before during the New 52 and was just as late.
Will Booster Gold have better luck this time?
ACTION COMICS #992
(W) Dan Jurgens (A) Steve Pugh (CA) Francis Manapul
"AFTER EFFECTS"! Crippled by the events of "The Oz Effect," Superman struggles to regain a sense of hope for humanity. As a strange new threat brews in the background, a faithless Son of both Krypton and Earth must make a choice: stay and fight for his adoptive homeworld, or answer a call from the stars.In Shops: Nov 22, 2017
SRP: $2.99
DETECTIVE COMICS #969
(W) James TynionIV (A) Alvaro Martinez, Raul Fernandez (CA) Eddy Barrows, Eber Ferreira
"FALL OF THE BATMEN" part one! Everyone in Batman's orbit is broken somehow-some more than others. For Clayface, keeping the pieces of his psyche together has been a years-long struggle…and it's a war he may be about to lose! And as the team tries to pull itself back together, their enemies have learned something from Batman's newfound spirit of cooperation…and have formed a cabal of their own!In Shops: Nov 22, 2017
SRP: $2.99
DOOMSDAY CLOCK #1
(W) Geoff Johns (A/CA) Gary Frank
DC Comics presents to you a 12-issue maxiseries from the critically acclaimed team of writer Geoff Johns, artist Gary Frank and colorist Brad Anderson. You are not prepared for what lies ahead within these pages, good readers.In Shops: Nov 22, 2017
SRP: $4.99