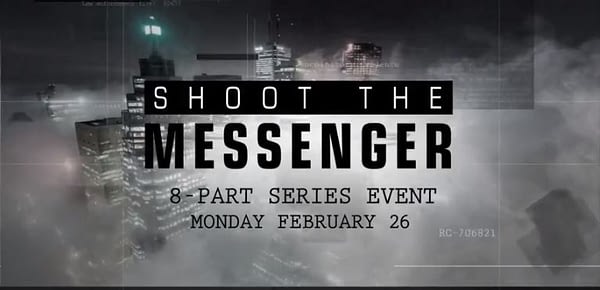 If you're Elyse Levesque's (Orphan Black) Daisy Channing, you really need the people who are coming after you to understand that the title of WGN America's newest limited series, Shoot the Messenger, isn't supposed to be taken literally. Co-created by Jennifer Holness and Sudz Sutherland, the eight-part thriller also stars Alex Kingston (Doctor Who), Lucas Bryant (Haven) and Lyriq Bent (Netflix's She's Gotta Have It).
Set to premiere Monday, February 26th, 2018 at 10 p.m. ET/9 p.m. CT, here's the official trailer and synopsis for WGN America's Shoot the Messenger:
Shoot the Messenger follows Daisy Channing (Elyse Levesque), a young reporter trying to balance a messy personal life with a burgeoning career. Things begin to go sideways for Daisy when she witnesses a murder she thinks is gang related, only to find herself slowly drawn into an interconnected web of criminal and illicit sexual activity that reaches into the corridors of corporate and political power.

It's the kind of news story that will destroy lives, including those of her own family. With help from her editor Mary Foster (Alex Kingston), co-worker Simon Olenski (Lucas Bryant), and lead homicide detective Kevin Lutz (Lyriq Bent), Daisy uncovers a cover-up so scandalous it could bring down the government. Shoot the Messenger is produced by Holness and Woods for Hungry Eyes Film & Television Inc., in conjunction with CBC Television and ITV Studios Global Entertainment.
In an interview with Real Style Network, Levesque spoke about the challenges of working on a crime drama series like Shoot the Messenger:
"One of them (which is actually a shout out to the writing and the intelligence of Jennifer Holness, who created the show) was how complex and involved the storylines were. I found myself having to read every episode at least two or three times to figure out what was going on, because it was very smart. What made it even crazier was that we block shot all eight episodes. In one day, I would shoot a scene from Episode 1, then one from Episode 7 and then one from Episode 3. We were bouncing around all over the place. It was very challenging on a number of levels."