Now, take this with a hefty bag of salt, but also, potentially mild spoilers, I suppose.
However, a new tie-in promo with the popular comedy series The Big Bang Theory might hint at the inclusion of another hero in the Justice League movie, hitherto unconfirmed as being included in the film, though admittedly long-rumoured.
Thus far, most promotional material for the film has focused on Batman, Wonder Woman, Cyborg, Flash and Aquaman, and a fair bit of Superman, who despite being dead in the DC Film Universe will presumably be coming back.
However, an online contest on the Geekstakes website, tied to The Big Bang Theory, seems to suggest the inclusion of a seventh hero: the Green Lantern.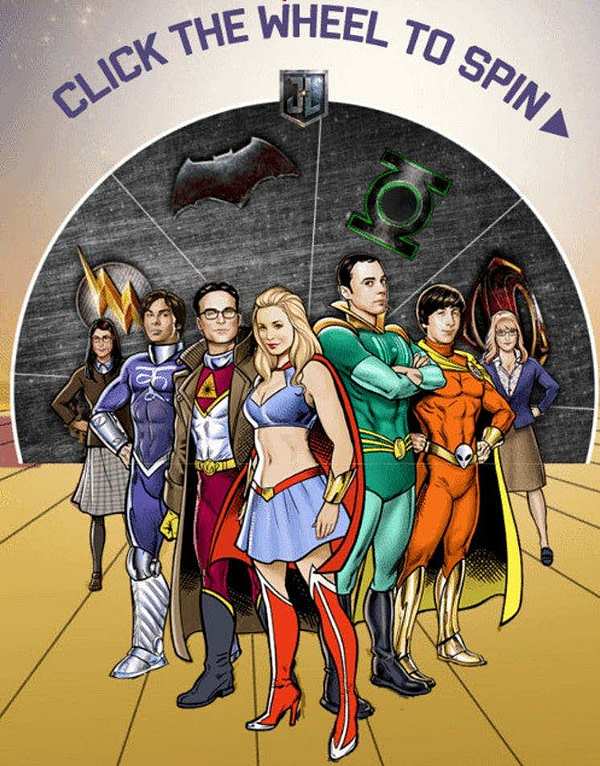 An animated spinning wheel featuring logos for the various heroes involved also includes the Green Lantern symbol.
However, one does have the remember a few things: these kind of tie-in promos don't always mean anything in terms of actual content to the product they are tied to; the Green Lantern is an original Justice League member in the comics, so their inclusion might be as simple as that; and finally, The Big Bang Theory is hardly a great example of correct, current or legitimate geek representation and knowledge.
However, the contest is being run in conjunction with Warner Bros., which obviously is the studio behind the upcoming Justice League film. Perhaps, like the Batman v Superman: Dawn of Justice film it may contain hints at future characters and films too. Or, maybe, the Green Lanterns do have a role to play in the Justice League film.
Fans won't have too long to wait now. The film releases in just a few weeks on November 17th, and stars Ben Affleck, Gal Gadot, Jason Mamoa, Ezra Miller, Ray Fisher and Henry Cavill.
Fueled by his restored faith in humanity and inspired by Superman's (Henry Cavill) selfless act, Bruce Wayne (Ben Affleck) enlists newfound ally Diana Prince to face an even greater threat. Together, Batman and Wonder Woman work quickly to recruit a team to stand against this newly awakened enemy. Despite the formation of an unprecedented league of heroes — Batman, Wonder Woman, Aquaman, Cyborg and the Flash — it may be too late to save the planet from an assault of catastrophic proportions.
Enjoyed this article? Share it!