By Ale Bodden
Oni Press' never fails to make its presence known at Comic Con. James Lucas Jones was joined on stage by Ted Naifeh (Night's Dominion and Courtney Crumrin), Yuko Ota and Ananth Hirsh (Our Cats Are More Famous Than Us and Tales From Johnny Wonder), Sarah Graley (Rick and Morty: Lil Poopy Superstar and Kim Reaper), and Yehudi Mercado (Pantalones, Tx and Sci-Fu). It was quite a fun panel that as always gave us new reasons to look forward to the next few months.
In celebration of the event Jones discussed several upcoming releases. First was Spectacle by Megan Rose Cedris. It is a new supernatural/mystery that takes place in a carnival around the turn of the century. It launched as a web comic (www.spectacle.com). It will be a series that will update up to three times a week. It will be available through Comixology, Google Play, and iBooks starting next week. It revolves around twin sisters dealing with a murder that happened at a carnival with steampunk elements.
Next up Jones discussed Naifeh's work. Night's Dominion, an interesting take on the fantasy genre. Season 1 is already out, and part 2 started in August. They also discussed Courtney Crumrin, a grumpy, angry, hostile, little girl whose family's monetary situation forces them to move in with her wealthy uncle—she soon discovers that he is a warlock and starts stealing his magic books to lean witchcraft and finds herself traveling between the real world and a magical one. Jones also asked Ota and Hirsch about Tales From Johnny Wonder, coming out on November 18th as a special one-shot. It will be only available through comic book stores. When asked about the character on the cover of the book. Ota stated it is the story of Cecilia, a girl who went on a blind date with Death—who at the end of the date kissed her hand giving her the kiss of death, making her immortal and turning her hand into a skeleton in the process.
Graley was then asked about Kim Reaper—a four issue mini-series published earlier this year. She spoke about Kim and Becca, the lead characters and their explained their struggles in their current whirlwind of lives. Volume 1 will be coming out in February and new stories coming in Fall 2018.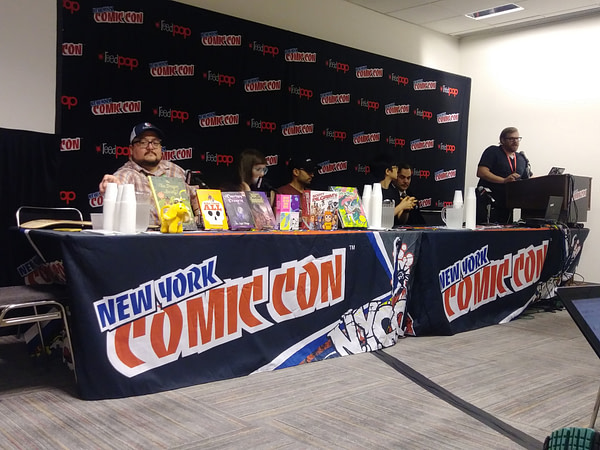 Mercado then discussed his upcoming middle grade graphic novel, Sci-Fu coming out March 2018. It is a mix of hip-hop and kung-fu sci fi story inspired by the documentary Scratch. It centers on the main character Wax is a wannabe DJ in Brooklyn who summons UFOs one night while scratching away. It was recommended for fans of Wizard of Oz and Spirited Away.
Jones then spoke about a few of the initiatives coming out. First was the Oni Games Imprint—which recently launched the Scott Pilgrim Precious Little Card Game. Pretty self-explanatory and I truly considered getting. They will also be releasing, in cooperation with Renegade Games Studios, The Dragon Society Card Game inspired by the book as well.