This is the Top 10 Bleeding Cool Bestseller List, as compiled by a number of comic stores from their sales on Wednesday and Thursday. It measures what are known as the "Wednesday Warriors", those who can't wait to the weekend to get this week's comics. We salute you, and the keenness you bring to your passion.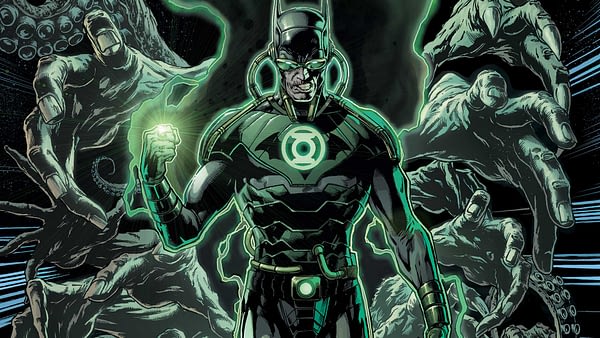 Batman takes the top four (and he pops up in the fifth as well) Walking Dead outsells all Marvel titles and Paper Girls outsells them all apart from X-Men Gold. And even fill-in Superman does similar… Marvel Legacy has not seemed to make an impact on these stores sales.
Batman The Dawnbreaker #1
Batman White Knight #1
Batman #32
All-Star Batman #14
Justice League #30
Walking Dead #172
Green Arrow #32
X-Men Gold #13
Superman #32
Paper Girls #16
Thanks to the following retailers,
Who had this to say,
Batman was king this week with our top three of Top Ten books fleaturing the caped crusader. Batman the Dawnbreaker, Batman, and Batman: White Knight were #1-3 respectively at FFF and they all sold pretty similar numbers. Paper Girls was #7 and Darth Vader was the only Marvel book in our Top Ten at #9. Green Arrow got a solid boost with the help of the Gotham Resistance tie-in and outsold Superman this week. Harley & Ivy meet Betty & Veronica actually sold more than Darth Vader which shouldn't be a thing, but people love their lovable girl duos. All-Star Batman saw a significant drop to #10. But seeing as it's the last issue, it isn't the end of the world.

Marvel is in the same boat from before Legacy. A few titles crept into the Top Twenty but still somehow fell short. Avengers and Punisher: Platoon (Garth Ennis's grand return to the character) sold the same amount of copies as Metal #2 on its FOURTH week and only one more copy than Metal #1 (which has been out for two months now). Spider-Man/Deadpool and Spider-Man were the only other Marvel books in the Top Twenty (coming in at #18 and #19). The shoddy lenticular covers really don't help any. We only ordered two (Jessica Jones and Iron Fist) and that was probably two too many. If the quality keeps up, people won't be happy and we'll be sitting on stacks of blurry books.

Metal is the book that's getting people talking. It's not weird to have a person or two come in a month (or two) later and pick up the first two issues of the hot event going on, but it's insane to see it happen with enough people that the month (or two) old books actually outsell the week's new releases. I can't imagine any one of the 53 Legacy books selling with that kind of fervor.

—–

4 BATMAN titles on the same week. Have none of these publishers ever heard of the idea of spreading a good thing around? Or that customers have budgets?

Marvel Legacy books are performing well as customers are hopeful for a positive change – all of the ones I read were quite good/enjoyable/accessible – here's hoping it continues.

Had one customer say he visited 5 stores before us trying to find the Lenticular covers – thrilled that we had them all and will be back each week for the rest, even though it's almost an hour drive for him.

——

Despite Marvel's best efforts, the Batman Steamroller flattened their sales. Legacy still performed fairly well overall and lenticulars were the preference over value stamps. Honorable mention to X-men Gold, Jessica Jones which spiked in readership some this week, and my personal favorite book this week: Punisher Platoon.

——

The complete and utter lack of interest in the Marvel lenticular covers is the biggest surprise of the year. I knew it was a gamble to order them, but I figured we'd be the only place around that had them and see some spillover business from other stores' customers. Nope. Tumbleweeds are blowing through the shop near these books. It doesn't help that they're shoddily produced, or that DC does such a better job with this kind of thing– on every level.

—–

DC Metal one shots and tie ins are still super hot, with people coming in the store and asking for them 3- to -1 over Marvel. Was hoping for a big bump with Marvel's Legacy titles, with the lenticular variants, and such, and requiring retailers to reach to stock them. While we did see a SLIGHT increase in people buying Marvel titles, it was only an increase of about 15%… not enough to offset the additional cost of requirements to buy the lenticular variants. Some people who were interested in the lenticulars by word of mouth saw them in person, and commented on the poor quality, and did not buy the books. About half of those people still bought the regular cover.

—–

Paper Girls is always our bestseller on weeks when it comes out, and this week was no different, but Batman White Knight wasn't far behind. On the other side of things, Legacy branding doesn't seem to have made a difference in terms of copies sold. The titles that sell well for us, like Jessica Jones, continued to sell well, but we haven't seen any uptick in sales or anything. One thing that's kind of interesting: the hardcover Here's Negan collection almost sold enough copies to get into our top 10.

—–

The Dark Knight rules the roost for this week's sales, with the top four best selling comics all starring Batman. The main series takes the number one spot as BATMAN #32 both wraps up a major story line and sends the life of Bruce Wayne in a completely new direction. Following close on the main line's heels with strong sales are ALL STAR BATMAN #14, Metal tie-in BATMAN THE DAWNBREAKER #1, and Sean Murphy's gorgeous BATMAN WHITE KNIGHT #1.

—–

Wow, and sadly I do not mean that in a good way. Marvel's Legacy one shot did well for us last week. Their lenticular covers this week? Not one managed to make it into the top ten. Being told not every store in the area ordered the lenticular covers. Looks like that would have been the money saving move. Green Arrow most likely would have made our top ten but the two covers must have confused Diamond since they billed us for both but only sent one. Image once again managed to get Walking Dead into our top ten while Marvel does not have a single superhero title in our top ten even with the lenticular covers and multiple variants. They did get Darth Vader and Star Wars in. Marvel cost me a lot of money this week. They are failing to get readers interested in buying into their super hero characters. I asked a few customers why they weren't getting any of the new Marvel hero titles. "Been burnt too many times", "Secret Empire was it for me." "Just not feeling it". Not even pricing Marvel Comics for a dollar in the dollar bin is moving Marvel product now. This week I would have saved money not ordering Marvel Comics at all than what it looks like I will lose because I did order the lenticular covers. Demand for Marvel super hero comics is terrible. Marvel better thank Disney for the Star Wars titles. That is the only bright spot in Marvel's publishing.

——-

The good news? Marvel managed to place four books in our store's Top Ten this week, including two Legacy titles (Spirits of Vengeance and Venom). The bad news? DC still held on to the Top Five, with three Bat-titles, Superman, and Green Arrow all topping the best Marvel had to offer this week. Customer dissatisfaction with the quality of Marvel's lenticular covers certainly hampered Marvel's Legacy launch: customers who had previously planned on buying both the lenticular and standard editions of several of the titles changed their minds once they saw the poor, blurry quality of Marvel's lenticulars. We're obligated to the lenticulars for three more weeks, but after that it's iffy as to whether we'll keep carrying them or not.
Notable sales of the week:
Night Nurse #1 Fine $80.00 Even though there are two iterations of the character in Marvel movies and tv shows I really didn't expect this book to go for as much as it did. A surprise to be sure, but a welcome one.

Thor #165 8.5 $995.00 Grade is estimated as not a graded and slabbed book
Enjoyed this article? Share it!