Jason Borelli writes from New York Comic Con 2017:
Fans of the FX series Archer came to the Hammerstein Ballroom for a look inside the Emmy-winning cartoon. What they got were three cast members, free t-shirts afterward — and a look at Archer: Danger Island, the series' ninth season, coming out in 2018.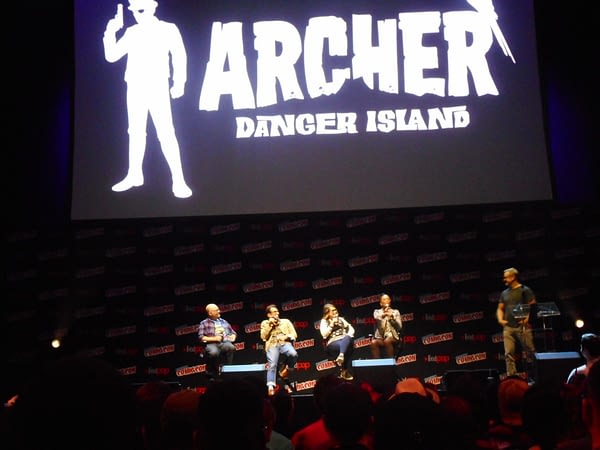 In the beginning, Archer centered on the workings of the International Secret Intelligence Service, or ISIS. The series swerved hard in its fifth season, as the cast turned their focus to selling a literal ton of cocaine, re-branding itself as Archer Vice. After that, they became spies again, only without the acronym, for obvious reasons. Then came a season on detective-center hi-jinks, ending with the apparent death of Sterling Archer, the occasionally charming and often aggravating lead character. But it turned out that he was in a coma, and he found himself living as a detective trying to avenge his slain partner in a noir setting in the Forties. Archer: Dreamland ended with Archer still in his coma.
Executive Producer Matt Thompson came out first to introduce the new episode. Like in Dreamland, the setting and roles have changed. The series is now set in 1939, in the South Pacific. The full voice cast is still intact, with Archer now working as a one-eyed charter pilot under the employ of his mother. The character tones are mostly intact; the biggest adjustment is Lucky Yates, who normally plays mad scientist Krieger, is now voicing a macaw named Crackers that sounds like Krieger. The episode was well received by the audience.
After the episode, co-executive producer Casey Willis came out along with three cast members: Yates, Amber Nash (Pam Poovey) and Aisha Tyler (Lana Kane). Willis apologized for the absence of Archer's voice, H. Jon Benjamin. Among the highlights:
Crackers received a lot of love from the panel. It turned out that Yates had problems getting
toilet-trained at the age of three, his parents bribed him with a parakeet, and it was named
Crackers.
 Tyler made her directorial debut in Axis, which debuted last week. Nash and Yates appear in the
film.
Thompson was asked if he was nervous about the latest transition. He brought up the
troubles that came from the somewhat-maligned Archer: Vice ("The Cocaine Season"),
when creator Adam Reed felt a need to break from spy stories. At the time, Reed was recovering from shoulder surgery, and the stories were fueled by anger. However, the writers have since learned to have fun with the new directions, opening new stories inthe "same-yet- At the time, Reed was recovering from shoulder surgery, and the stories were fueled by anger. However, the writers different" theme, running parallel with the multiple Black Adder iterations.
Thompson then added that the possibility of an Archer movie was in play, much to the
audience's delight. This comes on the heels of the announcement of Bob's Burgers (on which Benjamin voices the main character, as well) making the leap to the big screen.
The cast jokingly speculated on the fate of Abbiejean, the baby daughter of Archer and Lana.
When asked about Archer's apparent bastard son from early in the series' run (dubbed "Wee
Baby Shamus,"), Tyler wasted no time in declaring him dead. As Yates put it, "It was Cyril's kid. It
was bound to happen!"
 When asked how they'd want the series to end, Tyler imagined Pam walking into the sunset as
the music from the end credits of The Incredible Hulk plays. Nash brought up the notion of a
season with nothing by final episodes.
The cast was asked what theme they would want the show to take. Yates wanted an episode set
in the future with a Flash Gordon vibe. Nash would want a spinoff on Pam's family, with her
playing all of roles. Tyler went with the '70s, with Lana as Foxy Brown.
The focus shifted back to Archer. Tyler acknowledged the character's myriad faults, adding that
he always comes out on top. The panel agreed that he was capable of good qualities. "He's still a
dick," Nash declared. Added Yates, "He ultimately comes through. So dick on, Archer! Dick on!"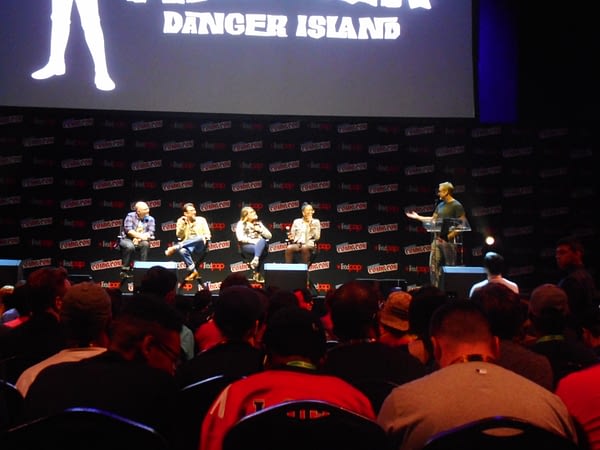 (Last Updated
October 8, 2017 2:20 pm
)
Related Posts