Hugh Sheridan reporting from NYCC for Bleeding Cool: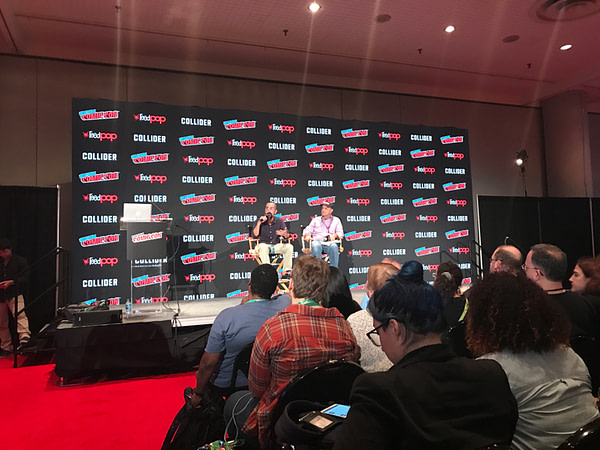 Last night at NYCC, attendees were treated to a sneak peek at some clips from the new movie The Death of Stalin as well as a discussion and Q&A session with the author of the original graphic novel upon which the film is based, Fabien Nury.
The film's director Armando Iannucci (who previously directed In The Loop, created the HBO series Veep and has produced loads of classic UK TV series such as The Day Today and The Thick of It) was originally scheduled to be at the panel, but in the event couldn't make it due to personal reasons.
Nury looked in to the story thinking it would be a thriller but found it was hilarious – "and I was ashamed of myself" because "it's so gruesome. It's a tragedy."
He said the story shows the whims of Stalin and how they ruled everyone's lives "they all obeyed them absolutely" because they were so scared of him. He was a tyrant and people's reaction to him reveals a lot about the human condition.
Nury says the question everyone will ask is what he made up but he "didn't invent a thing" and actually "had to remove things that were so crazy."
The story actually started as a screenplay and was later adapted to a graphic novel so it becoming a movie is the project going full circle.
Artist Thierry Robin's dream project was to work on a book about the life of Stalin, Nury discovered this and offered him this book saying he did not know a lot about the life of Stalin, but that he wanted to write about his death, which got Robin hooked.
Iannucci was Nury's ideal director for the film as he is a fan of Veep, so he was thrilled when he eventually joined the project. The story has a similar sensibility to Veep, but a much darker context.
He couldn't believe it when the cast was announced (it features Steve Buscemi, Simon Russell Beale, Paddy Considine, Rupert Friend, Jason Isaacs, Michael Palin, Andrea Riseborough, and Jeffrey Tambor) "I was sure they would run out of money before the camera rolled," because they are so stellar, he said.
They showed a clip from the film that showed its absurd nature, where Stalin's underlings are trying to figure out what to do with his incapacitated body and are paralyzed by their own fear and mendacity.
"Art is stronger than tyranny," said Nury. He told a story about a song Stalin wanted to listen to on a record and how a factory had to be opened to press a single record which they also had to record especially. Stalin had a stroke listening to it and he was left for hours as everyone was too scared to disturb him. "The story just get  crazier after that," says Nury, and it's all in the film.
The people who went to Stalin's funeral though were not there because they were scared – they actually loved Stalin – "tyrants are loved," said Nury. "Really loved." The story shifts from comedy to tragedy at the funeral, he said.
He said that the main inspiration for the story was Dr. Strangelove – a "top crisis being dealt with by a bunch of drunks."
Nury said that its funny that the movie has been sold to Russia – "now it becomes maybe not so funny — I will be poisoned with polonium next," he joked.
Actually the Russian authorities are threatening to ban the movie — Nury says that it is crazy that 60 years later people are still protecting him and scared of people telling jokes about him.
The movie is slated for a March 9th, 2018 release.