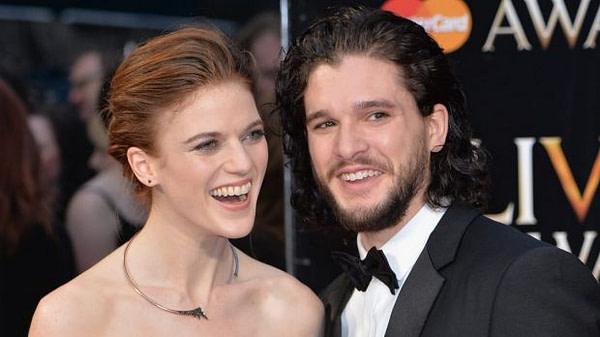 Let me be the first to confess that I went into this post trying to line up a bunch of "You know nothing, Jon Snow," "Red Wedding" and dragon jokes; but in the interest of love and marriage and all of that pleasant stuff, I'm going to avoid the snark and play this straight so I don't step all over their good news.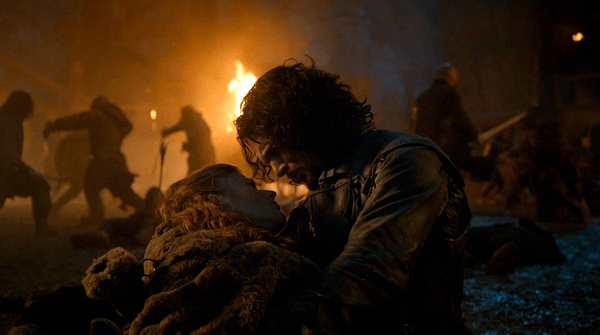 With the hope that life doesn't imitate art too much, Game of Thrones onscreen pairing Kit Harington (Jon Snow) and Rose Leslie (Ygritte) have formally announced that they are engaged and intending to marry. The couple's families made the formal announcement in the"Forthcoming Marriages" section of the Times of London newspaper: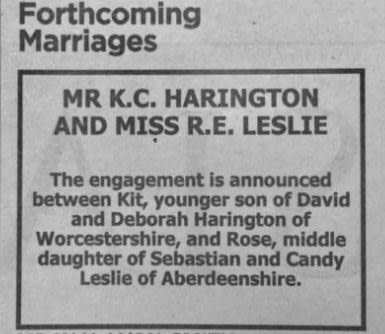 "MR. K.C. HARINGTON AND MISS R.E. LESLIE. The engagement is announced between Kit, younger son of David and Deborah Harington of Worcestershire, and Rose, middle daughters of Sebastian and Candy Leslie of Aberdeenshire."
Harington and Leslie confirmed their romance to the public by appearing together and sharing a quick kiss on the red carpet at Britain's 2016 Olivier Awards. Harington said his best ever memory of the show were the three weeks during the second season when they filmed in Iceland; and had this to say about Leslie and their relationship in an interview with L'Uomo Vogue last year:
"Because the country is beautiful, because the Northern Lights are magical, and because it was there that I fell in love. If you're already attracted to someone, and then they play your love interest in the show, it becomes very easy to fall in love."
Harrington and Leslie appeared together on Game of Thrones for three season, with Leslie exiting the series after Season 4 while Harington has appeared in all seven seasons. Leslie is currently starring in the CBS All Access series The Good Fight, which was renewed for a 13-episode second season. Harington will next be seen in the BBC's drama Gunpowder, a three-part series based around the Gunpowder Plot in London in 1605, before returning as Jon Snow to film the eighth and final season of Game of Thrones.