There now follow fifteen spoilers from tomorrow's Marvel Legacy #1, in order of spoileriness. If they have already been spoiler or already been guessed, they are less spoilery and go to the top. The biggest spoiler is at the bottom. Feel free to stop reading when it gets too spoilery for you – if you even want to read it at all. Some people like spoilers, others don't, work out what kind of person you are first.
Also, as we discovered yesterday, some media organisations have been told they can run a pre-arranged spoiler if Bleeding Cool breaks it first – which is why ComicBook.com has a spoilery interview lined up that ran about twenty minutes after Bleeding Cool's non-front page piece. If anyone else does follow suit, we'll run a link to their full spoilery story next to the spoiler in question for all the added details, quotes and artwork they'll show..
Marvel Legacy #1 by Jason Aaron, with art by Esad Ribic, Steve McNiven, Matthew Wilson, Chris Samnee, Russell Dauterman, Alex Maleev, Ed McGuinness, Stuart Immonen, Wade Von Grawbadger, Pepe Larraz, Jim Cheung, Daniel Acuna, Greg Land, Jay Leisten, Mike Deodato Jr, David Marquez and lettered by VC's Cory Petit, is published  by Marvel Comics tomorrow.
15. In fact we start with that one. Yes, Wolverine is back, escaped from his adamantium tomb.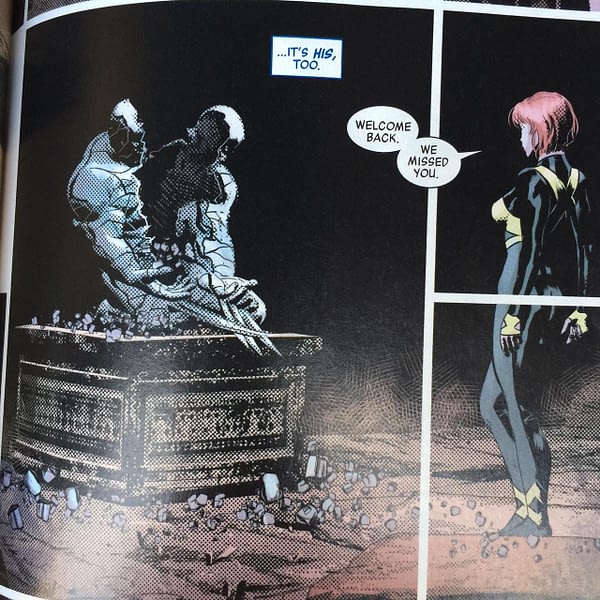 But what does he want?
Well, that's the subject of a much more spoilery item.
14. It's all about a big Celestial that was defeated by the Avengers 1,000,000 BC and buried. And the possibility that some archeologists in Cape Town may be digging him up.
13. Wilson Fisk is running for mayor of New York. And is ahead in the polls.
12. Voyager has indeed been retconned into the Avengers earliest adventures. Maybe she can chat about it with Jessica Jones?
11. This is SHIELD's last day – after what went down in Secret Empire, SHIELD is being disbanded and all the agents will be unemployed. or dead.
10. Sam Wilson and Jane Foster are still totally kissy face, much to Riri Williams' chagrin. Not sure who she'd prefer to be kissy face with herself though.
9. Steve Rogers in riding across America on his Harley. Somehow both Sam and Steve both still have the shield.
8. Tony Stark is gone.
7. Mangog is coming.
6. Deadpool is a wanted man, even though he was only obeying the commands of the officially appointed leader of the USA.
5. Norman Osborne still wants magic.
4. The Celestial is known as The Fallen. Reviving him may see him summon the Final Host. Phoenix-related maybe? Every Phoenix needs a host. No clue as to who it may be.
3. There is a Wakandan Intergalactic Empire. And by the looks of it, has been for centuries.
2. Wolverine – and Loki – are after an infinity gem. Sorry, stone. Infinity stone, I guess the Infinity War is coming.
And seriously, the last one, are you sure about this? Okay…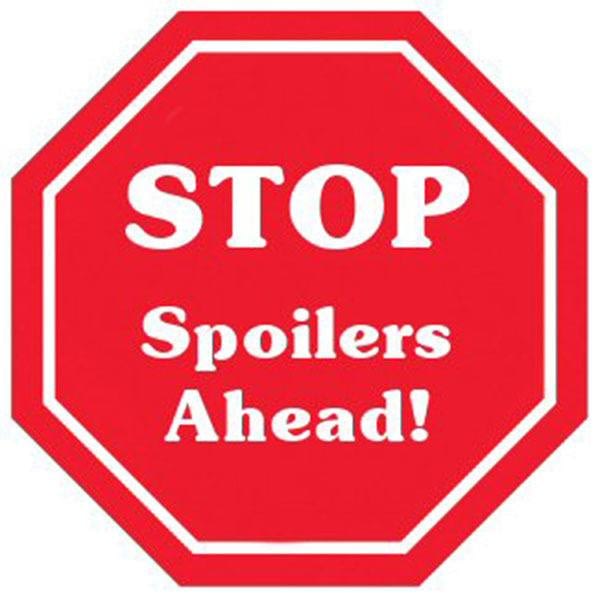 1. Marvel Legacy #1 is narrated by… Valeria Richards. The daughter of Reed and Sue.,..
UPDATE: ComicBook.com has now been allowed to run this as well. And Newsarama has been allowed to link to it too.
"What does Franklin and Valeria's return portend for the Marvel's Universe's first family?" Marvel Editor-in-Chief Axel Alonso teased. "Keep reading. And start with Marvel Two-In-One, where half of the Fantastic Four will form the ultimate buddy book. Can 1 plus 1 equal four? Find out."
Oh and for the bonus ball, the word "legacy" is used eleven times in the comic, Ten by Valeria. Once by Star Brand. Count along…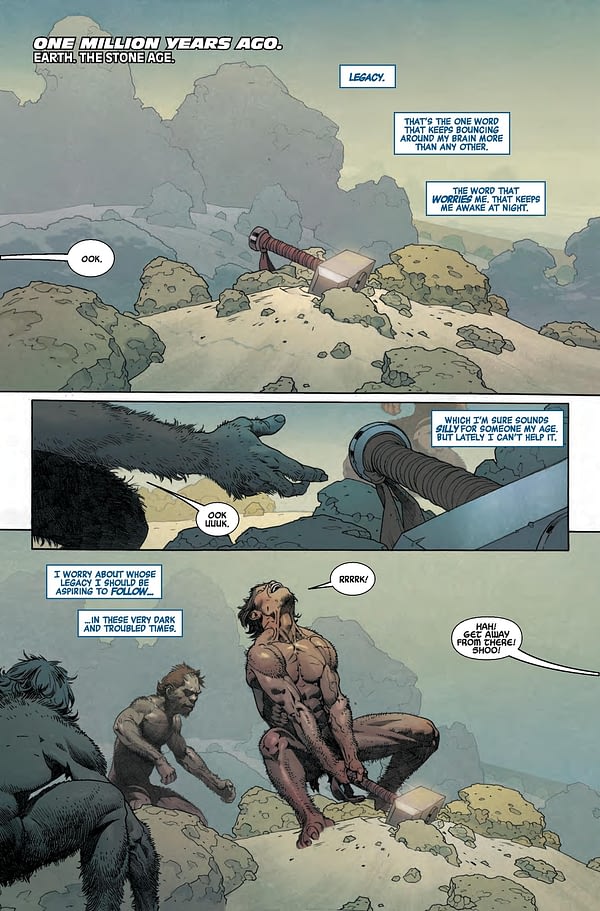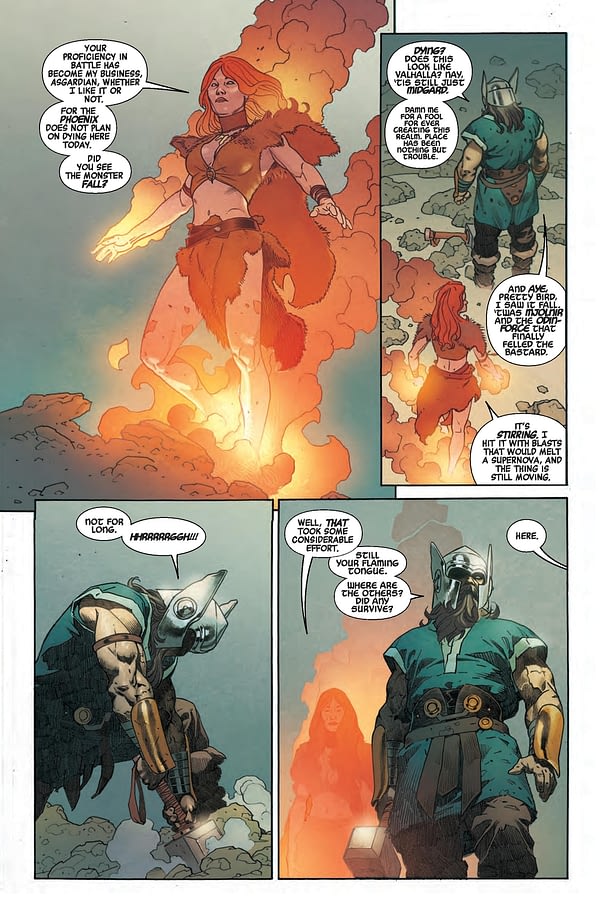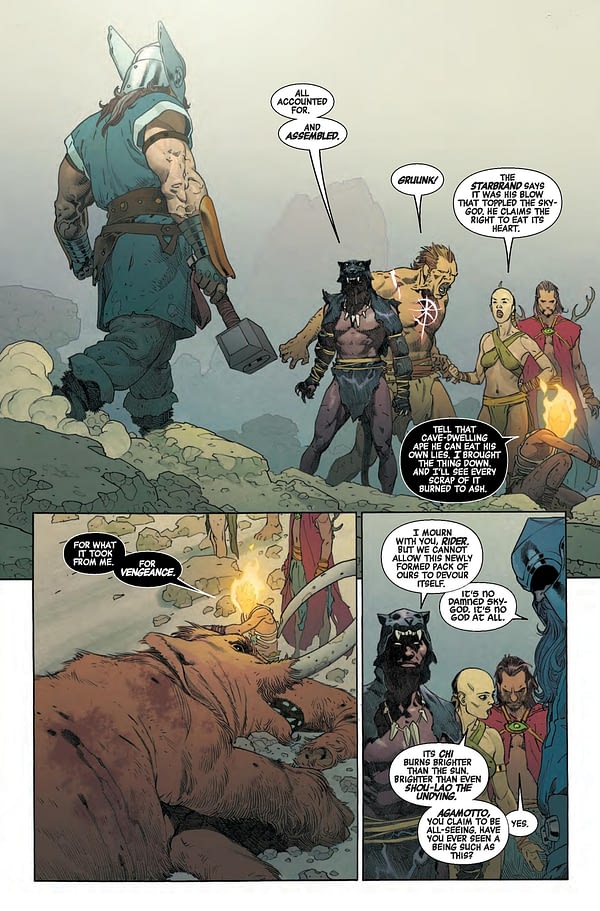 MARVEL LEGACY #1
(W) Jason Aaron (A) Esad Ribic, Russell Dauterman, Chris Samnee, Alex Maleev, Stuart Immonen, Pepe Larraz, Jim Cheung, Daniel Acuna, Greg Land, Ed McGuinness, Steve McNiven (CA) Joe Quesada
EVERYTHING STARTS HERE!
It begins at the dawn of the human race, and ends with a child's prayer! In between, empires fall, mysteries brew, secrets are revealed, quests are undertaken and legends are forged! All leading up to the dramatic return you've been waiting for – and one you've been dreading!
Jason Aaron (MIGHTY THOR) and Esad Ribic (SECRET WARS) usher in a new dawn – one whose rays will touch every corner of the Marvel Universe in the days to come!
MARVEL LEGACY: It's everything you've been longing for – and more!
Rated T+In Shops: Sep 27, 2017
SRP: $5.99
Check in with our other Marvel Legacy #1 coverage here….
(Last Updated
September 27, 2017 1:49 pm
)
Related Posts