The latest trailer for Telltale Games' Batman: The Enemy Within focuses on the story of Episode 2 entitled "The Pact". IGN got the exclusive video from the developer showing off Bruce Wayne and John Doe (this game's version of The Joker) meeting up with Harley Quinn who in this game's reality is more psycho than the Joker she's dealing with.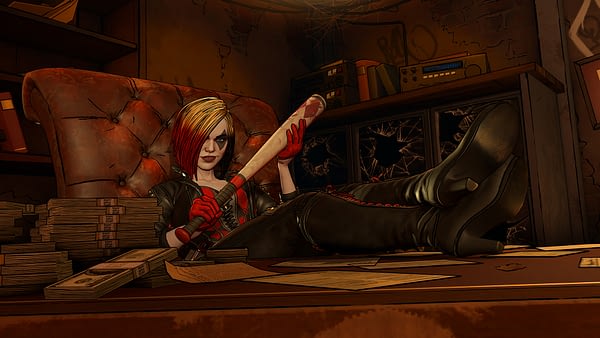 This could all be one large setup to mess with Bruce and Batman in the long run, but for the time being, it shows that Telltale Games are taking way more liberties with the world of Gotham than last time. Harley is clearly not a budding sidekick and seems more like a mini-mobster protecting her turf. That's a hell of a change from a former psychiatrist turned psychopath all for the love of her Puddin'.  It's also an interesting change of pace for the character's voice as Laura Post is taking over the role for this series, as she brings in just a little bit more sultry to the voice compared to Arleen Sorkin or Tara Strong. You'll be able to download the latest chapter for the game on October 3, but in the meantime, enjoy the footage below.
Enjoyed this article? Share it!