Jetpack Comics is a well known New Hampshire store that loves its variant covers and regularly commissions its own exclusive retailer variants, often in coordination with the British chain Forbidden Planet. While Jesse James's Comics is a major player in the Phoenix comic book market. Both have chosen to join the significant numbers of comic book retailers choosing not to order any of the Marvel Legacy lenticular variant covers due to… well, let's let them explain why. First Jetpack, in a letter to their customers.
—-
Dear Loyal Jetpackers,
We appreciate your loyal patronage of Jetpack Comics Llc and all the brands we carry and support. We make every effort to carry the widest, deepest breadth of product we are able to support. Heck, we waste money to stock product we think you might want. Our 5000 square foot store and 8000 square feet of warehouse reflect how well we can waste money. With this in mind we regret to inform you that we will not have the bulk of the Marvel lenticular covers, for their Legacy relaunch, available for you to purchase on release day. To date it appears that we will have the first one, but after that we will not have any of them.
While another publisher made it easy to purchase their spectacular lenticular covers (we simply ordered them, and in some cases were allocated, but in every case we were able to fill EVERY order from everyone that frequented Jetpack and even supplied them to people that visited us just to get those gems), Marvel has taken a different approach. In order to get the Marvel lenticular line, Marvel is requiring us to purchase at least 2x the product we need, to provide you the cover you want.  So, if everyone of you wants to buy the Amazing Spider-man #789 Lenticular cover, we have to purchase 50 of the non-lenticular cover, to purchase ANY of the lenticular cover.  We know we only need 40 copies of Amazing Spider-Man.  In the end we are being forced to purchase about 125% more product than we can sell, to be able to sell you the AWESOME cover that you want. This amounts to us being put in a position to take huge loss on every Marvel title that month, in order to get the lenticular covers for you.
In case you're questioning our math, we have to purchase 1.25x of the regular cover to order the lenticular cover.  We know you all want the lenticular cover so that is 1x.  So, we get to own all the regular covers because who wants the regular covers? It is awesome that Marvel has so much faith in their relaunch that they think we need at least 2x the amount we were going to order, but the problem is that if we do need 2x the amount, we need that of the most spectacular cover they are offering,  ie the lenticulars.   Sure, there will be a few hold outs but people are like cats and the most shiny object is the one they want.  So, if we get 2x the customers, we really have to order over 3x what we need (1 to 1.25x the regular cover to be able to purchase at least 2x the lenticular).  In theory, the 3+x works but at a barely passable profit margin.  I just do not have faith that this going to bring in 2x the customers.
It's an awful position that we have been put in.  Providing great customer service means having the product the customer wants but it also means that we have to be open, and buying 125% more product than we can sell is not a great financial position to guarantee our future.  Furthermore, anyone with a newly opened store (not sure of the time frame for this but I believe it is a year) does not have to spend their money this way.  New stores just get to order the product as they do not have a sales history to measure against.
It's a very backwards situation to think that the guys with longevity (going over 12 years now) are put in a worse position with the guys that have no sales history.  Successful businesses are being put in a position to have to waste money where the guys without a track record are not?  In what other industry is the guy that's been around the block put in a worse position than the new guy? Yes, we have plenty of friends in the business that would help us out, and sell us the lenticulars, but we would not have them on day of release, and that's what everyone wants. It's a very strange business model to put one's primary customer base in a position  to have purchase 2 to 2.25 times the product it knows it can sell to provide the 1 times qty it needs for its customers.
Sadly, the general public may not ever understand all this nonsense and Jetpack Comics will just be the dopes that didn't have coolest hottest new product on their shelves.  Sucks to be us. I do expect that plenty of keyboard warriors will chime in and tell us exactly how much we suck and have every other pretentious comment to make about how ridiculous we are, but unless everyone of you are willing to purchase the regular cover, and the lenticular cover, and then buy 1 extra comic that you don't need, for every four you purchase, then you are making the point for us.
I had the pleasure of speaking with Esther from Image Comics today, and I told her that when Image sends us free comics they are wasting their money.  Jetpack orders at least 20% more than it needs of every comic we stock.  It allows for growth and prevents disappointment.  It fosters loyalty in the comic community.  We will go to all lengths to keep a product in stock.  Image never needs fear that Jetpack Comics isn't representing their line in total, across the board.
I guess I'm saying that Jetpack is the store where you can find almost every new comic, every week, but this isn't going to be the case now.
Sadly and Sincerely,
Ralph DiBernardo – Owner, Jetpack Comics LLC
—-
While from Jesse James of Jesse James Comics,
—-
Over the course of the last 72 hours I have looked at the Marvel Legacy lenticular titles and how we could create a budget that would make sense for the store to carry all these covers or even some of them. Marvel Comics has been a Fantastic partner of ours since day one. We really wanted to support them in this upcoming event. However, we will not be able to offer these covers to our customers. I have tried to crunch numbers and have spoken to a lot of other stores and find that I'm not alone. We would have to order more regular covers then we could ever sale just to qualify for a lenticular.

We want to apologize to our customers both in store and online. As many of you know, the team isn't accustomed to saying "No" or "We can't". That said, we will do whatever it takes to help you find your books from a LCS that did order them. If we can't find a Brick and Mortar store we will then help you order from an online store if needed. We would ask though you try a local comic book store first before going to any online store. LCS's that did order these have a big overhead and could use your purchase to offset the very large commitment and cost to carry these books.

We want to Thank everybody for being part of our family and allowing us to help you complete your comic book collection one comic at a time. Please feel free to call or email me if you have any other questions.

High Regards, Jesse James Criscione, Jesse James Comics
—-
But, if only for a sense of balance, it should be pointed out that some are taking advantage of the situation. Such as Comic Madness of California.
—-
I saw that you have been posting about the shops getting all of the Marvel Lenticular variants (and those who are not). If you're looking to add another shop that's getting all of them, look no further! Wade's will be getting them:
"MARVEL LEGACY is coming!  Legacy will be the "return to roots" that many fans have been clamoring for — to mark the occasion, Marvel is producing a line of 3-D LENTICULARHOMAGE VARIANTS. You can Pre-Order the full set of all 29 covers shipping in October for $114.99!
If you are interested in these 3-D covers (whether it be the full set or particular issues) please let us know by 11pmEST on THURSDAY, AUG. 24TH! Due to the lengthy process in making the special covers, our orders are due into Marvel sooner than usual; any orders placed after the 24th have a chance of being allocated.
Here's the list of the 29 comics you'll receive in that deal:
All New Wolverine #25 Anka LH Variant LEG
Amazing Spider-Man #789 Ross LH Variant LEG
America #8 CaldwelL LH Variant LEG
Avengers #672 Allred LH Variant LEG
Black Panther #166 Craig LH Variant LEG
Cable #150 Liefeld LH Variant LEG
Champions #13 Mora LH Variant LEG
Defenders #6 Kudranski LH Variant LEG
The Despicable Deadpool #287 ESPIN LH Variant LEG
The Falcon #1 Torque LH Variant LEG
Gwenpool #21 Nakayama LH Variant LEG
Iceman #6 Ryan LH Variant LEG
The Incredible Hulk #709 Deodato LH Variant LEG
The Invincible Iron Man #593 Davis LH Variant LEG
Iron Fist #73 Perkins LH Variant LEG
Jean Grey #8 Mayhew LH Variant LEG
Jessica Jones #13 Mora LH Variant LEG
Luke Cage #166 Johnson LH Variant LEG
The Mighty Captain Marvel #125 Mora LH Variant LEG
The Mighty Thor #700 Hans LH Variant LEG
Monsters Unleashed #7 Mora LH Variant LEG
Royals #9 Doe LH Variant LEG
Spider-Gwen #25 Randolph LH Variant LEG
Spirits of Vengeance #1 Lashley LH Variant LEG
Uncanny Avengers #28 Malin LH Variant LEG
U.S. Avengers #11 Ward LH Variant LEG
Venom #155 Mattina LH Variant LEG
X-Men Blue #13 Lopez LH Variant LEG
X-Men Gold #13 Caldwell LH Variant LEG
And these issues kick off brand-new story arcs, so they'll be worth actually READING past the covers :)) To that end, if you don't need the fancy 3-D variants but want to check out the latest and greatest Marvel tales, you can get the REGULAR EDITIONS of all 29 of the above titles for only $69.99!
That's a whopping discount of over 40% OFF the combined standard prices!! Of course, it would be rude for us to not consider the die-hard Marvel mega-fans, so if you're looking to collect the Complete Set of BOTH covers for the whole lot, look no further:  Get all 58 comics (Regular and 3-D Lenticular Variant for each of the above titles) for the even-more-discounted price of $169.99!"
—-
The Final Order Cut-Off date for these covers was yesterday… next week's Advance Reorder chart may make educative reading.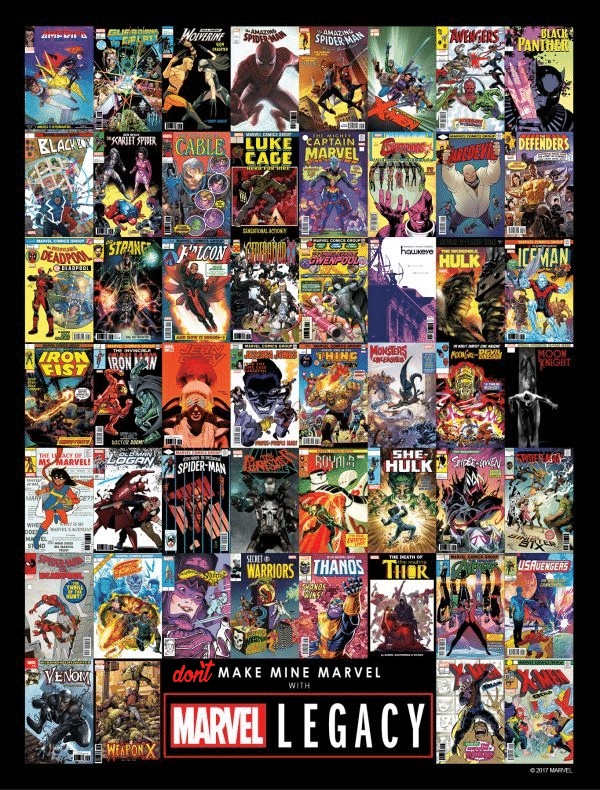 (Last Updated
August 25, 2017 3:37 am
)
Related Posts
None found