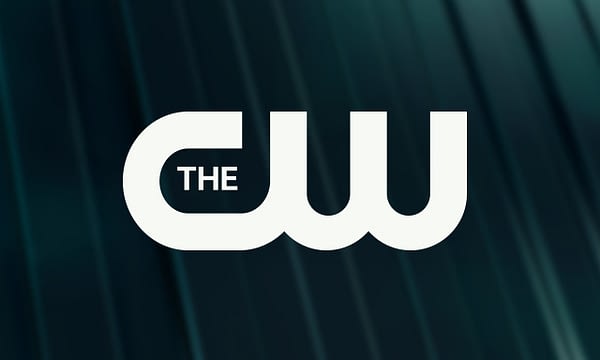 The CW released the official fall launch artwork for two of its new series this season: the modern reboot of the popular '80's soap opera Dynasty; and military drama Valor. Both shows are set to premiere during The CW's Premiere Week in October; with Valor set to premiere on Monday, October 9 at 9:00 pm EST, and Dynasty set to bow on Wednesday, October 11 at 9:00pm.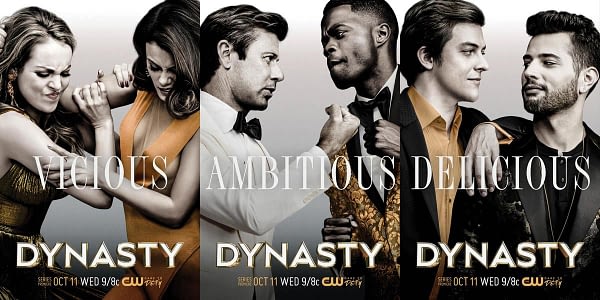 Dynasty key art package is comprised of two parts, both with the tag line "Vicious. Ambitious. Delicious." One part features Blake Carrington (Grant Show) with his daughter Fallon Carrington (Elizabeth Gillies) and his new fiancée Cristal Flores (Nathalie Kelly). The second part focuses on key pairings of characters who embody the words from the tag line: "Vicious" Fallon and Cristal; "Ambitious" Blake and Jeff Colby (Sam Adegoke); and "Delicious" Steven Carrington (James Mackay) and Sammy Jo (Rafael de la Fuente).
Valor key art features the tag line "Truth is the First Casualty of War" and highlights Officer Nora Madani (Christina Ochoa) and Captain Leland Gallo (Matt Barr).
Here's a closer look at The CW's Valor and Dynasty:
https://www.youtube.com/watch?v=8dqzih8hI1U
"An elite unit of U.S. Army helicopter pilots called the Shadow Raiders are sent on a top secret mission to Somalia, a mission that goes terribly awry. Only two members of the team return safely: Warrant Officer Nora Madani (Christina Ochoa), one of the unit's first female helicopter pilots, and her commanding officer, Captain Leland Gallo (Matt Barr), while the whereabouts of their comrade Jimmy Kam (W. Tre Davis) are unknown. Now back in the U.S., Madani and Gallo are the only ones who know the truth about what really went wrong in Somalia. Nora's boyfriend, First Lieutenant Ian Porter (Charlie Barnett), suspects she's not telling him the full story, and Jess Kam (Corbin Reid), Jimmy's wife and Nora's friend, is frustrated and furious at being kept in the dark. Meanwhile Thea, (Melissa Roxburgh) the enigmatic CIA officer charged with investigating the failed mission, has her own suspicions about what occurred. With Nora still recovering from a gunshot wound suffered during the mission, the commander of the Shadow Raiders, Col. Robert Haskins (Nigel Thatch), grounds her from flying. But when it's discovered that Jimmy is alive and being held captive by a group of ruthless terrorists, Nora is determined to join Gallo back in the cockpit to rescue their friend. As preparation and training intensify, Nora and Gallo grow closer, and soon find themselves torn between duty, honor and desire as they wonder who they can trust, and whether the secrets they're hiding will help save Jimmy… or put them all in terrible danger."
https://www.youtube.com/watch?v=Uxacuu_vg8Y
"Fallon Carrington (Elizabeth Gillies) is charismatic, cunning, and poised to become the new COO of her father's global energy empire – or so she thinks. When her father, Blake Carrington, (Grant Show) summons Fallon and her brother, Steven, (James Mackay) home to the family compound in Atlanta, Fallon is horrified to learn that the reunion isn't to announce her promotion – but rather to make the acquaintance of their stepmother-to-be, Cristal (Nathalie Kelley). Cristal is stunning – and almost as young as Fallon, as Fallon is quick to point out – but she isn't just some flimsy gold-digger to be scared off. Cristal is driven, principled, a savvy publicity maven at Carrington Atlantic, and she truly loves Blake. However, the wealth and privilege of the Carringtons' world proves challenging to her, as she clashes with the staff, including Blake's butler Anders (Alan Dale), as well as Fallon, who all make it very clear Cristal doesn't belong. Family dynasties flow through blood, and Fallon would sooner draw blood than call Cristal "Mom." Fallon asks Culhane (Robert Christopher Riley), the family's chauffeur – and Fallon's secret lover – to help expose Cristal for the fraud Fallon thinks she is. But when that backfires, and Blake chooses Cristal over his own daughter, Fallon sidles up to Blake's biggest rival, Jeff Colby (Sam Adegoke), mixing business and pleasure to seek her revenge… leaving a jealous Culhane to watch from the sidelines. While the Carringtons' rocky relationships prove the theory that family sticks together no matter what, Cristal is reminded of exactly that when her nephew, Sammy Jo (Rafael de la Fuente), arrives with a suitcase full of secrets from Cristal's past. Now Cristal's carefully concealed history could bring her future crashing down – and who knows who else she might take down with her."