Today we got a new trailer for a sci-fi title called They Came From Space, the first developed by Cloudgine. If you're not familiar with Cloudgine, they've worked with titles like Microsoft's Crackdown 3 and Oculus's Toybox, primarily with their cloud-based physics. Now they've got this brand new game on the way which is set to have 10-player online team battles, destructible environments and streaming director cameras for the VR elements. Twitch streamers who play this game will be able to work the cameras into their streams, which might provide an interesting viewpoint and cinematic settings.
More details on the game will be coming next week at Gamescom, but for now, here are a couple quotes from key figures of the company and the trailer.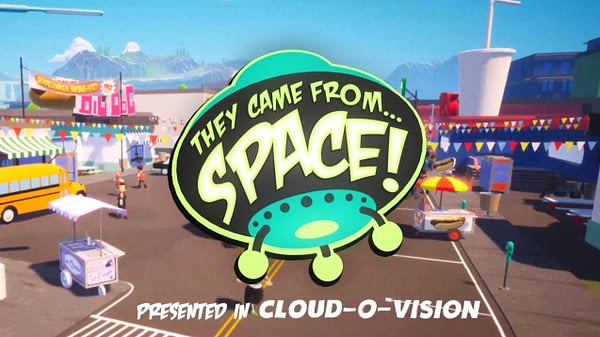 "Our team doesn't only focus on the brilliance of cloud-based technologies – we also pride ourselves in our ability to develop groundbreaking in-game features and concepts," said Dave Jones, President, Cloudgine. "They Came from Space is not only an amalgamation of what's possible with Cloudgine, it also shows how VR can smoothly integrate with other platforms. And if you're fond of streaming your gameplay, I think you'll find our cloud-rendered video streaming to be particularly useful."

"Game development has been long awaiting a drastic change-up – a new technology that can truly expand possibilities and allow developers to super-charge their projects with unprecedented levels of compute power" said Maurizio Sciglio, CEO, Cloudgine. "We created They Came From Space to give developers a clear, fun idea of how powerful Cloudgine's cloud-based physics, rendered at 90fps, really is. And believe us when we say that this is just an introduction into what Cloudgine is capable of – there's so much room for continued innovation with our platform and there is so much more coming beyond physics that it's, frankly, hard to imagine how far talented developers will push it."
Enjoyed this article? Share it!